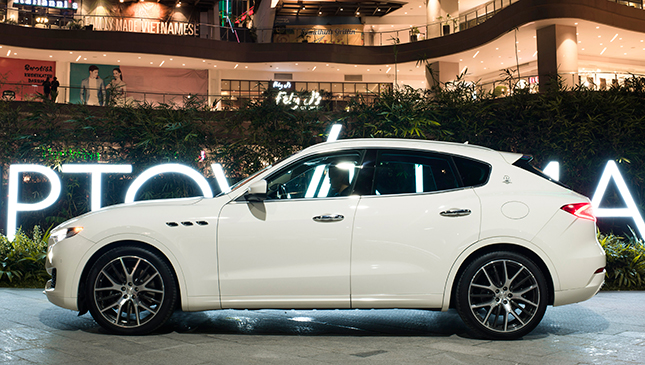 'Luxury' is a relative term. A guy on an underbone will think riding to work in an Altis must be rather luxurious. A contractor in a fully decked-out Fortuner must feel rather good about himself as he bags that next project. Likewise, a vice president of a medium-size company has every right to feel good about himself when he brings home that nice, cushy Honda Pilot from the sale of some of his dividends.
The Maserati Levante—hell, any Maserati—is in a different world from these otherwise regular Juans. In the rarefied realm of luxury cars, Maserati occupies the same hallowed niche as Panerai watches, gold-plated Gucci handbags, and regular first-class trips to Europe. After all, if a Levante rings the bell at P8 million for starters, you can only guess how much a buyer must be earning to order one up without batting an eyelash. Perhaps they are in the entertainment industry or neurosurgeons of Dr. Strange caliber. Maybe they're real-estate tycoons or, ah, pharmaceutical specialists (legal or otherwise).
ADVERTISEMENT - CONTINUE READING BELOW ↓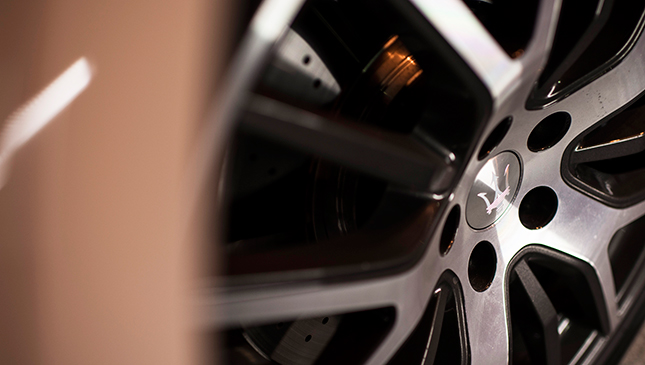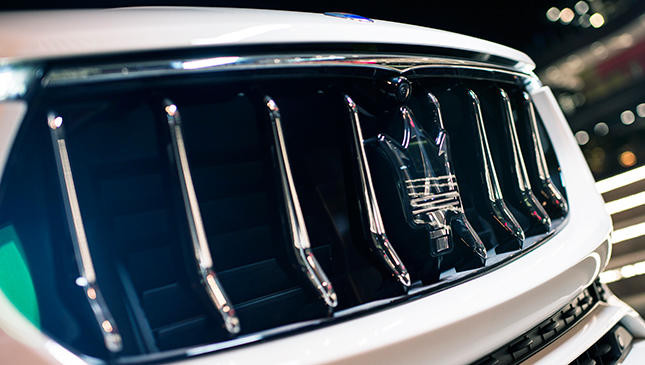 We don't really care, and all Maserati Philippines really cares about is that their money is legit before they hand over the keys. With everyone and his mother clamoring for SUVs the past 10 years or so, and every manufacturer needing an SUV in the stable to put food on the table, it's just good business sense for the Italian marque to oblige.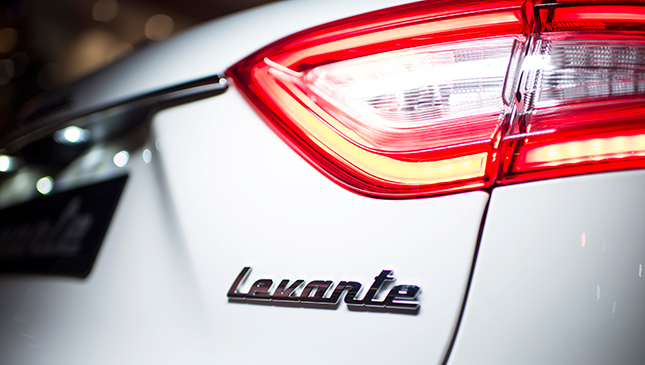 What we really care about, and they even lend us the keys for a night, is how freaking awesome this luxury sports SUV really sounds. You see, any other luxury SUV can roll out a trunkload's worth of expensive goodies: ABS, high-tech stability systems, primo audio setups, leather everywhere, yada-yada. The Levante delivers all the expected good stuff. No other luxe SUV, on the other hand, can audibly change its character from sensual Casanova to gratifyingly masculine Rocky Balboa at the press of a button.
This little Sport button, located beside the shifter, alters throttle, transmission, and exhaust-note settings to transform from Super Duper Uber Premium limo to Hells Bells Tall Wagon. There is no digital signal processor here to 'cheat' you of the real thing.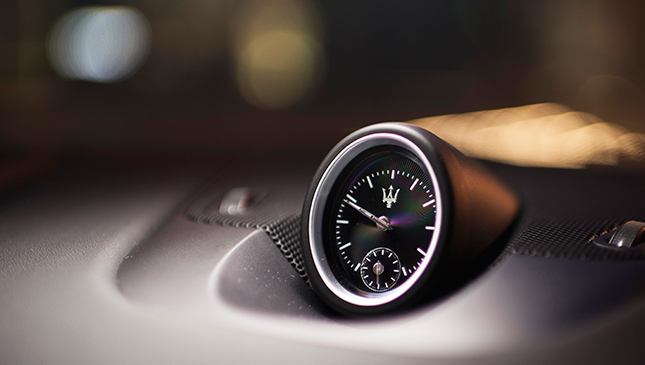 ADVERTISEMENT - CONTINUE READING BELOW ↓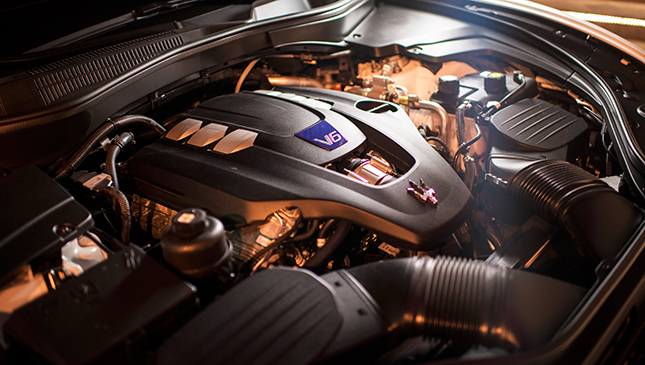 Instead, a set of valves and perhaps a little dose of witches' brew near-instantaneously transform the twin-turbo V6's velvety purr into a genuinely mellifluous baritone rumble that deliciously growls up the tach like the perfect accompaniment to the late Luciano Pavarotti's signature notes. If 'Nessun Dorma' were an engine, it would be under the Maserati's hood. This wonderfully rich experience (no pun intended) is really what defines the Levante. It's both the opening and closing act to a visual, aural, and tactile experience that sets it quite apart from like-priced competitors.
Maserati offers one diesel and two petrol variants, but were we to act as your personal Shopper, we would say, "Fuck it—get the best one and have no regrets." It's not like a buyer would be the type to think about a plebeian concern like fuel efficiency, yes? So equipped, the top Levante trots off the showroom floor with 424 horses engineered and bred by another Italian purveyor of wet dreams (hello, Ferrari!). This 3.0-liter beauty is force-fed via twin-turbos, and shoves all that power to an eight-speed ZF automatic transmission. What's that? You want to know about a manual transmission? Here, let me get an Uber X for you. I'm pretty sure the Vios that's picking you up is a stick shift.
Like its Ghibli sedan sibling, the Levante rides on a sophisticated aluminum (read: expensive!) independent suspension with a five-link rear setup called Skyhook. The setup has a longer travel than the Ghibli's (duh), and offers up to five settings. So, you can bring down the suspension height for the lowest possible center of gravity at speed-limit-breaking velocities, or raise it as much as 25cm above the ground to clear modest floods and obstacles.
The Levante's all-wheel drivetrain utilizes a permanently engaged rear axle with a limited-slip differential and a computer-controlled multi-plate clutch for the front to acquit itself well over the sort of terrain a real-world owner would subject such a precious object to. Would this be the sort of thing you would take to the hills of Tanay? Unless you own a fleet of them and it's your job to see how far they'll go before something breaks, probably not. But, consider that many potential buyers all over the world (or the ridiculously prosperous part of the world) will take the Levante dune surfing, or up steep Alpine climbs to go skiing. Or perhaps to tow the jet ski to Lake Tahoe...in more style than the average Chevy of the same name.
ADVERTISEMENT - CONTINUE READING BELOW ↓
Maserati has also stayed the course with hydraulic power steering. Where practically everyone else has made the switch to electric, this traditional setup pays big dividends in road feel and precision. I've personally never liked the artificial, PlayStation-like feel of even the best electrical systems, so it's a treat to steer the Levante and get real, unfiltered feedback through the rim.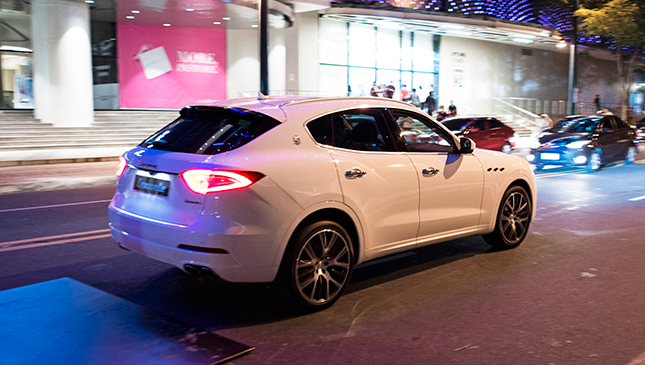 At 5,003mm from end to end, this SUV is a rather large automobile, but its direct, velvety responses and firm composure over less-than-smooth pavement give it a sense of immediacy and athleticism that's unmatched. Maserati was aiming to make it the 'Maserati of SUVs,' and the Italian luxury carmaker has largely succeeded. As a matter of fact, drive this and a Porsche Cayenne back to back, and the latter will feel downright soft and pillowy.
The Italian gift for sensuality extends to the interior, which is swathed in supple, fragrant leather and wood trim, all color-matched to the extent that you'll feel rather underdressed anytime you're not in a suit. I actually get the sudden urge to run to my tailor and get a new suit done double-quick just for my one-night stand with this beauty. As modern conveniences go, the Levante is chock-full of the little treats that take several days of fiddling to master: the touchscreen navigation screen with the umpteen functions to control everything from the multimedia system to your espresso dosage (perhaps...I lost track after pressing too many buttons).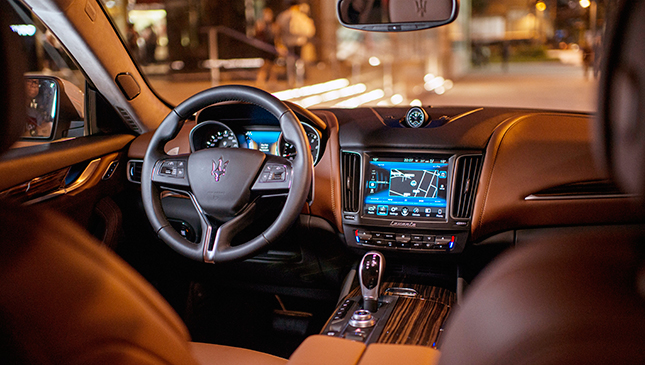 Rather than bother learning all those things, I distract myself with the little details that only an Italian marque really pays attention to, like the detailed stitching of the leather, the silent, smooth operation of the tiny doors for the console cubbyholes, or the way it takes a few seconds to figure out where the little four-way button is on the steering column to get the rake and reach just right. Just figuring out the power moonroof takes several attempts.
ADVERTISEMENT - CONTINUE READING BELOW ↓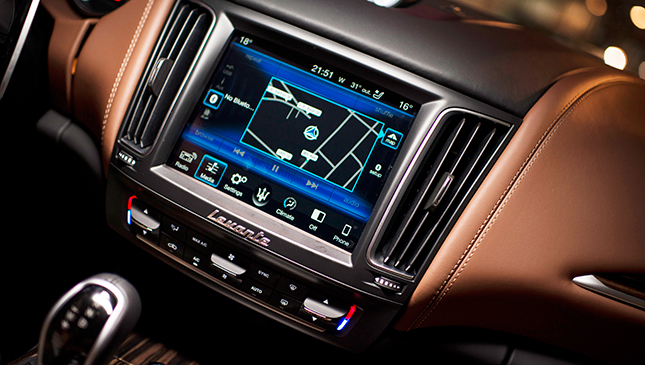 In a Japanese luxury SUV, everything is in its logical place such that a child could figure everything out in less than a minute. In a Maserati, everything is still there—it's just that you need to spend a little more time figuring everything out. And once you do, it's like learning the secret handshake. Or how it might feel if Monica Bellucci whispered something naughty in your ear.
On a clear section of road, I set the drivetrain to the rowdiest setting and stomp on the accelerator, and the beast hurtles forward with a delicious, raucous abandon that none of its contemporaries can match. Yes, it can haul your groceries with alacrity. Yes, it's docile enough that a chauffeur will likely not damage it under pain of extrajudicial termination. No, this is not your garden-variety crossover.
The Levante hauls ass like no other SUV can, and will happily keep up with many sports cars while transporting your brood in comfort and style. First impressions last, and Maserati's first foray into the SUV universe makes an orgasmic impression.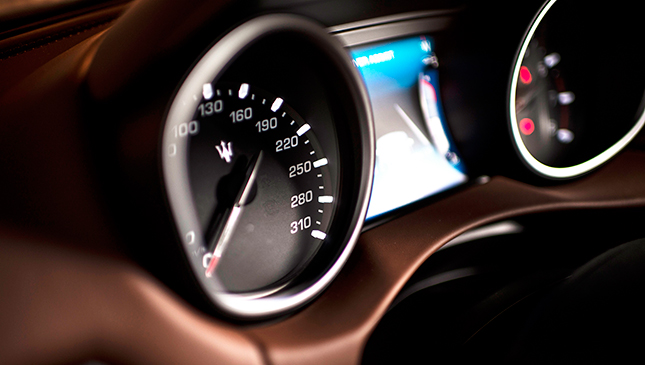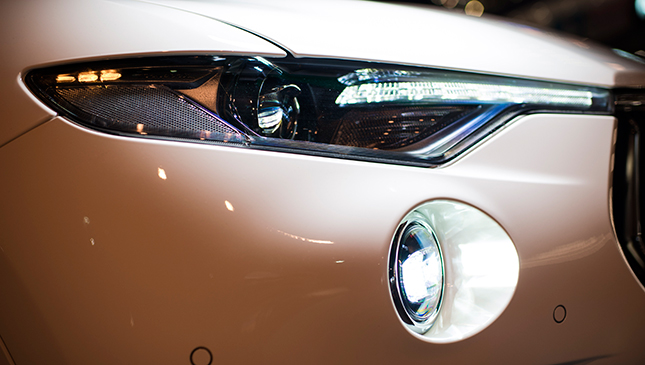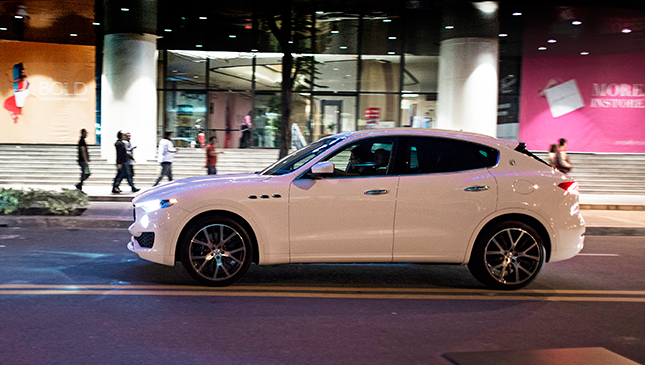 ADVERTISEMENT - CONTINUE READING BELOW ↓