Talent and skill have always been two of our country's premier exports. Overseas Filipino workers can be found in almost every part of the globe, undertaking a range of jobs—from the most menial to the managerial. During our trip to the 56th Macau Grand Prix, we couldn't help but notice how many Filipinos are employed in a variety of occupations in the Chinese territory. From ice-cream vendors to security guards, tour guides and even entertainers, close to 25,000 Filipinos seem to have found an employment haven in Macau.
The Macau Grand Prix was no exception. Contrary to popular belief, race car drivers are actually just members of a bigger group of professionals on every racing team. In racing, cars and motorbikes will always require an army of mechanics, technicians, engineers and managers to keep the race machinery and game plan at their most competitive levels. The Macau Grand Prix—host to a variety of racing events, from motorbike and touring car races to the main Grand Prix event, the Formula 3—has also become home to a number of Filipinos whose passion for racing has brought them out of our country's borders and into the fast-paced realm of world-class motorsports.
ADVERTISEMENT - CONTINUE READING BELOW ↓
Unknown to many, amid the hustle and bustle of the Macau grid and pit lane, was a small contingent of hardworking Filipinos employed as race mechanics. They are silent workers who have made a respectable reputation for the country in this particular line of work. These young men, who hail from various parts of the Philippines, toil day and night for the better part of the cold November week of the Grand Prix to get their teams' cars running flawlessly on the track.
In the last Macau Grand Prix, about 30 Filipino mechanics could be found in the various paddocks of the Porsche Carrera Cup, world Touring Car Championship and Formula BMW Asia Pacific teams. One of them, a race mechanic who has been working across Asia for the last 14 years, was Joel Farcon. Having started his automotive career as a mechanic at Toyota Alabang back in 1993, Joel was fortunate enough to be recruited in 1997 by Mark Goddard, a British national who has helped re-establish open-wheel racing in the Philippines.
ADVERTISEMENT - CONTINUE READING BELOW ↓
Recommended Videos
From being a mechanic for Formula Toyotas at the Batangas Racing Circuit, to becoming the chief mechanic of the Joson Formula 3 team from 2001 to 2005, and on to occupying the same post in the Korean E-Rain Racing Formula BMW Pacific team, Joel, together with other Filipinos, has exhibited the qualities that have made Pinoy mechanics hot commodities in Asian racing.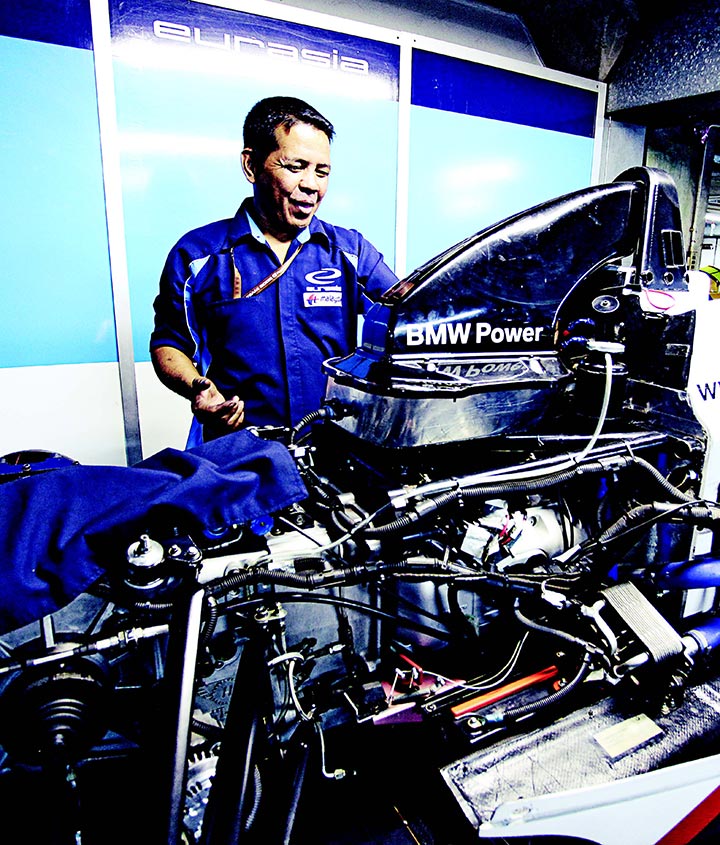 ADVERTISEMENT - CONTINUE READING BELOW ↓
A veteran among his peers in this profession despite his young 37 years, Joel is quick to identify why Filipinos are preferred in the nitty-gritty work of preparing race cars. "Based sa experience ko, tayong mga Filipino kasi, unang-una masisipag at matitiyaga," he said. "Pangalawa, madali tayo makipag-communicate. Kahit balu-baluktot ang English, nagkakaintin-dihan kami ng foreigners."
Add to this the Filipinos' innate friendliness and hospitality, and the workplace becomes a relaxed yet efficient one for the Filipino-crewed teams. "Madaling makipagkaibigan sa mga drivers ang mga Pinoy," added Joel. And, with the language barrier out of the way, the unhindered flow of information from driver to race engineer to mechanic ensures success on the track.
This goes without saying that skill and proficiency in automotive and—more importantly—racing technicalities have also given Filipinos an edge over their contemporaries from other countries. "Skills-wise, actually, na- kakalamang pa rin tayo sa Malaysians at Indians na nandito ngayon," Joel declared. Our race mechanics working abroad normally render 10-day shifts every month during race season. While at the racetrack, they hardly find time to rest, often laboring until the wee hours of the next day to fix a damaged car so it can make it to the starting grid, or tune a running one to perfection. "'Yun lang ang mabigat sa trabaho namin as racing mechanics—wala kaming oras. Minsan talaga dumadating ang time na 'di mo na maiisip 'yung pagkain, kasi kailangang i-set up 'yung mga kotse at ayusin 'yung garahe," Joel shared. 
ADVERTISEMENT - CONTINUE READING BELOW ↓
"Kailangan kasi palagi mong tinitingnan 'yung sasakyan, dahil siyempre nandiyan ang buhay ng driver," he stressed. "Isa pa 'yung responsibilidad na kailangan naming ipakita sa mga teams na nagtitiwala sa ating mga Filipino." Fortunately for Joel and the rest of the Filipino mechanics, it is their dedication to and sense of responsibility toward the team that encourage race managers, engineers and drivers to trust and depend on them during events. "Siyempre, race ito. Kailangan competitive ang team; kailangan namin 'yung dedication sa trabaho," Joel explained. "Kapag nagtsa-champion ang team ko, 'yun talaga ang pinakama- sayang moment sa akin. Kasi 'pag nanalo 'yung driver mo, 'yung pagod ng team nawawala."
Because of this attitude (and the power of suggestions and referrals), it is no wonder that the numbers of Filipino race mechanics have grown steadily over the years. As with most overseas contract opportunities, it is the lure of higher pay that has enticed these Filipinos to sign up again and again for more tours of duty. While flying to different countries to prepare their teams' race cars for competition has given them the opportunity to travel and see the sights and cultures of other Asian nations, it has also opened the doors for them to be known and recognized in the tight-knit world of motorsports. "Well-known naman internationally na lahat ng race teams na gumagana at kumakarera hanggang sa ngayon, ang crew puro mekanikong Filipino," boasted Joel. It comes as no surprise, then, that some Pinoy mechanics can be seen transferring from one team to another each race season, as teams scramble for the best their money can buy. Indeed, word travels fast in this fast-paced sport.
ADVERTISEMENT - CONTINUE READING BELOW ↓
Given how long and how often we have come across these men in the circuit during various racing events, it is safe to say that being an international race mechanic can be a viable career option for many of our skilled talents. For those who are yearning to take a shot at this profession that Joel and many others have chosen for themselves, the man has this piece of advice to share: "Sa mga mekanikong naghah-angad at gustong maka-experience ng nararana-san namin, tiyaga lang. At saka 'pag may hirap, palaging may sarap din sa huli. Kailangan lang sipag at tiyaga."
Technical know-how can be acquired from school and training. It's the intangibles that set Filipino mechanics apart from the rest. (Words and photography by Mikko David)
Note: This story first appeared in Top Gear PH's March 2010 issue.