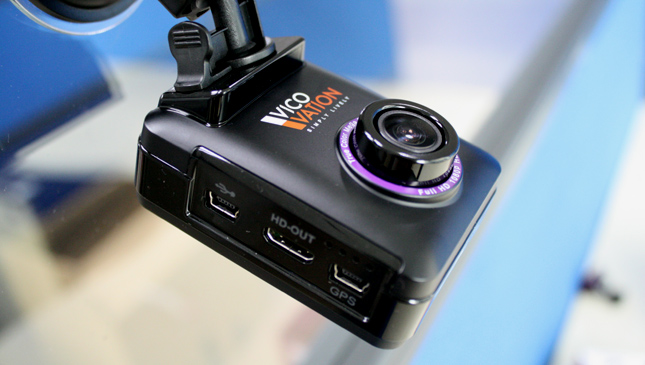 When the going gets tough, it's always nice to have a fallback. In case of douchebag drivers or corrupt traffic enforcers, that fallback comes in the form of a handy dashboard camera.
We got to try out the VicoVation Marcus 2 for a short trial period to find out just where it stands among the dozens upon dozens of products entering the dash-cam market today. Specs-wise, the Marcus 2 packs a 4MP CMOS sensor with a 160-degree viewing angle capable of full-HDR 1080p recording viewable through a two-inch LCD display. Output is through an HD-out/USB 2.0 cable. The camera records in .MOV format, and has an emergency mode and a G-sensor that detects impact as well.
There are a bunch of features that we would have liked to see, but unfortunately they are merely optional add-ons not included in the package. Among them are a handy GPS tracking feature, a current-speed overlay and a speed warning system.
The minimalist approach to the design and interface is a big plus. Buttons are easy to press; ports and sockets are easy to manage; and a simple matte-black finish gives it a sleek appearance. One bonus is that this unit doesn't look too enticing to thieves--just in case you're worried about someone trying to break into your car to steal it. Installation is easy via either a suction cup or a 3M sticker bracket.
Continue reading below ↓
Recommended Videos
Daytime video quality is clear and sharp, while the 160-degree viewing angle gives a pretty decent view of the vehicle's immediate surroundings. Colors aren't as vivid as we would have liked, but that's not really an issue--you won't be using this to record home movies anyway. Nighttime video recording is passable, though recordings become prone to lens flares from oncoming headlights and bright street lamps, making reading plate numbers from passing cars a little difficult. Recordings are in five-minute intervals, and file sizes will depend on your video format.
Overall, the Marcus 2 is a simple dash cam that does exactly what it's supposed to. It's a no-frills, easy-to-use camera with good video quality and a simple yet polished design. Better nighttime quality would have been great, but at P6,800, the Marcus 2 isn't a bad deal.
Photos by Drei Laurel