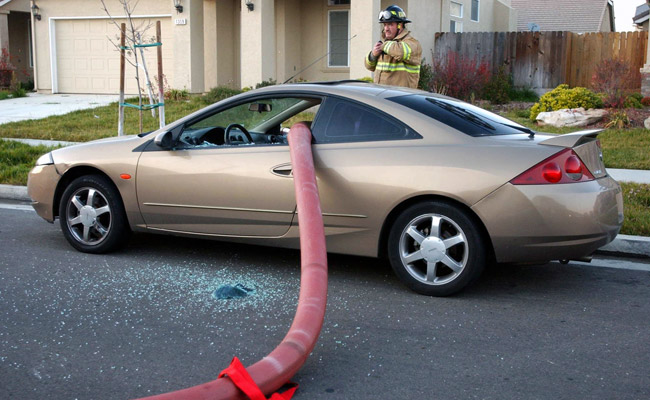 We just have one week to go before we observe our yearly Fire Prevention Month. So now might be a good time to discuss this. We hope you're aware that it's illegal to park next to a fire hydrant (that thing to which a fire hose is attached so the fire truck can load up on water). For obvious reasons, it isn't wise to park your vehicle near a hydrant because that would mean blocking the access of firefighters to much-needed water supply.
But while it's illegal, we won't be surprised if many Filipino drivers disregard this law altogether, considering how small the penalty is. According to the Land Transportation Office's list of traffic violations and fines, parking "within 4m from a fire hydrant" carries a fine of P200. Two hundred bucks. That's all it would cost you should you be dumb enough to obstruct the path leading to a hydrant.
But if you think that's a small price to pay for the "convenience" of being able to park wherever you want to, you might be in for the shock of your life. You may not know this but firefighters are actually allowed to manhandle your car if they have to in order to gain access to a fire hydrant. These photos you see here--from the City of Merced Fire Department in California--are an example of that.
Continue reading below ↓
Recommended Videos
Yep, firemen can damage your vehicle if necessary, and they won't be breaking any laws doing it. You won't be able to charge them with property damage if it is established that you blocked their access to a fire hydrant during an emergency. So, consider yourself warned. Be mindful of those steel thingies dogs love to urinate at. You don't want to come back to a disfigured car without having anyone to blame but yourself.
Photos from the City of Merced Fire Department's Facebook page