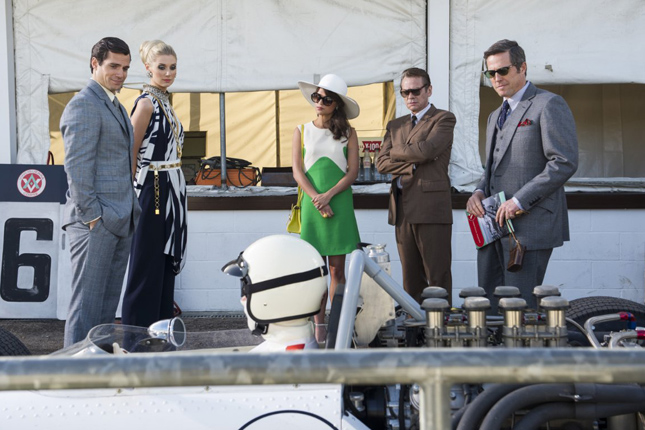 Fine suits, chic sunglasses, vintage watches and classic European cars. These are the wonderful items that populate director Guy Ritchie's spy flick, The Man From U.N.C.L.E. This is a remake of a '60s TV show of the same name, and Ritchie set his movie in the same era. This was a nice move because the '60s was one of the coolest time periods ever, and something none of us (save for our 50-year-old publisher) lived through.
The Man From U.N.C.L.E. is set during the Cold War between the Americans and the Soviets. It's about two of the KGB's and the CIA's best spies, played by Armie Hammer and Henry Cavill, respectively, being forced to work together in pursuit of a common enemy.
But more than the entertaining plot, what's noteworthy about the film is the production design. Now that old things are cool again, the movie's '60s-era clothing and automobiles are visual treats. It's like viewing a picture catalog with action scenes and car chases. In fact, there are three scenes petrolheads should watch for.
The first is the opening sequence, where a chase happens involving a Trabant and a Wartburg 353, both communist cars that are supposedly collectibles now. Then there's a section filmed at no less than the Goodwood Estate (home of the Festival of Speed), where one of the villains drives a car that resembles a Honda RA300 Formula racer. Speaking of villains, they actually have good taste in automobiles, going around in a grand Jaguar Mark IX and a sexy convertible E-Type.
Continue reading below ↓
Recommended Videos
The third scene toward the end involves a Metisse Desert Racer motorcycle, an awesome black dune buggy, and a Land Rover Defender that doesn't hesitate to use its snorkel. The dune buggy looks like a project of one of those specialized garages that build toys for the wealthy. We've seen more than our share of car chases, but seeing unique vehicles--and not modern sports cars--trying to catch up to each other is a new thrill.
We will leave the sartorial eye candy for fashion website to dissect. But even those without an intimate knowledge of clothing will appreciate the wardrobe, like Cavill's bespoke pure wool suit and vintage Omega watch, as well as Hammer's Ralph Lauren suede bomber jacket and foldable Persol sunglasses.
If you're thinking of what movie to watch this weekend, consider this our recommendation.