In this Disney-produced film, the protagonist, Casey Newton, chances upon a special pin with a 'T' logo, and she wonders what it's for. This is similar to how we felt when we received an invitation from Chevrolet Philippines for a screening of Tomorrowland in a reserved theater. To be honest, apart from a vague trailer, we weren't sure what this movie was about, and what its connection to the American carmaker was.
It turns out this is based on the themed section of the same name that can be found inside Disney theme parks. Indeed, the beginning of the movie feels like an extended advertisement for the park's message of imagination and wonder. We are introduced to Tomorrowland, and in the film this is a dimension where all the best inventors and dreamers have been gathered to create an ideal world.
We get to know Frank Walker, a young inventor who is handpicked to be one of Tomorrowland's creative citizens. And it seems all is well.
ADVERTISEMENT - CONTINUE READING BELOW ↓
Decades later, we meet Casey, who is given the special pin embossed with a 'T' logo that Frank also received. Casey is a relentlessly optimistic young woman with a knack for figuring out how things work. When she touches the pin, she is shown a vision of Tomorrowland, and she is irresistibly drawn to this dimension. To find out how to get to the vision she saw, she is led to modern-day Frank, who is now much older and living alone in the world we know.
It turns out something went wrong in the creative utopia, and Frank was exiled because of this. But Frank sees something in Casey's steely determination to not accept things as they are, and despite his jaded outlook, he believes she can fix what went wrong. Together, they journey to Tomorrowland in an amazing scene involving a rocket ship and the Eiffel Tower.
This being a Disney film, it shouldn't be a surprise to you that it ends on a happy note. What we were left with is the strong message of hope and imagination. The fictional Tomorrowland is a place where all the dreamers and inventors work together, representing the best of humanity to build the best future for mankind.
ADVERTISEMENT - CONTINUE READING BELOW ↓
Recommended Videos
Where's Chevy in all this? To the carmaker's credit, its involvement is subtle but meaningful. There is a scene near the movie's end where recruitment for the next batch of inventors is ongoing, and the special pin is seen being placed in a Chevrolet employee's workstation. Then we see a glimpse of the next Volt EV being developed in a design studio. In addition to this, we actually saw a Chevy logo on one of the robots in Tomorrowland, although the press material doesn't mention the fact. Oh, and a Chevrolet Silverado pickup is used prominently as an escape vehicle.
What the movie gives us are the recurring themes of imagination and hope. We're not encouraging you to go to a Disney theme park to feel this--just look for it inside yourselves. We know this can be difficult in today's cynical world. We can't even drive our cars in peace without being screwed over for our license plates and driver's licenses. We never know when a retarded motorist will block our way or pull out a gun if apprehended. And it's gotten so bad we want the next president to be the Filipino version of The Punisher.
ADVERTISEMENT - CONTINUE READING BELOW ↓
But while it's understandable to vent at times, let's remember that cursing and ranting doesn't always lead to solutions. We must remember the bigger picture, which is to--pardon the preachiness--leave the world a better place than how we found it. Let's use our imagination to find solutions, and let's leave room in our hearts for hope that things can work out.
If companies like Chevrolet are already working on the cars that will give us a brighter tomorrow, then it's already a good start. The rest of the work--the bigger task--is up to us.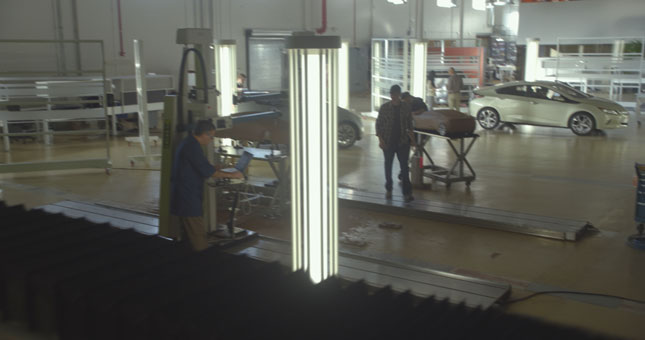 ADVERTISEMENT - CONTINUE READING BELOW ↓