We're sure many of you went to Hot Import Nights Manila over the weekend. But for the benefit of those who weren't able to go and have no idea what HIN is, it's actually a globally popular car show that originated in the US. Unlike a regular motor show, however, HIN focuses on tuner cars and--this is important--promotional models. Think of it as Trans Sport Show but with more (and better) girls.
Every single booth had a promo girl (or even a bevy of crowd-drawing beauties). It was like the girls were the whole point of the event. We now think the "Hot" in the show's name actually refers to the women, not the cars. If Manila International Auto Show is a car show that has girls in it, Hot Import Nights is really a babe show that has cars in it. In fact, the main showcase of the event was the party in the evening of the opening day, the entry to which cost P400 per head. The admission fee afforded you a chance to see international models Arianny Celeste and Jeri Lee in the flesh. (We actually know a place where you wouldn't have to pay a single cent to see more revealing images of the two; it's called the Internet.)
Continue reading below ↓
Recommended Videos
We went on the second and last day (Sunday), and found the usual pockets of hot-blooded men crowding around the gregarious models. All of them were toting digital cameras. Most of them posed beside the girls with the idea of posting photos on Facebook and bragging to friends that they had rubbed elbows with gorgeous girls paid to be nice to guys like them.
The time of our visit was in the afternoon, and all the models at the venue were local ones. We were informed by organizer Jonathan Chio that the imported babes were scheduled to drop by later in the day. But we didn't really care. As far as we're concerned, Filipinas are more than enough to spice up any car show (apologies to Gabriela). Here, we list our top 10 local promo babes at the just-concluded Hot Import Nights Manila, based on their ability to attract men (old, dirty or both).
10th: LLumar. Proves you can't go wrong with a glossy, black leather outfit--and that a sincere-looking smile is always endearing.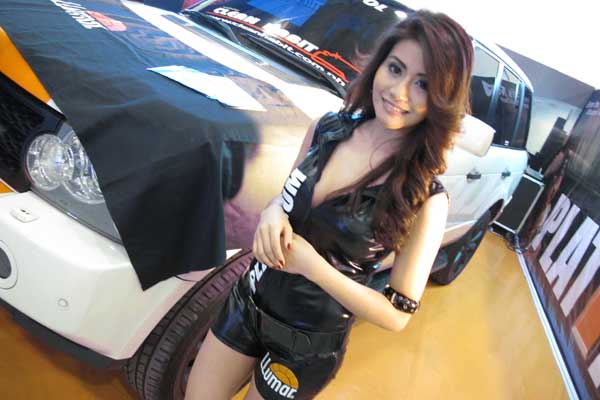 9th: Bace Garage. We almost felt sick photographing these girls, who looked like they were still in high school. But hey, they're cute (the dorky eyeglasses, that is).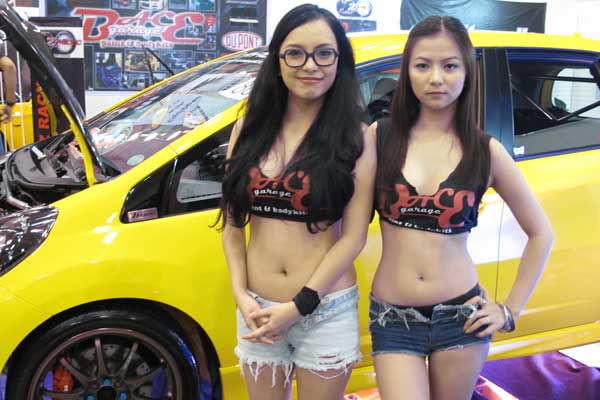 8th: Exedy. We don't know what the obsession with bare belly buttons is all about. Why can't promo girls cover up that part of their body and still look attractive? Not that we're complaining, of course.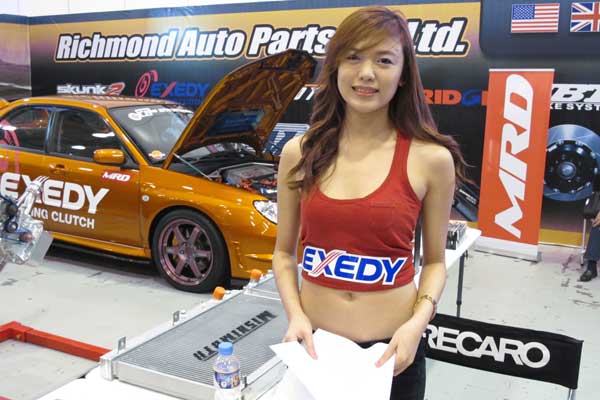 7th: Concorde. Exactly what we're saying. No visible navels here. Just good old-fashioned curves.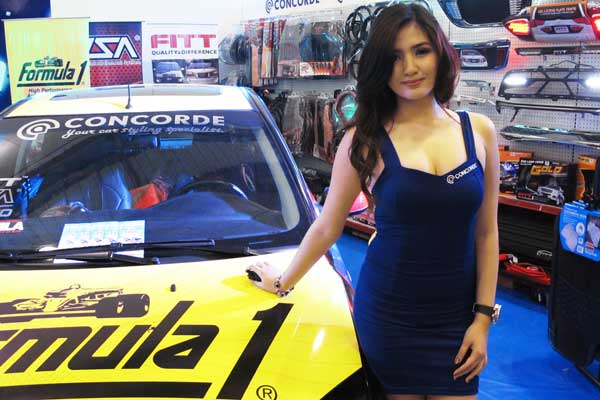 6th: Total. Easily the classiest-looking models at the show. Not much skin was exposed, but the red cocktail dress totally worked.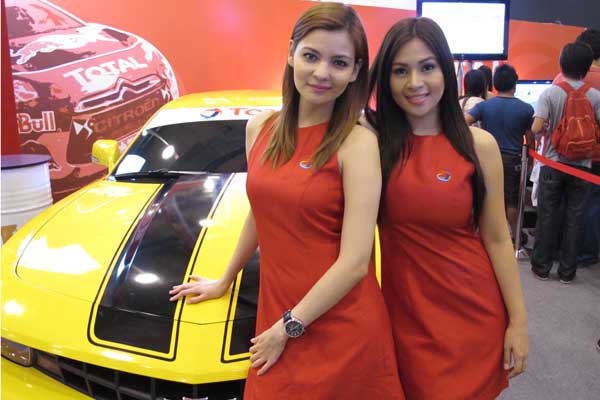 5th: DZ Racing. We have no idea why this girl is in fifth place, except perhaps for the fact she flashed us that naughty grin.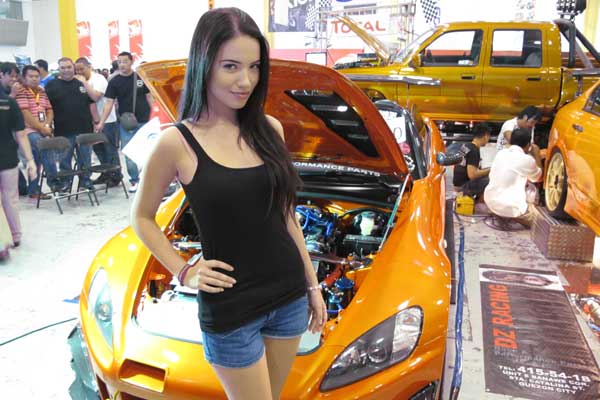 4th: V-Kool. Believe it or not, she was actually signing autographs when we found her. Maybe because people mistook her for Arianny Celeste (her name is Arianne). Wait...why do we know her name?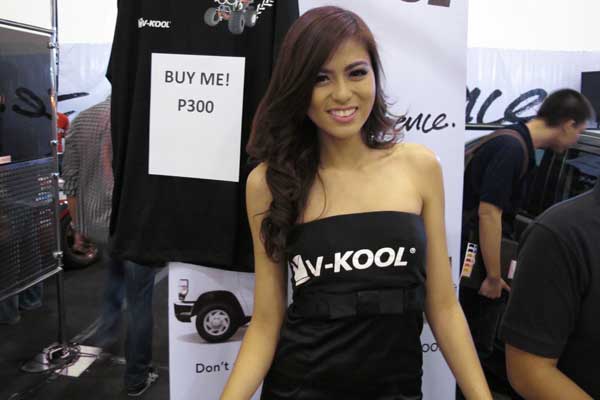 3rd: Rota. Many of the models at the show wore heavy makeup that would shame even the cement-layers of DPWH. This girl wasn't one of them. She didn't need any.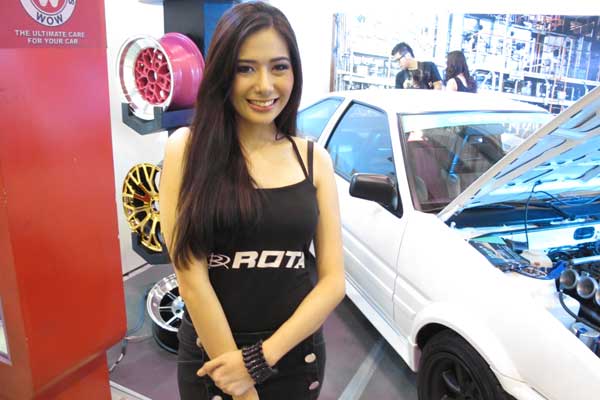 2nd: Anzahl. You know, we really find men who ask for a model's name and phone number, creepy. But then, we wouldn't mind the "sleazy" tag if we could get hers.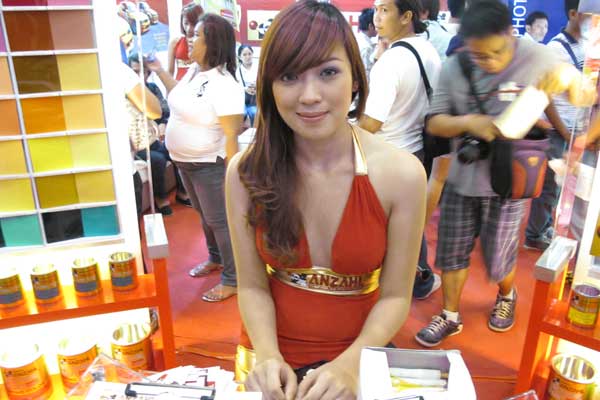 1st: Repsol. Why is this girl in first place? Do we even have a choice?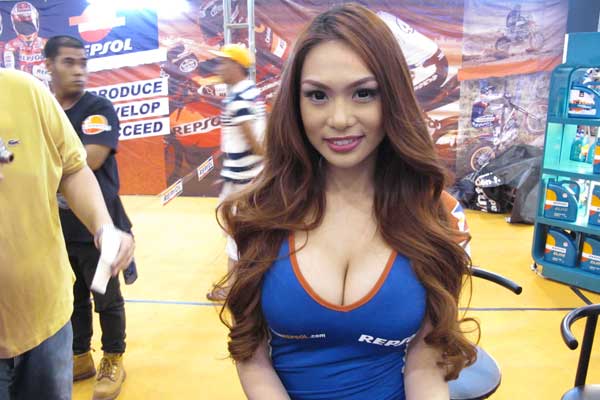 Photos by Vernon B. Sarne