Styling
The BMW i8 looks amazingly radical. Minimal-drag shape-work for efficiency is artfully combined with flourishes of crowd-pleasing flamboyance. Even four years after it launched, the i8 remains spectacularly different to anything else out there. A junior supercar, stuffed with tech that isn't consumed with the pursuit of power gures or cooking its narrow tires, but delivering a range of sensations from zero-emissions commuting smugness to thrusting acceleration and nimble handling at (mostly) legal speeds when you slide the gearlever left into Sport. Folding the roof back in 15 seconds simply adds another cool thing to the list.
Interior
The first challenge is getting in. The wing doors (frameless on the roadster) mean you have to duck, and the high sill means you have to scrunch your legs up to lift over. The swing design and high sills also rule out pockets or cup-holders in the doors. But hey, you don't buy this car if you aren't prepared to pay a small price for drama.
Visibility is a bit of an issue too. The screen pillars lie back and close, so in tight bends or roundabouts you're rocking in your seat, switching between looking through the windscreen and the side windows. The Roadster's rear humps turn diagonal reversing into a nightmare. There's no rear camera, either—only sensors, albeit good ones.
Continue reading below ↓
Recommended Videos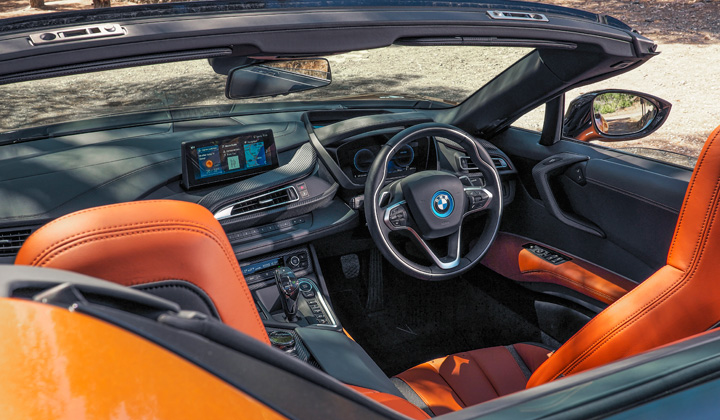 It feels like a sports car in there. You sit low and snug in terrific seats. The materials are up to the stiff asking price, and the control and switchgear ergonomics are as sound as a BMW's always have to be. It's also stylish and fashion-forward, if not as outright futuristic as the outside (to manage that it'd probably need a joystick instead of a steering wheel).
Engine and performance 
The powertrain and structure are just as unorthodox and brave as the styling. A small mid-mounted 231hp petrol engine drives the rear wheels through a six-speed automatic gearbox, while a biggish 143hp electric motor drives the front wheels. That allows three distinct sorts of propulsion. In sports mode, you've got AWD sports-car driving with performance to roughly match BMW's own M4. Hybrid mode is peaceful and ultra-efficient. Or it can travel purely electrically up to 120kph, using the plug-in battery reserve.
The car can finesse its drive strategy to use the minimum energy—whether that energy comes from petrol or electricity. Low drag is one part of that, and so's minimal rolling resistance—look at those tires. Another is light weight. The Coupe is 1,535kg. Even the Roadster is under 1,600kg, which is less than a 911 when outfitted with 4WD, autobox and electric roof. How did they do that? By using a tub of carbon fiber with aluminum subframes and lightweight exterior panels.
Verdict
The Roadster isn't just a fair-weather spyder. The three-layer electric cloth roof is properly weather sealed and quiet. So it adds another facet to this amazing car. Easing silently through a town in electric mode, roof down, makes you feel enchantingly intimate with the streetscape. But roof-up in 4WD sports mode, you've still got the coupe's talent as a proper all-weather ground coverer.
However, if you're buying an i8 to save cash, go drag racing, or transport more than two humans, you're probably doing it wrong. Come the weekend, you may want to drive a little harder, and the Roadster is happy to play along, zapping away from a standstill, charging hard when the gargling three-pot joins in, understeering a little less than the Coupe used to and owing beautifully with whatever surface you find yourself on.
But what I love is it never pretends to be race-bred or track-orientated; it's a road car above all else, and therefore sized, sprung, and powered accordingly. Frankly, the i8 is in danger of being decades ahead of its time but a commercial flop. But despite packaging flaws, by doubling the i8 lineup, the Roadster gives the i8 the chance to succeed.