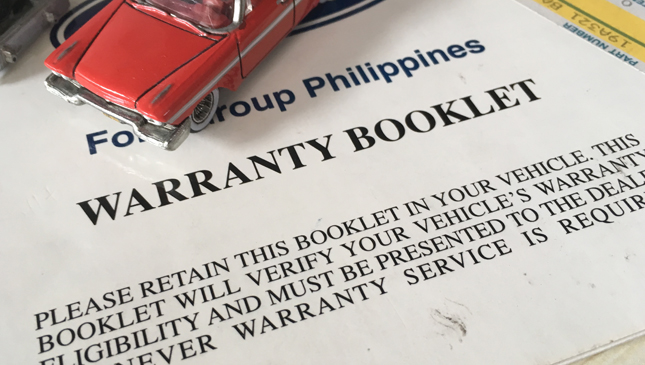 You would think that regular maintenance that is as mundane as an oil change won't void your car's warranty. After all, it's just a routine thing. If you wanted to, you can just as easily change the oil and oil filter yourself in your personal garage. But before you drive your brand-new car to the nearest talyer or service station for an oil change, do take a look at the warranty booklet of your car and read it very carefully.
In this booklet, you will see a recommended service schedule that encompasses the entire warranty period. There is most probably a checklist in there as well. The mechanic on duty will tick all of the boxes based on corresponding parts that have been inspected or replaced, and record the work done to your car at 5,000km, 10,000km, and so on. A stamp, seal, or sticker, is placed on the booklet to record the work that was done in the casa. For some brands, a sticker is placed on the windshield or under the hood, along with the date, odometer reading, and signature of the service advisor or mechanic on duty. Please note that not all car brands and models follow the same maintenance schedules.
Continue reading below ↓
Recommended Videos
According to Rodjie Calica, service manager at Mitsubishi Motorplaza in Baguio City: "Having your car serviced by an outside shop will definitely void your warranty coverage since following the periodic maintenance schedule (PMS) is required to qualify for the warranty condition."
In the unfortunate event that something goes wrong with your car, the first thing that a service advisor or casa mechanic will do is look at the maintenance booklet to make sure you followed the PMS. If there is no documentation whatsoever—tough luck. Just to be on the safe side, make sure to read the fine print of the service manual and warranty booklet as soon as your new car is delivered to you, so that you don't end up making a costly mistake.
However, once the warranty period has lapsed, you can now bring your car to the mechanic or service center of your choice.
Lastly, you don't have to go to the exact same casa to have PMS done. As long as you bring your car to an official dealership (anywhere in the Philippines) for service, the warranty will remain intact.