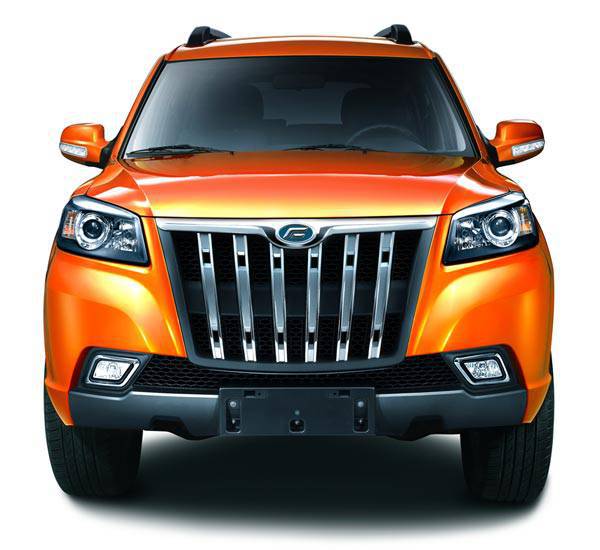 We know that China, for now, is synonymous with counterfeit products. You go to Shanghai and there are just as many vendors hawking fake items as there are legitimate shops selling original ones. There, you can buy a cheap "class A" Panerai watch and a clueless observer won't be able to tell the difference. The Chinese have gotten that good at brazenly imitating patented merchandise.
We actually need not go very far because the one product that China has been known to shamelessly copy in recent years is the automobile. The vehicle you see here is one such example. Now, we find this forgery interesting not so much because it looks like the real thing--in fact, the front part hardly resembles the genuine model's--as for the fact it sports a name that is a blatant mockery of the SUV it is trying to mimic.
What you see here is called the Foday Explorer 6 (we kid you not). It is made by a Chinese carmaker called Guangdong Foday Automobile Co., Ltd. Foday also makes a pickup called Little Superman, which looks every inch a knockoff of the old Isuzu Fuego.
According to the official website, the Explorer 6 was "designed by a very famous automobile designing company. The grille, coming as straight as a fall, fitting together with the eagle-eye headlamp, makes the vehicle look powerful and aggressive."
Continue reading below ↓
Recommended Videos
Okay.
The website also tells us that "the chassis still adopts the Mitsubishi Pajero technology. Its stable and reliable performance is proverbial in the field." Whatever that means.
The Explorer 6 measures 4,885mm in length, 1,785mm in width and 1,920mm in height, with a wheelbase of 3,000mm. By comparison, the current Explorer--not the new one, which Ford Group Philippines' spokesperson insists cannot be written about just yet (even if its photos and specs are scattered all over the Internet for everyone to download)--measures 4,912mm in length, 1,872mm in width and 1,849mm in height, with a wheelbase of 2,888mm.
A 2.0-liter, 120hp gasoline variant of the Foday Explorer 6 apparently carries a price tag of 89,800 yuan, or roughly P587,000. In case you're too astonished to realize it, that's cheaper than an automatic-transmission Kia Picanto. We can almost imagine what this vehicle feels like to drive and ride.
So...will you buy one?
Thanks to our reader Rico Soriano for the tip!