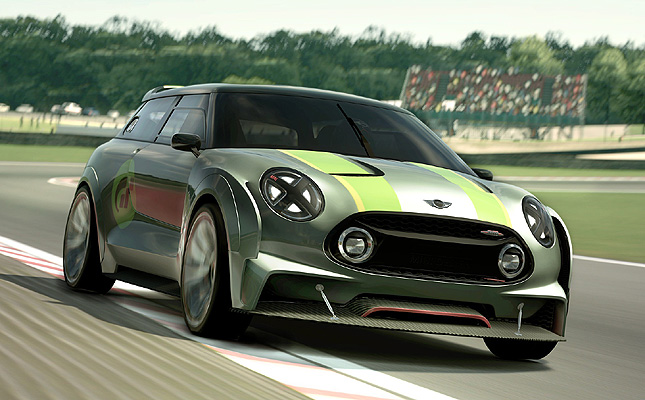 Another car has been added to the Gran Turismo 6's Vision Gran Turismo project, and it's the Mini Clubman Vision Gran Turismo.
"Mini has many highly emotional achievements to its name in motor racing," said Mini design chief Anders Warming. "The Mini Clubman Vision Gran Turismo literally puts these onto the virtual racetrack in Gran Turismo 6. The image of a go-kart on the road has recurring appeal."
The design of the Mini Clubman Vision Gran Turismo boasts a large central air inlet up front, with splitters that regulate the airflow to cool the engine and the brakes. The wide track and the flared wheel arches supposedly promise agile handling, while the horizontal alignment of the air-duct elements makes the front section appear low.
Familiar Mini racing design elements can be found in the Clubman Vision Gran Turismo. The elliptical headlamps feature a black "X" that echoes back to Mini's racing days. This time, it has been given a modern interpretation as four separate LED light elements are separated by a black X inside the ellipse. The continuous, hexagonal radiator grille has a flat, sporty design to emphasize the car's wide track, and is encased by a high-end black chrome surround. Further references to the brand's rally days are the upright windshield wipers, the small additional headlamps, and the accent stripes on the hood, the roof and the rear.
Continue reading below ↓
Recommended Videos
A 395hp engine propels the Clubman Vision Gran Turismo from zero to 100kph in 3.5 seconds. Its six-speed sequential transmission is controlled via steering wheel-mounted paddles, sending the power down to the permanent all-wheel-drive system and giving it a top speed of 290kph. Fully adjustable dampers at the front and rear keep the car firmly planted on the road.
The Mini Clubman Vision Gran Turismo is now available for download with the latest Gran Turismo 6 update.