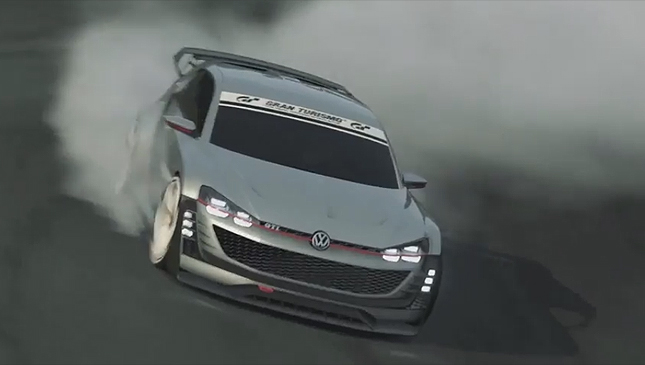 There's no denying that putting the letters "GTI" and the Volkswagen brand name together in one sentence brings about a heart-pounding sensation. Motoring fans drool at how this little hot hatch can provide so much driving pleasure that it has even become the benchmark. It's the kind of car that many compacts aspire to be when they "grow up."
The German carmaker is set to take the GTI to a whole new level as it unleashes the Volkswagen GTI Supersport in digital form through Gran Turismo 6 on PlayStation.
The newest member of the GTI family is unlike anything we've ever seen before. The menacing front end features a honeycomb grille along with a combination of sleek vertical light clusters and large air intakes that look as though they could swallow the car in front. At the rear, the huge roof-edge spoiler and equally prominent diffuser give the car a truly racy look. Needless to say, all these go-fast aerodynamics help the GTI stay on the road no matter the speed.
And with the power it packs under the hood, it seems like the car surely needs it. That's because the VW racer's VR6 powerplant puts out a whopping 503hp and 665Nm. All this brawn is transferred to all four wheels via a seven-speed dual clutch gearbox (DSG) and 4Motion all-wheel drive. How fast can it go, you ask? Is a 0-100kph time of 3.6 seconds and a top speed of over 300kph fast enough?
Continue reading below ↓
Recommended Videos
While the car may be in virtual form, Gran Turismo fans know that they can customize their ride. The GTI Supersport is no exception as VW offers design options to spruce up your ride. You can choose from Gran Turismo Red, Lapiz Blue, Reflex Silver or Onyx White. Some of these colors are actually the same shades you can choose from if you go to your friendly VW showroom.
Itching to drive this baby? You can now download it on Gran Turismo 6. Meanwhile, watch this teaser video.
If you're viewing this on a mobile device and can't see the video, please click here.