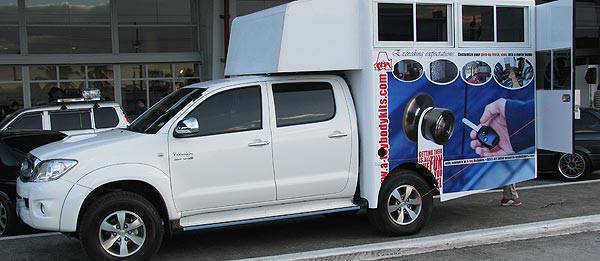 With A-Toy Bodykits having achieved all the success it could have in its line of business, its proprietor Atoy Llave has now taken his customization business to a whole new level as he now spruces up regular vehicles into motor homes.
"Everyone has this dream of going on a vacation using a motor home," said Llave to TopGear.com.ph. "When you think about it, it's the perfect way to spend a vacation. You drive to your destination, you park your vehicle, and then you cook and sleep in it because it has the amenities of home. You even get to save a lot of money because you don't have to pay for any hotel rooms."
Continue reading below ↓
Recommended Videos
However, if you think motor homes are only for the rich with their Ford E-450 or its relatively smaller sister, the E-150, Llave is making the motor home dream within reach of modest wage earners as he recently unveiled his first Toyota Hilux-based motor home. Llave made that possible by removing the Hilux's cargo bed and then replacing it with his own custom-designed motor home cabin. To save on space, the cabin's sleeping quarter is located right above the Hilux's cockpit.
"By mounting the sleeping area right above the Hilux's cabin, I was able to lengthen the motor home cabin to almost 8 feet in length from the Hilux's cargo bed of 4.5 feet and still basically retain the Hilux's stock length," said Llave. "That way, it can still be driven by anyone who has the standard restriction code 2 on their driver's license."
Llave's motor home conversion business started last year and he already counts celebrities like Angel Locsin, Diether Ocampo and Kris Aquino as some of his clients. Even companies like PLDT and Splash Corp. have tapped his services to customize their roving Watchpad Speedster Bus and mobile beauty parlor, respectively.
"There was a time when celebrities used to buy imported recreational vehicles from the US, but they're very impractical," said Llave. "They have stoves that we won't normally use in a motor home, and the RVs layout is basically what-you-see-is-what-you-get. And let's face it, who wants to cook when you're on a vacation when a microwave oven is more than enough?"
Of course, A-Toy Bodykits' "You Imagine, We Create" motto is still applicable to Llave's new business as he admits that its only limitation is entirely dependent on what his customer wants, and of course, the limitations of the donor vehicle, although if there's a way to get around these, you can trust Llave to find it.
"Imported RVs are also very expensive. You can pay around P5-6 million for one and you're stuck with the interior layout it came with," added Llave. "The motor homes I do sometimes cost less than half of that and you get to customize the interior to your specifications."
Llave admits that motor home customization, particularly for customers who keep changing their minds with regard to specifications, takes time. On average, it would take Llave and his staff roughly one month and a half to complete a job.
For Llave, though, the joy he has found in his new business venture all makes it worthwhile.
"Everyone dreams about going on a vacation using a motor home. But everyone thinks it's so expensive to own one," said Llave. "That's why after I started turning Ford's vans into motor homes, I thought about doing something similar for those who have a smaller budget, and that's where the Hilux motor home came in. I'm just helping people realize their dream."