The 34th Bangkok International Motor Show has a number of displays outside the massive Challenger Halls 1 to 3, which house the actual show. Interestingly, there's a long wall chronicling the growth of the Thailand automotive industry compared to those of neighboring ASEAN markets.
It's already a given that Thailand leads the region in car production, with over 2.4 million vehicles built in 2012, representing 59% of the market. The Philippines, by comparison, only produced over 55,000 units, or 1% of the total production within the region.
What caught our attention was an illustration that compared the vehicles being exported between Thailand and the Philippines.
While most of the vehicles that Thailand exports to the Philippines we already know--like Toyota's Altis and Hilux (known as the Vigo in Thailand) and Honda's Jazz and Civic--what surprised us were the other models listed in the illustration, which have yet to make their way to our country. We're talking about the new Toyota Vios and Camry Hybrid as well as the Honda Brio hatchback and sedan.
ADVERTISEMENT - CONTINUE READING BELOW ↓
What's alarming is the fact that the current-generation Vios is locally assembled, at Toyota's manufacturing facility in Santa Rosa, Laguna, to be exact. Does this mean Toyota Motor Philippines will cease producing the nameplate here and instead import it from Thailand once the new model is introduced in our market?
Ironically, under the "Philippines Export to Thailand" section of the illustration is a lone image of the Ford Escape, which Ford Philippines stopped making at the end of 2012.
So, are we once more losing a locally produced car to Thailand? And are we really getting the models that we have yet to receive but are listed in the illustration?
Looks like we'll have to wait and see.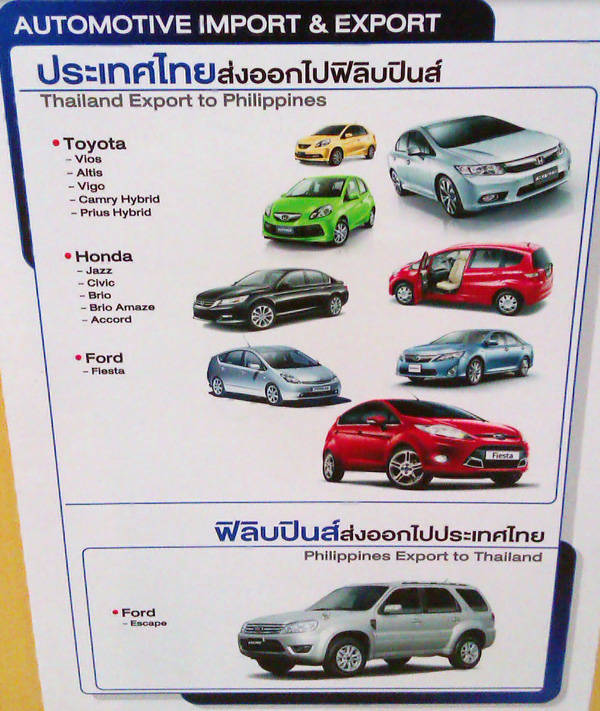 ADVERTISEMENT - CONTINUE READING BELOW ↓
Recommended Videos