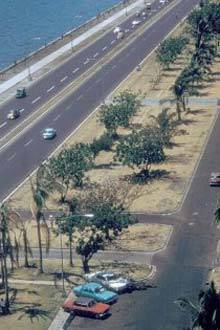 If you were born in the '70s like, er, most of the editors of Top Gear Philippines, you certainly didn't get the chance to see Manila in the glorious decade of the '60s--the period just before martial law plunged the nation into a downward spiral that we still haven't managed to recover from. Fortunately for us, there's the Internet, the playful browsing of which never fails to uncover delightful things.
Last weekend, we again stumbled upon such delightful stuff, namely, vivid photos of Manila in the psychedelic '60s. Apparently, these photos were taken by a photojournalist named Harrison Forman and are being preserved by the University of Wisconsin-Milwaukee Libraries.
Continue reading below ↓
Recommended Videos
We picked six images from the batch, particularly those that show Manila's motoring landscape half a century ago, and share them with you here. Most intriguing is the picture of Ayala Avenue, which looks unbelievably wide and forested here compared to the busy commercial district we know today.
There's also the cleaner and more spacious image of Escolta, featuring classic automobiles with bulging fenders and chromed bumpers--not to mention pedestrians who actually walked on, well, sidewalks. A photo of Plaza Moraga, meanwhile, proves that even in the '60s, billboards and brand logos already polluted Manila's skyline.
A picture of Quiapo shows a preponderance of calesas, a popular horse-drawn mode of transport back in the day. A snapshot of Rizal Avenue gives us a glimpse of pedestrian traffic--and possibly the fact that the streets then weren't filled with enterprising vendors and mendicants. The last photo, one taken near the Santa Cruz church, features a car adorned by the most distinct styling cue of the day--the tail fin.
As a car enthusiast, which version of the Manila landscape do you prefer: the '60s or the present?
[gallery]860[gallery]