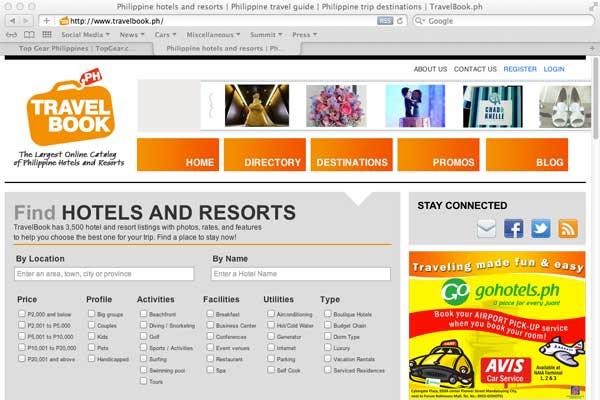 We'd all be doing road trips all the time if traveling were cheap, wouldn't we? There's the fuel, there are the toll fees, and, of course, there are the accommodations. But what if you had a way of finding the best-value hotel promos available at the time of your excursion? That's basically what one local travel website is offering.
TravelBook.ph, a Summit Media website, is now the largest catalog of hotels and resorts in the Philippines, boasting more than 3,500 such establishments in its online directory. The site aggregates contact information, room rates, photos, and--best of all--wallet-friendly promos.
What we like about TravelBook.ph is its user-friendly interface that makes it easy to find the ideal lodging for your specific needs. For instance, you can specify in your search that Internet connection is a must. You simply tick a box and the website's search engine will filter the results for you. Or you can customize the search according to your budget. You can even search for hotels or resorts according to the type of activities you and your companions are interested in.
ADVERTISEMENT - CONTINUE READING BELOW ↓
Next time you hit the road for an out-of-town break, be sure to find yourself the perfect home away from home by consulting TravelBook.ph. You'd be glad you did.
You're welcome.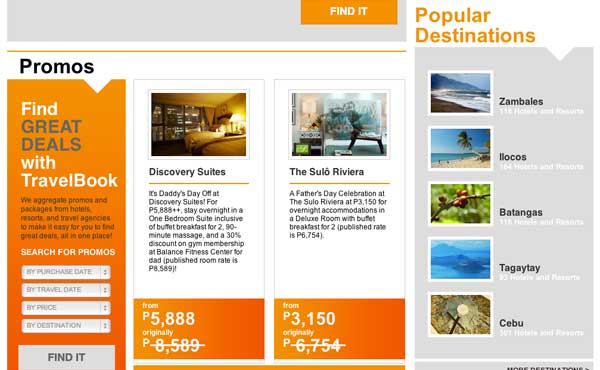 ADVERTISEMENT - CONTINUE READING BELOW ↓
Recommended Videos