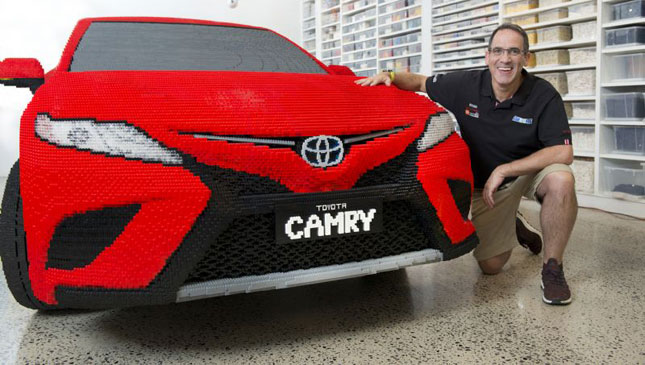 No, that's not a typo. Believe it or not, this life-sized Lego replica of the all-new Toyota Camry weighs more than the real thing. It's a hefty 400kg heavier, so roughly as heavy as four overstuffed motoring journalists after a trip to the buffet.
The 2,000kg Lego masterpiece will be unveiled at the Brickman Awesome exhibition in Melbourne Museum Plaza on March 21. It consists of over 500,000 pieces and took 900 hours to assemble over eight weeks. And guess what? Toyota says that the process was about eight times longer than the time it takes to build an actual car. The replica features working headlights, indicators, and brake lights.
Continue reading below ↓
Recommended Videos
"I'm so excited to be unveiling my newest Lego creation--a life-sized Toyota Camry--at Brickman Awesome in Melbourne," said project designer Ryan "The Brickman" McNaught. " It's taken over two months to build and comprises more than 500,000 bricks, but I'm really pleased with the outcome and can't wait to see what everyone else thinks of it! I'm delighted we have partnered with Toyota and I've had this opportunity to build my first full-scale Lego car."
"The dedication and time that has been put into this one-of-a-kind project really meshes with Toyota's dedication to the quality, durability and reliability of our respective products. It also provides us a fun platform to showcase the stylish Camry design in a different and interactive way," said Toyota Australia chief designer Nicolas Hogios.

If you happen to be around Melbourne, you can check out the Lego Camry from March 21 to April 29 at the Museum Plaza.