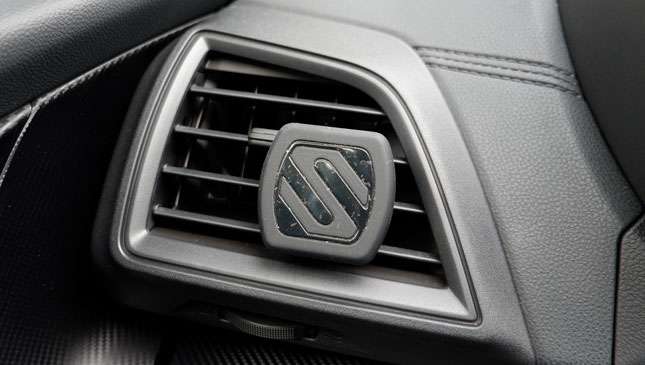 Smartphone holders, like the devices they mount, come in different forms. Some are big, others are small. Some use a suction cup, while others are held up using an adhesive tape. With so many to choose from, finding the right mount can almost be as confusing as deciding which car to buy.
The MagicMount Vent from Scosche simplifies this whole process. In the box, you get the mount plus two very thin magnetic plates of different sizes. Depending on your own preference, you can either stick one of the plates directly onto your phone via an adhesive strip, or just place it securely inside your case or battery cover.
Continue reading below ↓
Recommended Videos
The mount itself attaches to your car's A/C vents. It features a two-way design to fit vents of different sizes. Once it's secure, you simply place the back of your phone onto the mount and off you go. Just make sure that the magnetic strip inside sits flush with the mount. The beauty of this holder is that you can change your phone's angle from portrait to landscape without having to adjust the mount itself. Removing your phone is easy enough, too, as if you're just grabbing it from one of the cup holders. No need to unhook or press anything.
The mount's design is unobtrustive and blends in with the rest of your dashboard. It's also easy enough to take out and carry with you to use as a kickstand.
A drawback of this mount at times is finding the right vent to place it on, depending on your car; angled vents and ones obscured by plastic panels can be challenging. Another difficulty is when your car doesn't come with vents conducive to your visibility while driving (if they're down near the shifter, for example). In addition, the small side of the clips is arguably too small for most A/C vents. When in doubt, use the large ones, lest you break your vents.
The Scosche MagicMount Vent retails for P1,350. A bit pricey compared to your run-of-the-mill smartphone holder, but the convenience, ease of use, and adaptibility to almost any phone and car are worth it. There are other brands out there that offer the same functionality, so feel free to explore.