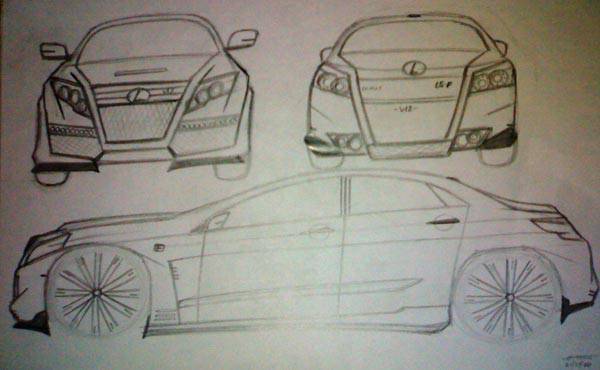 What you see above is the handiwork of Top Gear Philippines reader Feliciano Ababon III, sent to us nearly three years ago. Well, he e-mailed us again recently with a new batch of car sketches. He says he is now an aspiring architect and car designer. "I want to be a car designer and your magazine is my inspiration," he tells us. "Your stories about Pinoy car designers really inspired me." (You will recall that we once did a feature on Mercedes-Benz designer Wini Camacho.)
According to Feliciano (sorry, he didn't provide his nickname), "I received a document from the car design department of Tokyo Communication Arts, and I'm very happy that it came straight from Japan. If only our schools here in the Philippines also offered car-design courses, I might stay here and not go to a foreign country. I just want to be one of the few Pinoy car designers in the industry. I want to be able to give honor to our country."
We know how talented Filipinos are when it comes to sketching. In fact, a number of our countrymen are world-class cartoonists and comic-book illustrators. But do you think we have what it takes to be automotive designers? Our hunch says yes, at least based on Feliciano's works. And before you dismiss the sketches above--remember, those were made three years ago--check out these new ones that he's sent us.
Continue reading below ↓
Recommended Videos
True, he still needs work on the originality, but the raw skills are clearly there. Let's all hope he keeps at it. Who knows? A future Porsche model could be drawn by a Filipino.