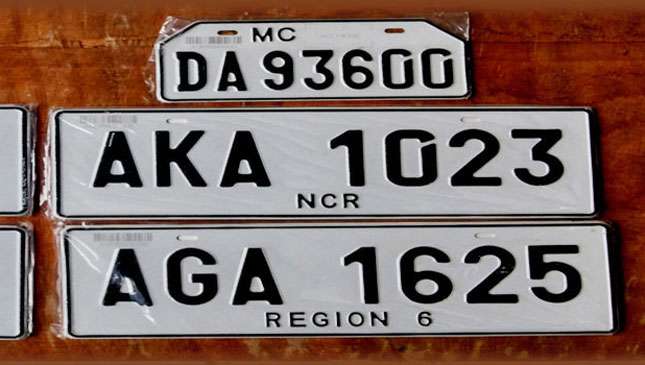 Your license plate is more than just a piece of identification for your ride. It is a legally mandated requirement for using a vehicle on Philippine roads. As we drive around the metro, you will always see at least one of those "temporary plates" or "lost plates" attached to vehicles. But is this proper? What exactly do you do when you have a lost or damaged plate? We've prepared this guide to help you figure out the steps.
First of all, driving without a license plate is illegal; it may result in fines and your car might even be impounded if you are caught without them. If you've damaged your plate and/or lost it, the first thing you will need to do is to prepare an affidavit of loss or mutilation. This document can be prepared by your local notary public.
You will then need to go to the LTO office where the vehicle was last registered, then you'll be asked to present additional documents to substantiate your claim (other than an original copy of the aforementioned affidavit), namely:
ADVERTISEMENT - CONTINUE READING BELOW ↓
1) Certified true copy/original certificate registration.
2) Certified true copy/original of the latest official receipt for the motor vehicle user's charge and other fees.
3) In case of for-hire motor vehicles, certification from the LTFRB that the plates have not been surrendered.
4) In case the vehicle is under a company name, the secretary's or DTI certificate.
5) PNP-Highway Patrol Group clearance.
You will then need to inform the LTO that the plates are damaged. They will have you go to the transaction counter to submit all the required documents to the evaluator for evaluation and computation of fees.
The LTO will then inspect your vehicle and issue an accomplished and approved Motor Vehicle Inspection Report (MVIR). This form can also be completed prior to going to the LTO should you wish to expedite the process.
Once this is done, proceed to the cashier to pay the necessary fees and obtain an official receipt/proof of payment for the cost of replacement/duplicate plate.
You will then be sent to the releasing counter to obtain the necessary certificate of registration, plates, stickers or other requested documents. This should also include authorization by the LTO to use improvised plates that are usually valid for 90 days, but this is to be taken with a grain of salt, as it can depend on the LTO office handling your request.
So there you go. It may sound like a bureaucratic nightmare, but trust me, the hassle of the system is nothing compared to the hassle of being caught on the road without any plates. At the end of the day, our beloved cars' license plates are intrinsic and essential to our right to traverse the roads with our vehicles. The state has all the right to prevent you from using your vehicle without the proper regulatory safeguards for public welfare. Take good care of your plates and treat these instructions as a last resort.
ADVERTISEMENT - CONTINUE READING BELOW ↓
Recommended Videos