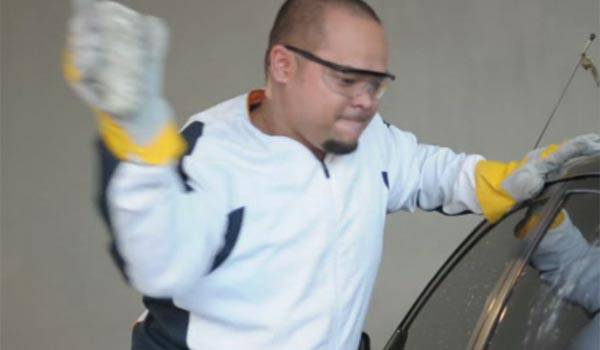 Okay, before anything else, let's get one thing out of the way: The guy in the photo above (and in the video below) isn't Botchi. To proceed...we all know that one of the most common crimes that can be committed against our vehicles is car theft. You know, the act of smashing a car's window to get whatever valuables are inside. Well, there's a newly arrived window-film company that claims to have the solution to all that.
Hanita Window Films--said to be from Israel--guarantees that its tint products offer not just protection from harmful ultraviolet rays but also from roaming miscreants. The films are locally distributed by a company called ProLaminates.
According to Hanita, its window tints are able to provide protection by having "multi-layers of top-quality polyester film, which prevents the dispersal of glass shards upon impact." In the video shown below, Hanita demonstrates how a window with ordinary tint can be smashed in under four seconds, and how a window protected by Hanita film caves in only after more than 20 seconds. Hanita then cites a finding saying that cops believe that "a thief who cannot break into a car within 10 seconds will most likely abort his attempt to steal valuables from the car."
Continue reading below ↓
Recommended Videos
Watch the video below for the graphic demonstration.
If you're viewing this on a mobile device and can't see the video, please click here.