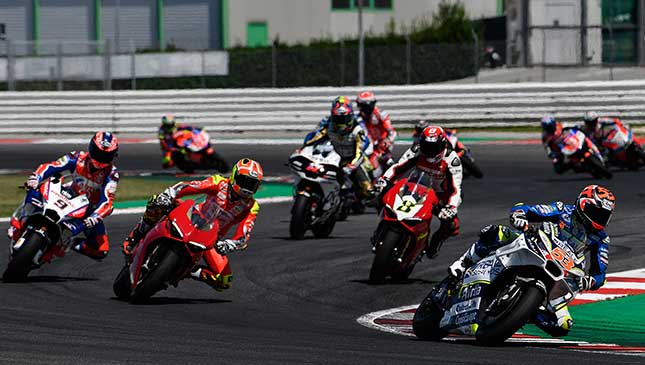 A contingent of Filipino riders recently found themselves in Western Europe, feasting on delicious food, drinking the best wine, enjoying century-old architecture, and riding heartily to the Alps.
Although they belong to different motorcycle clubs, they have one common denominator—they are all Ducati owners. The climax of their European tour, arranged by Ducati Philippines (Access Plus) and Clutch Moto Tours, was the World Ducati Week 2018 (WDW) staged in Misano, Italy, last July 20-22.
All geared up, these Pinoy riders entered the gates of the Misano World Circuit Marco Simoncelli on Multistrada 1260 motorbikes. The venue was a 4.2km race track where the MotoGP and Superbike World Championships are regularly held.
According to event organizers, total number of attendees for this year's celebration—dubbed as 'The Sound of Passion'—reached 91,596 coming from 73 countries.
"WDW, for sure, is a unique concept," said Andrea Buzzoni, Ducati Motor Holdings sales and marketing director. "First, it is the only one done in a race track. And second, because it's participated in by a diverse mixture of people."
Here are 10 interesting facts why the World Ducati Week is a must-attend event: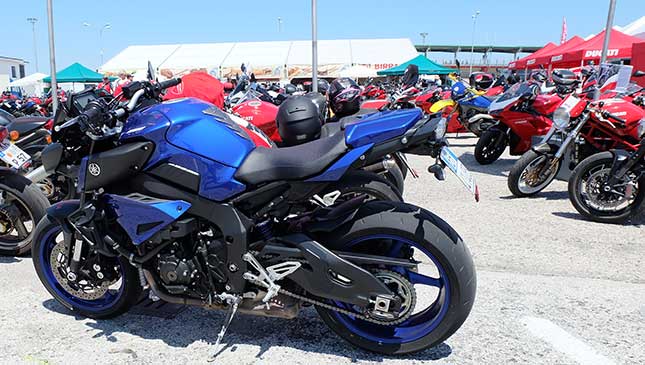 1) Come one, come all
This is one of the few international motorcycle gatherings that's open to all brands. When we say 'open,' we really mean open. There's no such thing as exclusivity here. Bikes of other brands are not there to be confined in the parking lot, but are also welcome to participate in other activities such as the track attack and Parata (Parade).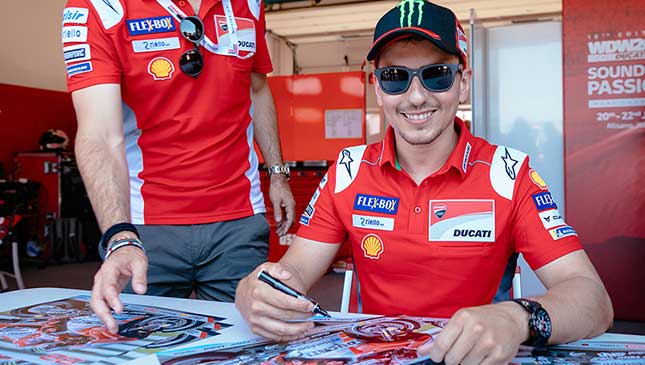 2) Get star-struck
Have you been dreaming of meeting your Ducati champions in the MotoGP and Superbike events in the flesh? The WDW is the perfect venue to see Ducati racing champs like Casey Stoner, Troy Bayliss, Andrea Dovizioso, and Jorge Lorenzo among others. Bring a pen and your favorite helmet or T-shirt because there's a big chance you can get their autograph or take a selfie with them in the paddocks or pit lane.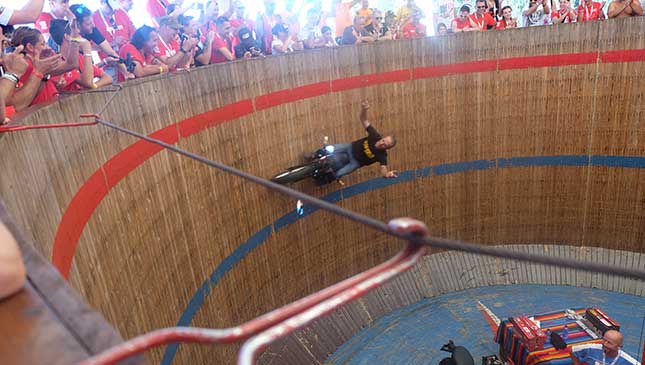 3) Stunning stunt show
Have you seen bikes riding on the inside walls of a giant facility? According to the event organizers, the two Ducati Scrambler Sixty2s made 750 spins from inside the Wall of Death at high speed. Make sure you line up early because there are lots of spectators who want to take the best viewing spot.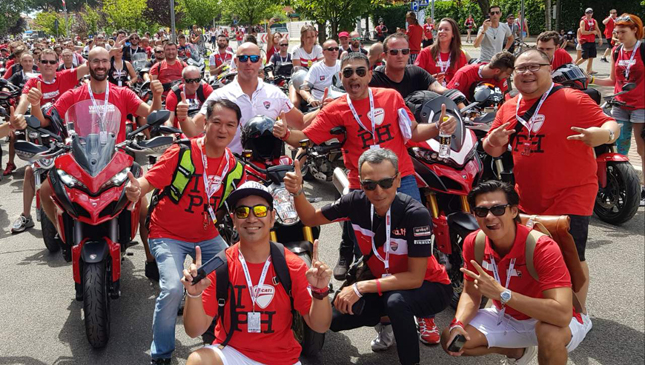 4) Grand street parade
Adding to the kilig moments in the event was the Parata WDW2018. From the Misano Circuit, thousands of riders rode in double file formation and headed to Rimini, where they were welcomed by residents lined up on the streets. Cars coming from major intersections were blocked by traffic police to give way to the participants. Tourists and locals took selfies with the long convoy of riders. Even toddlers on walkers witnessed this biennial tradition.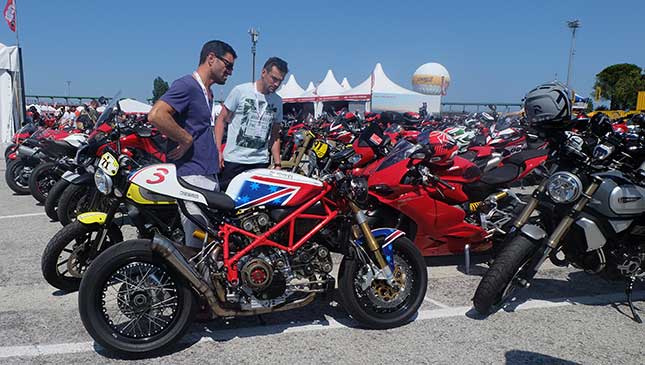 5) A haven for bike builders
With thousands of motorbikes parked inside the Misano World Circuit, there's no way you could miss a customized Ducati. You will discover how Europeans personalize their Monster or Scrambler. Do not miss the Ducati Garage Contest. More often than not they can really get wild!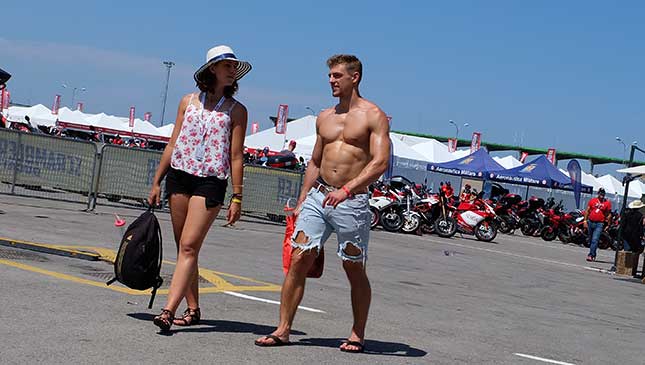 6) Bare your skin
The WDW happens during the summer season. It's the time when Europeans, particularly Italians, enjoy the sun. The temperature rises to 36 degrees, so come in your worn-out denims or shorts and feel at home. Do not be a killjoy and just follow the WDW unofficial dress code: "The lesser, the better."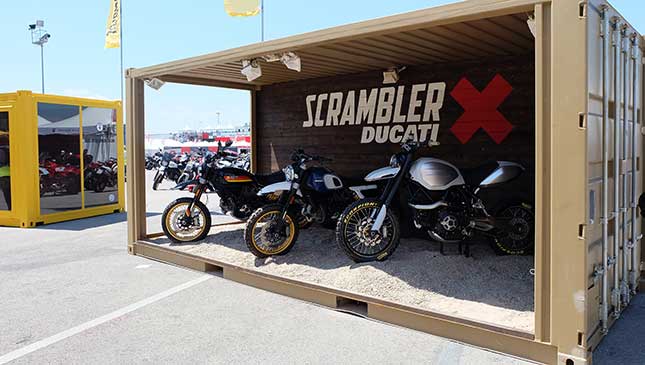 7) Motorbikes galore
If you want to be updated on what's up in the Ducati motorcycle world, the WDW is the place. This event has everything about this iconic Italian brand. From motorcycles to riding apparel, you will likely find what you're looking for from the original Ducati collections.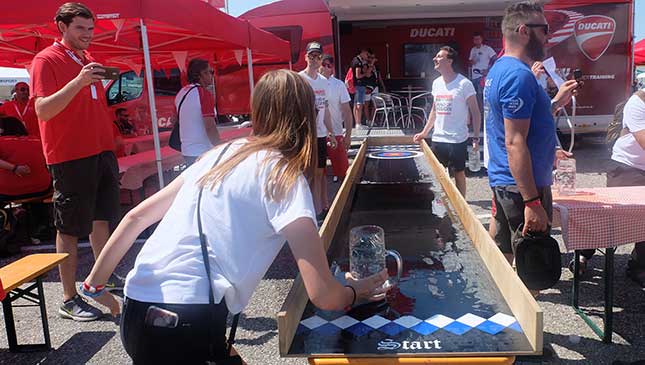 8) Try your luck
In case your budget has reached the redline, do not feel frustrated. WDW has figured out some ways for you to bring home souvenir items that you can give to your friends back home. There are parlor games that will test your abilities. One of those we tried is the slide-the-beer-glass game. Here, you slide the beer glass on a table with a smooth surface for it to stop on a target point. If the beer glass lands on the bullseye at the other end of the table and you did not spill any precious liquid, you win a Ducati lanyard or a pin. Cool, right?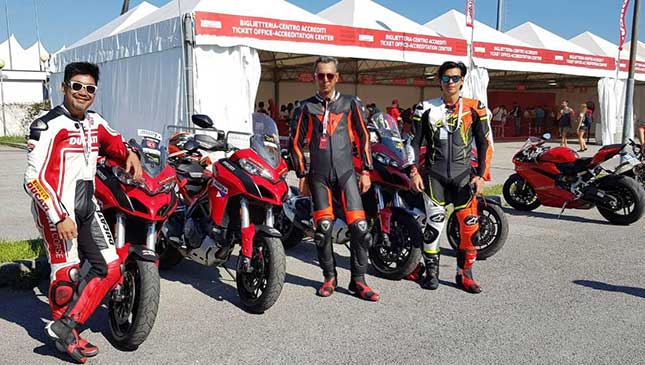 9) Ready for track attack
The Misano World Circuit is one of the best racing circuits ever built. Watching MotoGP and SBK repeatedly will make you fantasize about racing on this circuit, attacking corners at a 60-degree lean-in angle the way Lorenzo and Dovisiozo do it. Organizers allot a specific time for Ducati owners to test-ride their latest products. This year, the Pinoy contingent was fortunate enough to try out the Ducati Panigale V4. Reminder: Bring your racing leathers.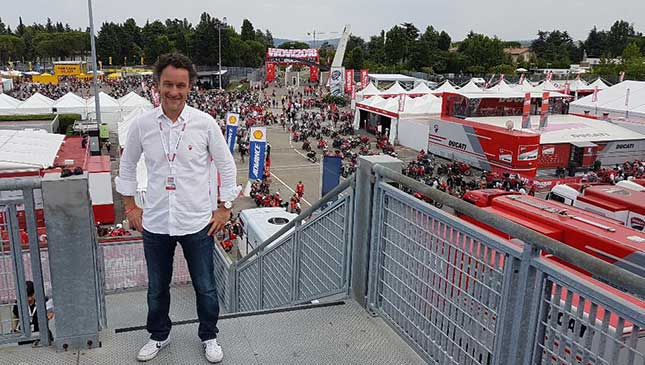 10) One big family
The WDW happens only once every two years. Like staging the Olympics, Buzzoni says the success of the event depends a lot on the tedious preparation. From planning to implementation, Ducati employees in Italy are hands-on with the WDW event. Hardly do they outsource from other companies for important tasks, he added.
"From a Ducatisti to a Ducatisti"' Buzzoni emphasized.
Guys, it's time to save up for WDW 2020!