Yamaha's scooter game is on point, as demonstrated by its ever-popular Mio Aerox automatic scooter. Both variants—standard and S—sold out in record time, with the ABS-equipped S selling out its initial allocation within hours of its release.
The 155cc scooter, aimed at the younger generation dubbed 'Miolennials' by Yamaha, has captured the hearts and minds of the riding public. It's plain to see just how well it's selling if you scan our busy roads—there's a good chance you'll see several of these premium automatic machines with different kinds of people at the helm. Whether they be young professionals trying to beat the traffic, students riding to class, or riders for a popular ride-sharing app, loads of motorists have been smitten by the trendy scooter's charms.
ALSO READ:
8 Of the most fuel-efficient motorcycles in PH
Quick guide: How to apply for a number coding scheme exemption
Just what is it about the Yamaha Mio Aerox that has convinced thousands to swing a leg over its wide chassis? Read on to find out everything you need to know this model.
Styling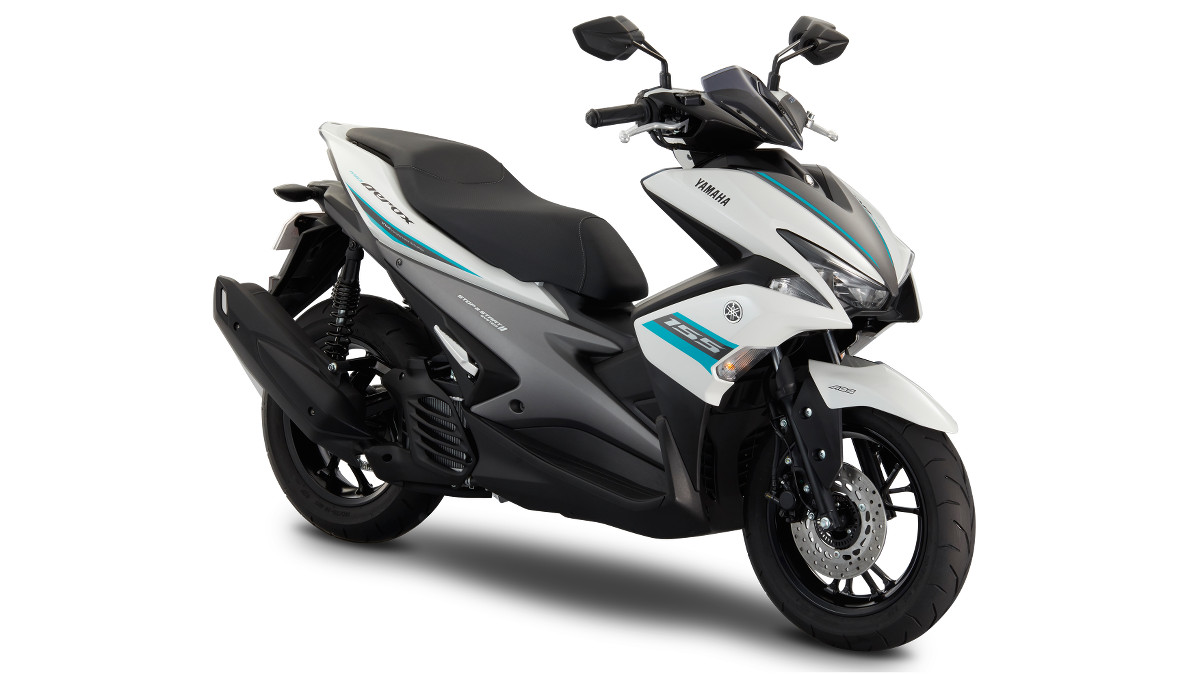 ADVERTISEMENT - CONTINUE READING BELOW ↓
Yamaha's recent motorcycles sport a stylish, modern, and somewhat edgy design philosophy, and the Mio Aerox is no different. It features sharp, angular bodywork and a more commanding presence on the road compared with most other scooters. To complement the bodywork, the LED headlight performs double duty, also serving as a piece that elevates the Aerox's high-tech appeal.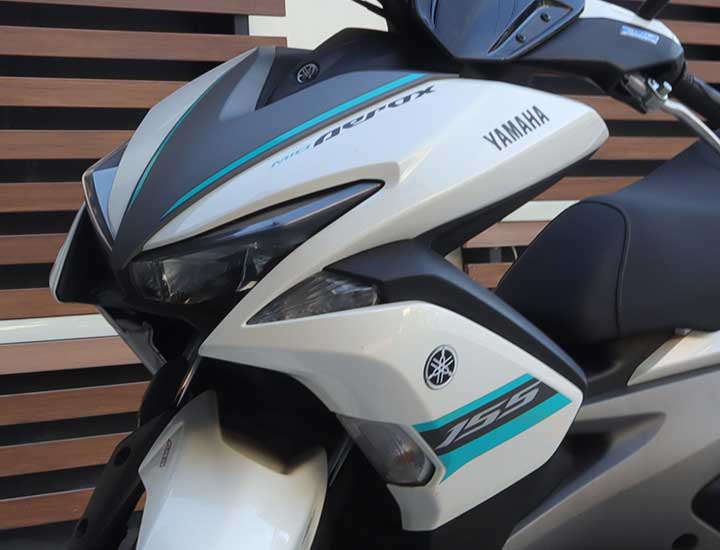 The Aerox comes in three color options: Race Blu, Vibrant Orange, and Black Raven. The Aerox S variant is available in White or Matte Blue.
Saddle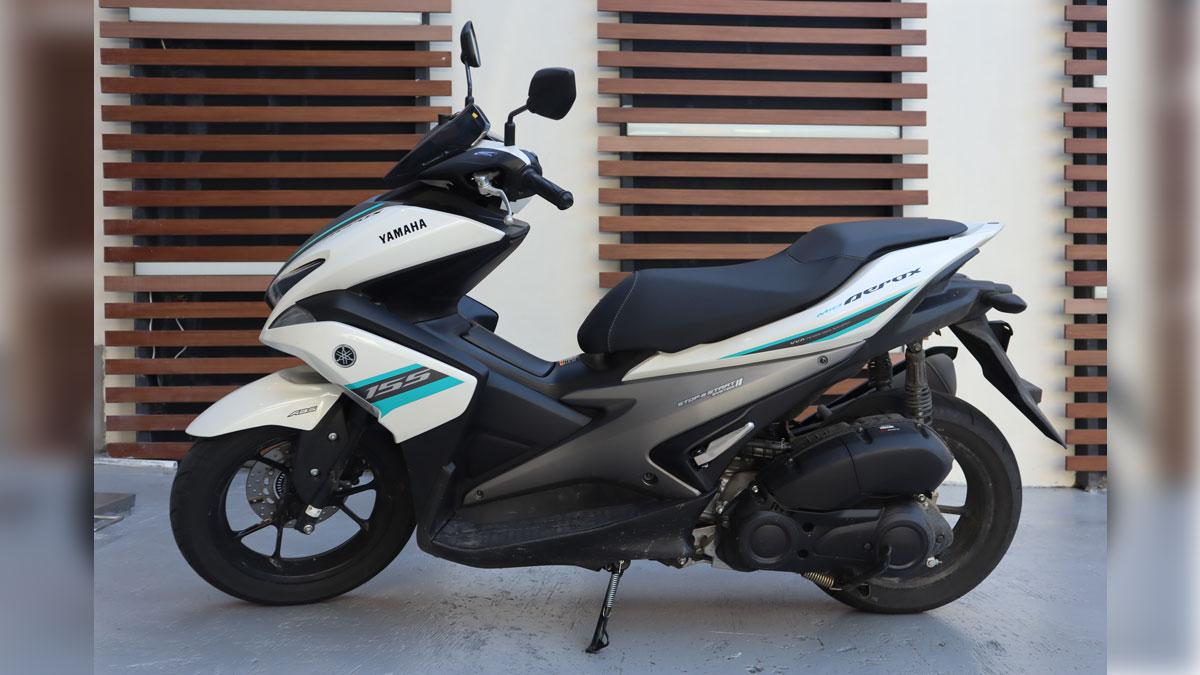 ADVERTISEMENT - CONTINUE READING BELOW ↓
Recommended Videos
Straddling the Yamaha Mio Aerox feels similar to being on pretty much any other automatic scooter: The seating position is relaxed and upright, the handlebars are within easy reach, and your feet have ample space to rest on the stepboards. What differs with the Aerox is the soft, wide, and contoured seat, the not-totally-step-through frame, and the scooter's chassis and bodywork that make it a bit wider than most machines of its kind.
Keep in mind that this Yamaha's wide nature means those of average Filipino height might not be able to put both feet fully down when stopped. But rest assured that the Aerox is easy enough to handle with just one foot flat on the ground.
Passenger accommodations are ample, but once again, the scooter's width comes into play by making it a bit of a challenge to mount and dismount the rear perch.
Engine, performance, and specs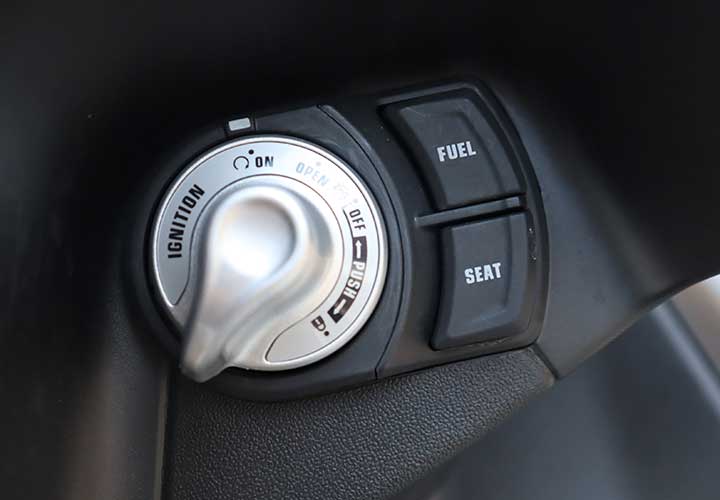 ADVERTISEMENT - CONTINUE READING BELOW ↓
Yamaha's 'Lead With Speed' tagline for both the Aerox and Aerox S holds true, as model is powered by a peppy 155cc SOHC liquid-cooled, four-valve single-cylinder engine making 14.7hp at 8,000rpm, and 13.8Nm of torque at 6,250rpm. The VVA-equipped powerplant is mated to a V-belt automatic transmission, as is typical for automatic scooters these days.
Braking is supplied by a hydraulic single disc brake in front and a mechanical drum brake in the rear. Stopping power is more confident with the S variant, which comes equipped with front ABS.
The suspension setup is simple, with a conventional telescopic fork in the front end and swingarm-mounted twin shocks in the back. The Aerox is equipped with wide tires to allow for sporty handling and behavior. A 110/80–14 tire is mounted in the front, and a sport-bike-esque 140/70–14 tire handles the rear end.
Extra features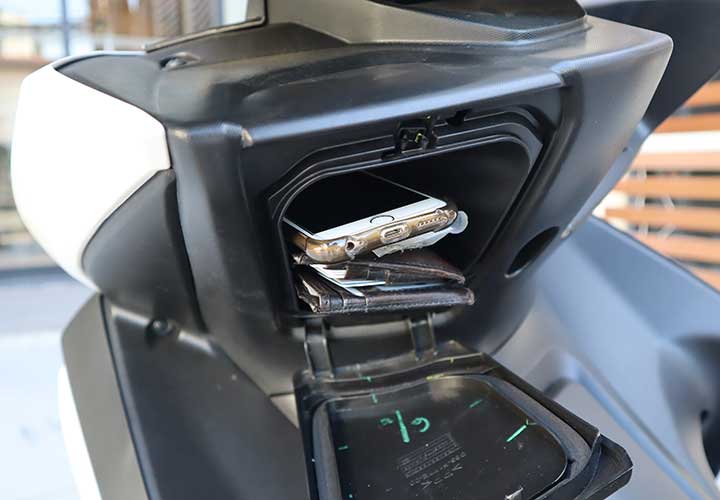 As the top option in Yamaha's Mio line of scooters, both the Aerox and Aerox S come loaded with tech. Topping the list are Yamaha's VVA (Variable Valve Actuation) and Blue Core technologies, allowing for more low-speed torque and better fuel efficiency, respectively. The all-digital 5.8-inch LCD actually notifies you when VVA is active, and also indicates when you're riding particularly economically.
Yamaha has kept the modern Filipino rider's needs in mind and has equipped the Aerox with an electric socket for on-the-go device charging, as well as a 25-liter under-seat storage box that claims to fit a full-face helmet.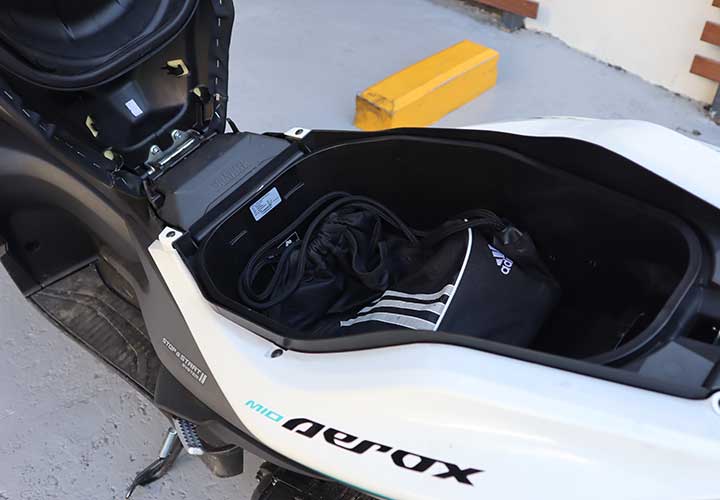 The premium S variant comes with even more tech, such as Yamaha's Start-Stop II that automatically shuts the engine off after five seconds of inactivity, saving you fuel in traffic. This feature also allows you to instantly restart the scooter again by simply twisting the throttle. Another feature exclusive to the Aerox S is the smart key system with keyless ignition, which not only allows you to unlock the scooter remotely, but also helps you remember where you've parked: Just press a button on the key to make the Aerox S beep and light up a couple times.
ADVERTISEMENT - CONTINUE READING BELOW ↓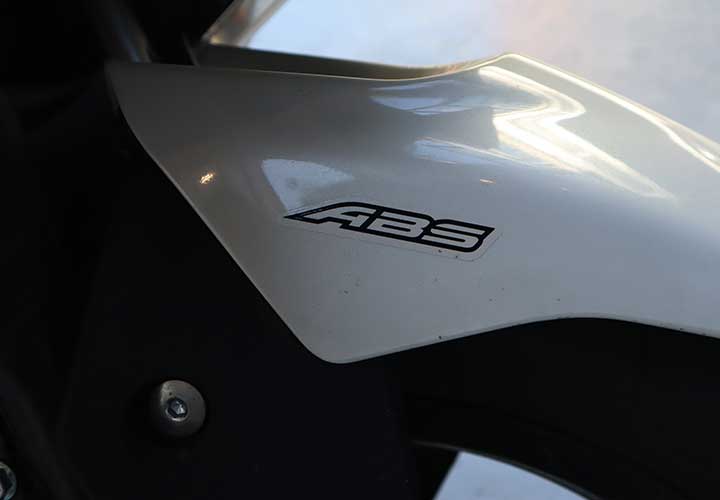 Variants and pricing
Check out the prices of this scooter's two variants below:
Yamaha Mio Aerox 2022– P102,900
Yamaha Mio Aerox S 2022– P122,900
If you're itching to give the automatic-scooter life a try, why not give this premium entry into the scooter market a spin?