If you're interested in local motorcycle racing, no doubt you've heard of McKinley Kyle Paz and Masato Fernando, racers for Yamaha Philippines and rising stars of the Asia Road Racing Championship. You've probably heard of their race-winning ride, too: the Yamaha Sniper 150.
One of the most coveted underbone sport bikes in the country, the Sniper has proven itself on the track with numerous victories, and on the streets by winning the hearts of riders looking to inject a little racing DNA into their daily ride. Interested in this 150cc-class underbone with motorsport pedigree? Here's everything you need to know about the Yamaha Sniper 150.
OTHER STORIES YOU MIGHT HAVE MISSED:
This might be what the next-gen Hyundai Accent will look like
Does Mitsubishi have plans to bring Xpander production operations to PH?
Styling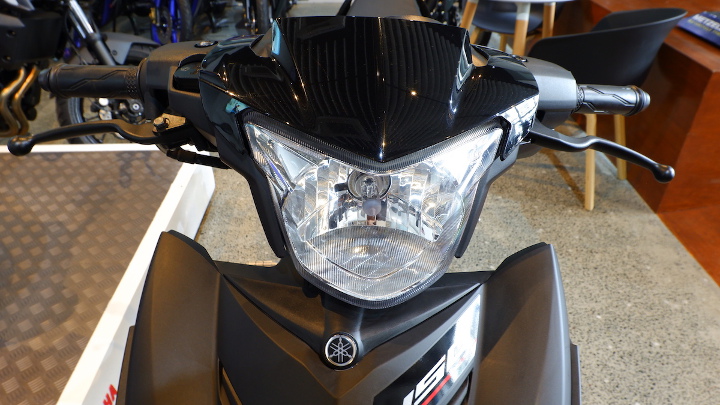 A glance at the Sniper will confirm that it is indeed a little brother to the rest of Yamaha's sporty R-Series line. The R-Series styling cues and the sharp, swooping bodywork make the Sniper look like it's going fast even when it's just parked. The sinister-looking eyes that serve as the motorcycle's daytime running lights remind onlookers of the YZF series of sport bikes, giving the impression of power and performance.
ADVERTISEMENT - CONTINUE READING BELOW ↓
From the factory, the bike looks ready to race from the get-go, with wide front and rear tires ready to carve up corners, and aerodynamic cowling that's as functional as it is cool to look at.
Saddle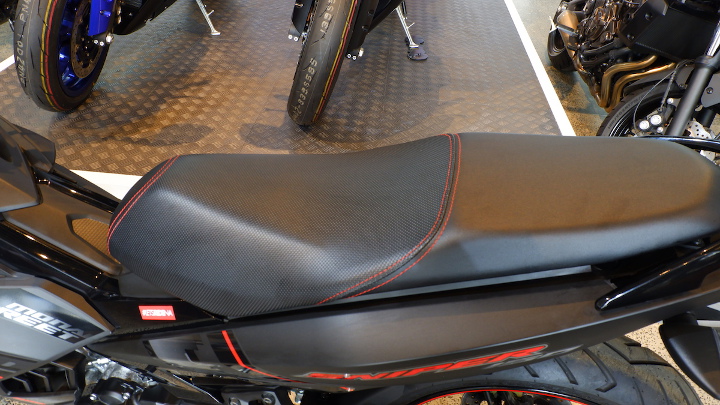 Underbones like the Sniper are inherently easy to use for day-to-day riding thanks to their step-through frame design. This Yamaha is no different as it trades off a gas tank that can be gripped with your thighs and knees for a center tunnel that allows for a narrow seat and easy mounting.
The seat is a long, single piece that provides enough grip for your bum during spirited riding, as well as sufficient cushioning for daily errands. At 31.2 inches high, the Filipino-friendly seat height is made even more accommodating by the narrowness of both the saddle and the bike.
Due to its sport-oriented nature, the Sniper is equipped with rear-set foot pegs and narrow handlebars. While the riding position of this bike is a bit aggressive, it doesn't fall into 'cramped sport bike' territory, so commuting wouldn't translate to torture for the rider's wrists and back.
ADVERTISEMENT - CONTINUE READING BELOW ↓
Recommended Videos
Engine, performance, and specs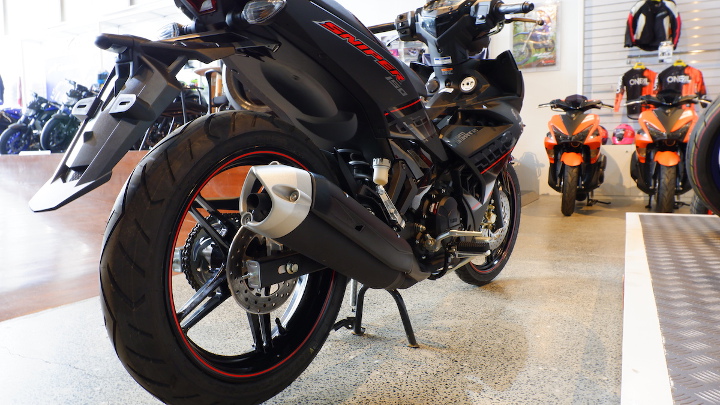 The Sniper is powered by a 149.7cc SOHC liquid-cooled, four-valve single-cylinder engine generating 15.15hp at 8,500rpm and 13.8Nm of torque at7,000rpm. This powerplant is mated to a five-speed constant-mesh manual transmission.
Traction is provided by a 90/80 tubeless tire up front and a 120/70 tubeless tire in the rear, while braking duties are performed by hydraulic single disc brakes on both ends. The suspension is relatively basic with a conventional front telescopic fork and a single swingarm-mounted rear shock absorber.
The fuel tank is pretty standard for the category, holding a maximum of 4.2 liters of gasoline.
Extra features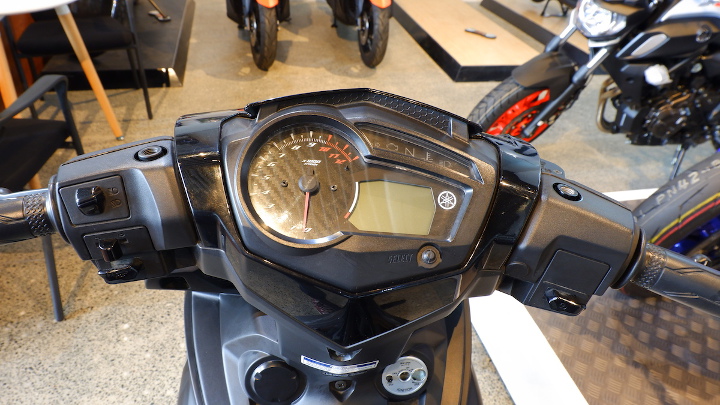 ADVERTISEMENT - CONTINUE READING BELOW ↓
The Sniper is endowed with all the standard modern tech bits it needs, like a fully-digital LCD meter panel, LED light fixtures, a passing light, a hazard indicator, fully electric start, and an engine kill switch.
A neat feature for beginner riders is the gear indicator integrated into the LCD panel, eliminating any guessing as to what gear you're in.
Pricing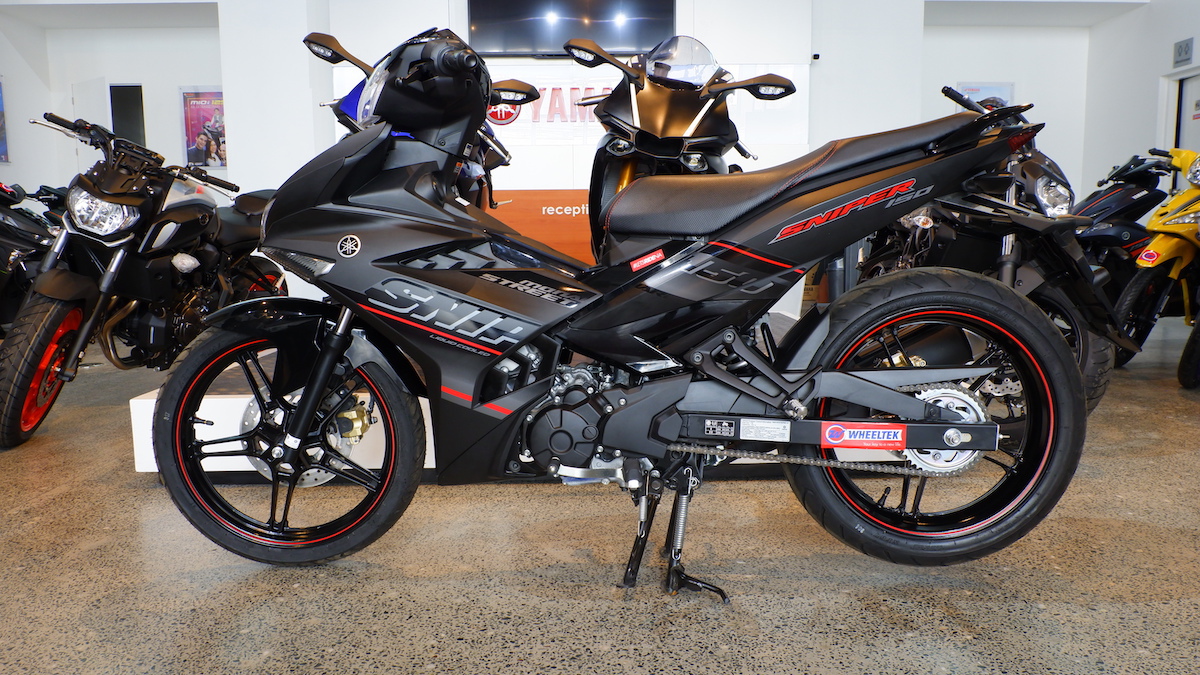 The 2020 Yamaha Sniper 150 is priced at P102,900. While that figure is a bit higher than the previous Sniper's tag by P3,100, the new Sniper comes with upgrades well worth the price bump, such as the larger front tire and the revised front fender, updated styling and decals, the LED headlamp cluster, and the fully-digital instrument panel.
The Sniper is available in four different colorways: Matte Green, Black Raven, Yellow Hornet, and Race Blu.
If the previous-generation Sniper's popularity is any indication, this iteration of the beloved sports underbone will likely dominate the street and the track as well.
ADVERTISEMENT - CONTINUE READING BELOW ↓