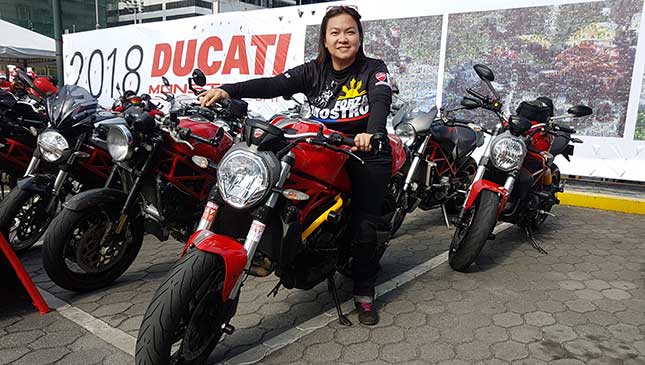 "Why does he always disappear on Sundays? Where do he and his riding buddies go? Why is his riding gear so expensive? Why is he crazy about motorbikes?"
These are just a few of the questions that Kaye Magdaluyo used to ask herself. A mother of four and a loving wife to Allan Magdaluyo, and with zero knowledge of motorcycles and riding, she would often hound her husband about his riding, particularly on Sunday mornings when he would sprint out of their house on his two wheels. In short, she had no amor for motorbikes.
This was before.
Fast forward to 2018, and Kaye has the riding bug. After learning how to ride solo, Kaye joined Allan in his addiction to motorbikes. But how did she get herself into riding big bikes?
"There's this couple—Atty. Gilbert and Manel Espinosa—who was so admired by my husband because they always ride together," Kaye related during the Ducati Monster Day event. Allan thought that riding together strengthens the bond of the Espinosa couple. But being a non-rider then, Kaye didn't believe Allan's theory.
ADVERTISEMENT - CONTINUE READING BELOW ↓
A few years later, Allan learned that Gilbert enrolled his wife Manel in the Ducati Riding Experience (DRE), a basic riding skills course. This was to give Manel a break to ride solo. So Allan grabbed this opportunity to convince Kaye to give motorcycling a try. Later, Kaye and Manel found themselves balancing Ducati bikes at the DRE.
But after the course, even if the two ladies already knew how to ride, they still played safe by riding pillion with their respective husbands.
One fine day (apparently after hitting her head with something hard), Kaye told Allan she wanted to try riding a motorbike—solo. Still, Kaye's desire to ride did not happen instantly, as Allan always played 'wingman' to her for safety reasons.
"Noong umpisa, madalas siya ma-high blood. Palagi akong dinidiktahan," says Kaye. With more saddle time, Kaye quickly gained more confidence.
Through patience and determination, Kaye conquered her worst fears in riding: Dropping the bike, being stuck in traffic, or stopping the bike while going uphill. Initially, she also found big bikes intimidating because of their size and weight.
All of these negative issues from Kaye were gone after she rode more and more kilometers. Now she talks endlessly about 'freedom in riding.' She attests that her new adventure allows her to see beautiful places and meet interesting people, too. Hallelujah!
Breakfast rides mostly happen on Sundays. This is when Allan and Kaye go out of town on a Ducati Multistrada Enduro and a Ducati Monster 821, respectively.
What about Kaye's mom duties on Sundays? "Our agreement is to be home before noontime so we can still have quality time with the kids," Kaye explained. And before a ride is set, Kaye makes sure that the grocery is done the day before she and Allan disappear with their bikes. She also makes sure the Magdaluyo family goes to mass on Saturday evening.
Bonding with her kids after office hours on weekdays is also on Kaye's priority list. According to her, none of their children were against their weekend runs for as long as they see the couple before family lunch on Sundays. In the afternoon or early evening, the Magdaluyos watch a movie.
Now that her paranoia against motorbikes is gone, Kaye has added a few more items to her wish list. She wants to ride in Europe someday, and we think we heard the words 'Paris' and 'Italy' muttered. Because moms deserve only the best.
To Kaye and other biker moms: Happy Mother's Day!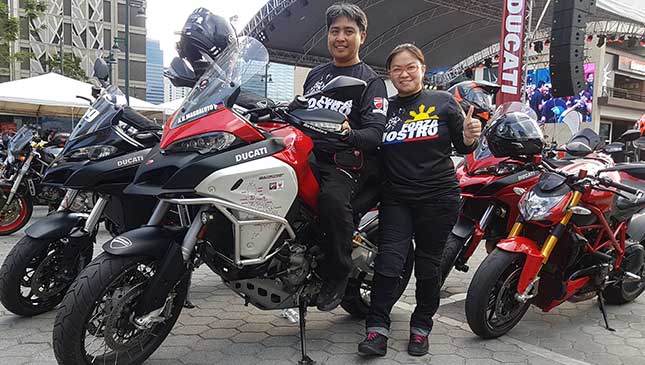 ADVERTISEMENT - CONTINUE READING BELOW ↓