Born and raised in the United States, 29-year-old Mizziel Serra has visited the  Philippines thrice. Every time she's here, she finds herself in the company of Pinoys who are just as crazy about motorcycles as she is.
Both her parents are Filipinos now residing in Iloilo, and it was in 2004 when she first came here for her parents' wedding anniversary.  She learned how to ride motorcycles eight years ago in California. Since then, she found herself all over the best riding spots in the US, India, Peru, and even the Himalayas. These all happened despite her father's objection to her riding motorbikes because he thinks it's dangerous. But she is unstoppable: "The benefits outweigh the risks. I just love riding here in the Philippines," said Mizziel.
Mizziel recently joined the Euromonkeys, a group of mostly male speed freaks, in a ride to the iconic Rose & Grace restaurant in Sto. Tomas, Batangas, for the birthday celebration of Ducati rider Jambee David. Here, she got reacquainted with local dishes like bulalo, goto and bistek which are riders' favorites.
ADVERTISEMENT - CONTINUE READING BELOW ↓
Mizziel does not only ride any kind of motorbike. During Jambee's lunch treat, jaws dropped when she arrived on an MV Agusta Brutale 1090RR, a powerful yet agile naked bike.
She can ride fast...we mean very fast! What else can you expect from this single lady who idolizes Lara Croft. The temperature rose further as she took off her padded riding jacket and walked casually to the dining area in a printed crop top that exposed her well-sculptured abs.
Despite her slim physique, she pushed her bike alone to a safe area before she fired up the engine. Never mind if she's in torn skinny jeans and high-heeled riding boots. A playful mind might think the cuts on Mizziel's pants were from her knee-down riding style on corners. But it's merely a style choice. Like many motocyclists, she prefers to ride around with worn-out denims.
She might be born and raised in the US of A, but Mizziel considers herself a true-blooded Filipino. She feels at home going everywhere in the country, either alone or with biker groups. Every time she's here, her followers in social media multiply.
ADVERTISEMENT - CONTINUE READING BELOW ↓
Recommended Videos
We asked her what she thought of Filipino riders. "They're brave and multi-talented. They have balls of steel" she said, adding that catching up with them on the road is a big challenge.
During her series of rides in the US, Mizziel thought she already had the best times of her life. And then she was brought by the Club 200 and ATAT  motorcycle clubs to the endless twisties of Marilaque in Tanay, Rizal. There she encountered jeepneys unloading passengers in the middle of the road, tricycle drivers making U-turns recklessly, and underbone riders cutting her path. She gushed: "Oh my gosh! It's a lot crazier here in the Philippines. But I love it!"
During her brief stay, Mizziel was awed by the big number of Pinoy bike lovers. With her newfound friends having more than one bike in their garage, getting a motorbike for her own ride was never a problem.
ADVERTISEMENT - CONTINUE READING BELOW ↓
Mizziel seems all over the place, riding awesome bikes and sharing her wonderful experiences from the country's best riding spots.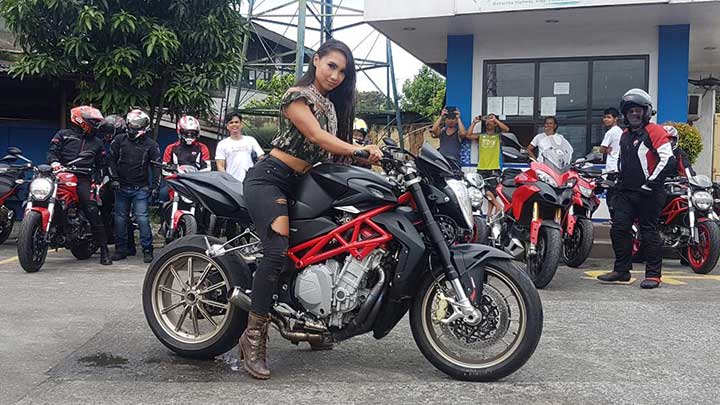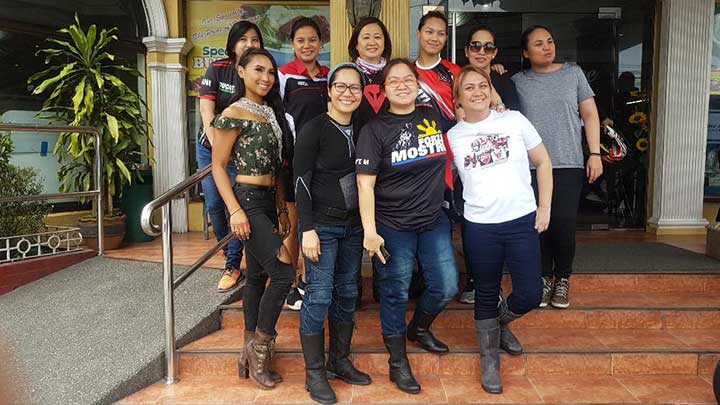 ADVERTISEMENT - CONTINUE READING BELOW ↓