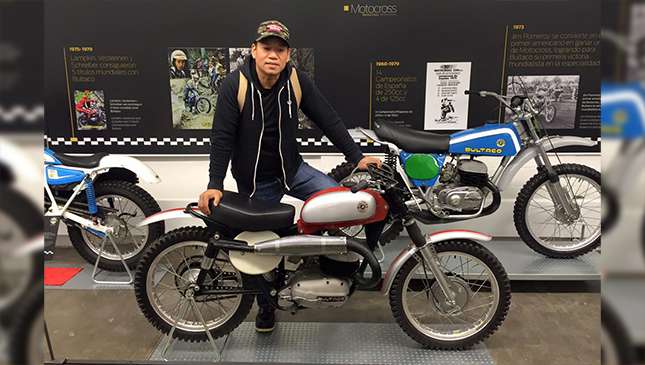 What happened to Jay Taruc and his TV documentary Motorcycle Diaries? With more than six million registered riders now in the country, there's no doubt that a sizeable number of them are missing the only local TV documentary series that was themed on two-wheels.
Produced by GMA News TV, Motorcycle Diaries last aired on March 16 this year after six years of motorcycle riding and going places. Taruc is a long-time journalist who's a recipient of numerous awards for his coverage and documentaries.
ADVERTISEMENT - CONTINUE READING BELOW ↓
The first of its kind in the Philippines, this show brought its viewers to many parts of the country, sharing life-changing stories of soldiers in war zones, teachers who trekked muddy trails for hours to reach their school, and earthquake drills done in schools and offices among others. The show even brought Jay's riding to other parts of Asia and Europe.
Celebrities and prominent politicians also did not escape the team's cameras. One of Jay's memorable MD episodes was when he rode with then mayor Rodrigo Duterte around Davao City in 2014, with the latter riding on his Harley-Davidson.
Being a new show, his approach on selecting topics for their weekly episode was more experimental. "Halos lahat nang maisip namin, sinusubukan ng show," he explained. With his deep passion for motorcycles and documentaries, he was able to produce a hit series that earned him a strong following in the motorcycle community.
But ratings alone can't help a show to survive. Despite its phenomenal rise in popularity, Jay admitted that sponsorship, particularly from motorcycle companies, fell short in numbers. Producing a TV show entails big logistical support, and the lack of this prompted GMA to call it quits. But Jay won't give up his passion just like that.
ADVERTISEMENT - CONTINUE READING BELOW ↓
Recommended Videos
He figured out a way to be able to return to television by changing the game plan from 'experimental' to 'experiential.' The latter means enjoying the trip and riding experience.
Now coming back as a block timer, Jay, son of DZRH radio station icon Joe Taruc, named his new show Ride.ph. "Sa Ride.ph sana namin ilalabas ang mga story that we felt were more about the local moto culture and all the other concerns of the riding community," Jay stressed.
His new show will be anchored on a new approach which he called 'docu-travelogue.' Being a daily motorcycle rider, Jay felt the need to promote riders' rights and safety.
"Walang ganoong television show pa. We are lending our program to be the voice of a lot of marginalized riders out there on issues," he added. Having witnessed countless motorcycle-related accidents on the road, he sees the importance of pushing for riding safety and proper motorbike maintenance especially for newbie riders. In other words, he is pushing for an informed riding community.
ADVERTISEMENT - CONTINUE READING BELOW ↓
It will also touch on Moto Tourism, a campaign being pushed by the Department of Tourism.
By zeroing on motorcycles and motorcycle culture, he believes that there are more opportunities waiting, considering the phenomenal growth of this particular sector. In 2016, around 1.5 million motorcycles were sold in the country.
With this in mind, Jay is optimistic that viewers of Motorcycle Diaries will also support Ride.ph, which will start airing sometime third week of July.
Just like his riding style, which is relatively slow, relaxed, and filled with patience, he thinks that Ride.ph will take off and hit the right speed sooner than many would expect.
Are you ready to ride with Jay Taruc on his new show?