Can you imagine a celebrity like Matteo Guidicelli crawling on rain-soaked pavement under a motorbike? Or executing an endless 'Figure 8' exercise while in a tight convoy before jumping his bike twice over a notorious ramp? And lastly, can you imagine him downing a cocktail drink that contains liquor mixed with other substances that come from only heaven knows where?
These were only a few of Guidicelli's ordeals during the 45-day Philippine National Police–Highway Patrol Group (PNP-HPG) special riding course held at Camp Karingal in Quezon City. We must clarify that Matteo took part in the 'executive rider training' offered to senior police officers and some friends from the private sector who want to enhance their riding skills. This module is not as rigid as the regular PNP-HPG Rider Course that's exclusive for organic members of the unit. And it's definitely not for beginners.
Guidicelli had been wanting to join the training program since last year, but it was only recently that he got a formal invite from one of the PNP's top officials. He grabbed the opportunity.
ADVERTISEMENT - CONTINUE READING BELOW ↓
"I always wondered how the HPG rides," he says. "Controlling the bike at slow speeds, proper escorting, and most important, riding organized and safe on the road while in a big group. People aren't taught how to ride safely in groups. The HPG has good formations and techniques for how to look out for one another."
Guidicelli's batchmates included veteran broadcaster Gerry Baja of radio station DZMM, and Ivan Carapiet, his buddy since their karting days. He posted about his training experience twice on Instagram, showing how he managed to crawl through the tight space under his Yamaha Super Tenere 1200 motorbike. He wore the official PNP-HPG combat uniform with his name patch. This was followed by another video clip of him and his batchmates falling off from their bikes like domino blocks while doing the 'Figure 8' exercise. Judging by the video, they seemed to be enjoying every moment.
On January 13, 2019, Guidicelli and Carapiet completed the training program after successfully staging two jumps over a five-foot ramp on a Yamaha YZ250FX motocross bike loaned to them by the MX Messiah Fairgrounds (MMF). This test is where the attrition rate is high. While around 30 students crashed during the jump, MMF coach Jhieriel Rosario described Matteo's feat as "smooth and perfect." The actor showed no sign of hesitation. We expected that from Guidicelli—he has always been a motocross enthusiast since he was little.
Days before the final training session, Matteo sharpened his motorcycle jumping skills at the MMF facility in Taytay. He was accompanied by his girlfriend Sarah Geronimo, who is very supportive of the actor's deep passion for riding.
Don't be surprised to see Guidicelli wearing the much-coveted HPG rider's badge on his riding jacket or helmet. As part of HPG's tradition, he got the badge from the bottom of a big mug after gulping the "Rider's Cocktail." Or did he gulp the mystery drink from a riding boot?
Guidicelli is now officially listed as a member of the PNP-HPG Motorcycle Riding Safety Training Batch 06-2018.  Congratulations, bro!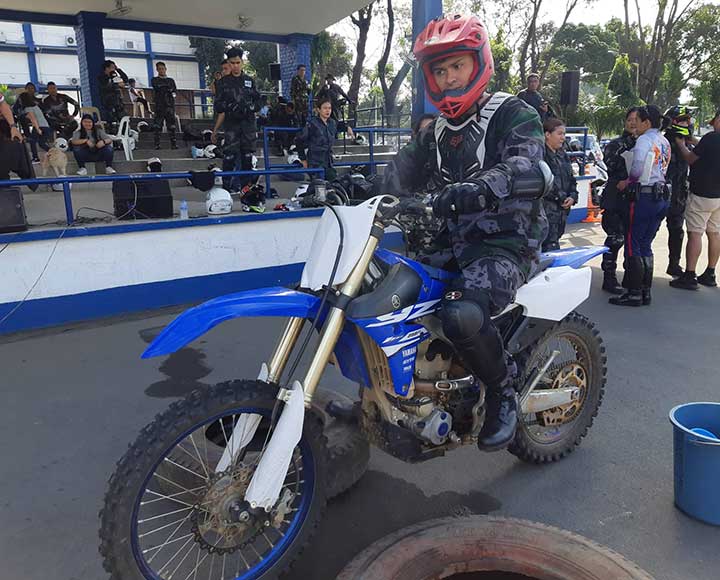 ADVERTISEMENT - CONTINUE READING BELOW ↓