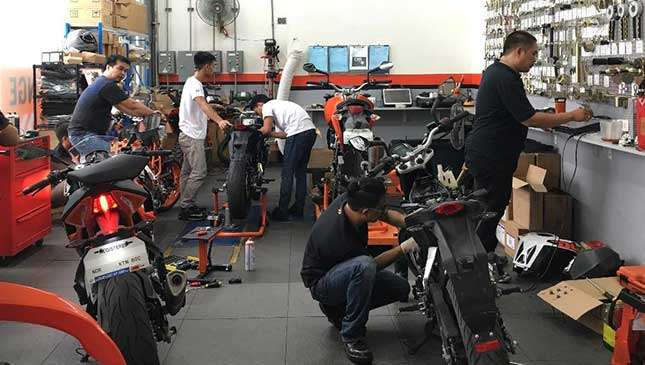 We're seeing more fellow lady motorcycle riders on the streets. Whether they're riding for passion or out of necessity, it is important that we don't just balance the bike and ride. We should also learn how to maintain our bikes by ourselves. This is the real essence of female independence. And it's not in my vocabulary to be a damsel-in-distress during rides.
There are three bikes with small and big engine displacements in my stable. It's important that they're checked regularly so I can look forward to a hassle-free and safe ride. I do get proper guidance from KTM Bonifacio Global City for my KTM 390 Duke. I've seen raised eyebrows whenever I say I take care of my motorbikes' maintenance. They check my fingernails for traces of oil and dirt only to find out that they're as clean as my bikes.
Continue reading below ↓
Recommended Videos
Here are 10 tips that help keep my bikes in the pink of health. They're nothing hardcore, and you don't need big muscles to perform them. 
1) Always conduct a visual inspection of your bike.
Make sure it's clean, so you can detect if there's something wrong with a component. Among those that should be inspected are brake and clutch fluid levels through a small window opening on the fluid containers.
2) Check the bike's lighting controls.
High, low and flasher mode of the headlight must always be operational along with the signal, tail, plate and brake lights. Aside from ensuring your safety road by making your bike visible, you're also sparing yourself from being apprehended for faulty lights. Don't think that your luminous pink helmet is enough to make you visible to other motorists.
3) Check your engine oil level and condition.
Through the sight glass, oil should be within the maximum/minimum mark and the bike is not on its stands. Oil must not look milky or very dark. Just imagine yourself doing a little body bending exercise to inspect that glass hole on the lower part of the bike.
4) Always inspect the coolant level.
It must be within maximum-minimum level. You wouldn't know if you're radiator already has a small hole after being hit by flying rock.
5) Check your motorbike's battery condition.
Using a tester, charging must be approximately 12.8V. Always keep the battery terminals corrosion-free.
6) Always check if the side mirrors are secured and adjusted to your preference.
This usually the first thing I do when I get on my motorcycle and before turning on the ignition. Do your mirror adjustments before checking if the face powder on your cheek is evenly applied.
7) Don't take the gasoline level for granted.
Especially if the instrument panel does not have a fuel gauge. Open the tank and move your motorcycle to see if there is any fuel left. I had tried pushing a big bike to a gasoline station, and because of its weight, it was no fun at all.
8) Never neglect the condition of the tires.
Check if they have the correct tire pressure for solo rider or with passenger. If you notice that one of the tires is losing air, ride the bike to a vulcanizing shop because mostly likely it has a puncture.
9) Mind your chain and cables.
It should have the correct tension. It should also be clean and well lubricated. This is one of the motorbike parts mostly ignored by riders. Don't wait for the chain to break or jump out of the sprocket. Aside from the chains, cables must also be inspected and properly lubricated.
10) Never leave the garage without the basic tools and vulcanizing kit.
Believe me, the tool kit will come in more handy than your kikay kit. You'll never know when your bike will encounter a problem.
After taking all of these into consideration, are you now ready for a serious ride, ladies?