As a woman, planning any solo trip is a deliberate choice. Traveling alone raises several issues, from what you should pack to how safe you'll be on the road. Setting off for a solo trip on a motorcycle adds another layer of uncertainty, especially if you're doing it for the first time. Roads are unfamiliar. You're exposed to weather changes. And your buddies along the way are Waze and Google Maps.
Before we tackle the larger issues, let's focus on something familiar: packing for a short trip. For our purposes, a short trip means setting out early and getting home by dinner, or staying overnight at a destination that's at least 40-60km away from home.
Prepping for a short solo ride is similar to packing for a no-check-in plane trip. There's one main bag for belongings and a smaller bag for quick-access items. It helps to also think of your body as a third "bag." A riding jacket will be on the packing list, but it'll stay on you, rather than in a bag.
Now, on to exactly what to pack. For a day or overnight trip, less is best. In my experience, overpacking is rooted in comfort. It's soothing to feel like everything I need is in reach, even though I'm far from home. Making lists keeps me from cramming my room into a backpack, just to satisfy this need. For motorcycle trips, I make three: one list of what I'll wear, one for my bag, and one for my bike.
Continue reading below ↓
Recommended Videos
Use the lists below as a template, or scrap them and make your own (optional items are for overnight trips).
On you: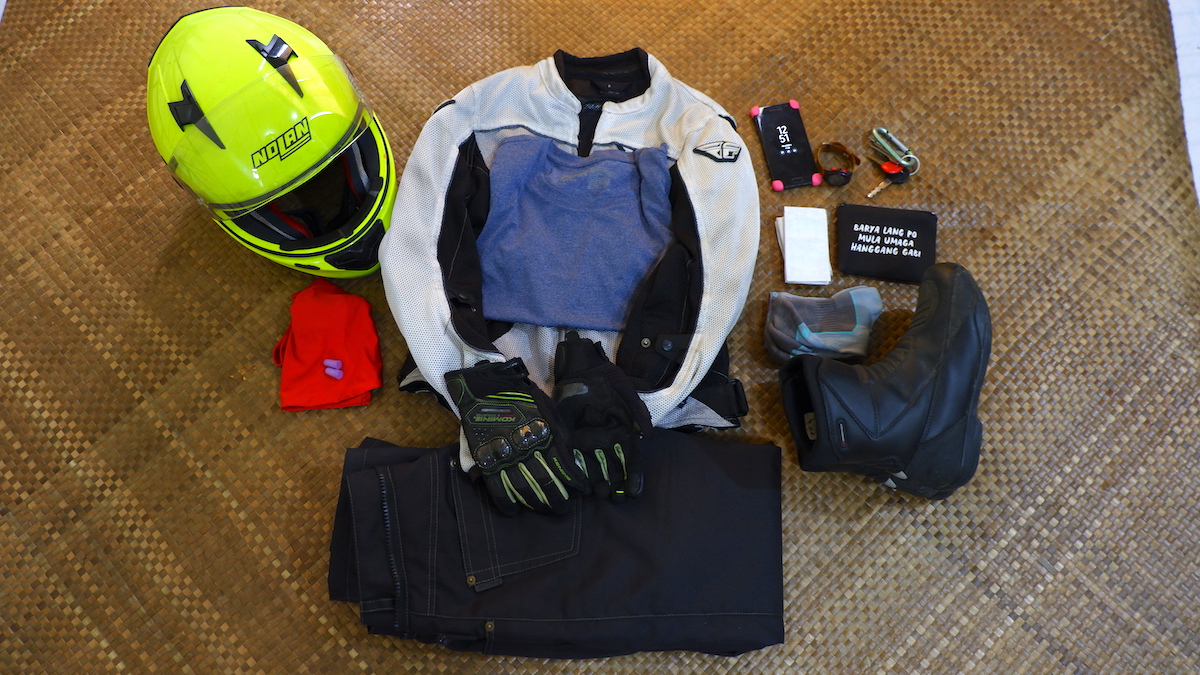 Riding gear (helmet, riding jacket and pants, gloves, earplugs, balaclava, boots)
Driver's license
Motorcycle OR/CR
Keys
Phone (with Waze and Google Maps)
Wallet with cash, cards, and extra IDs
Watch (optional if you don't use one or if your motorcycle has a clock)
In your bag: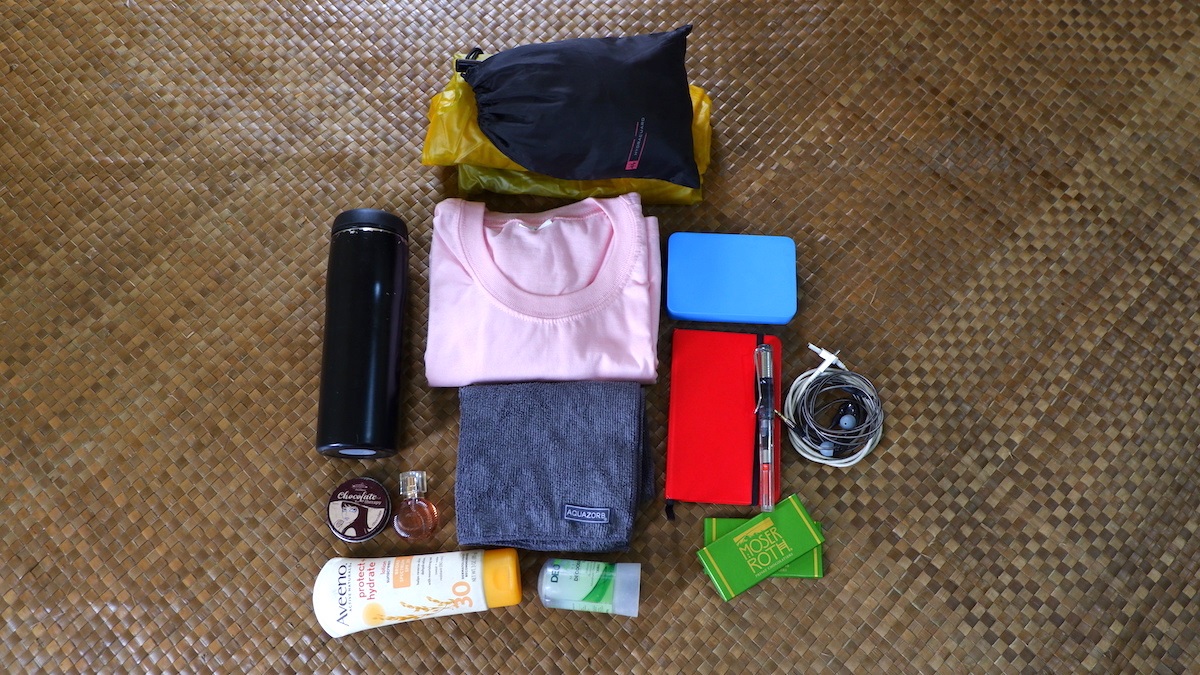 Water bottle, 500ml or larger
Snack(s)
Electronics (power bank, USB cable, earphones)
Pen and notebook
Extra shirt
Rain gear
Essential toiletries (wet wipes, sunscreen, deodorant, perfume, lip balm)
Quick-drying face towel
Quick-drying towel (optional)
Extra pants, underwear, and socks (optional)
Other toiletries (shampoo, conditioner, soap or body wash, tootbrush and toothpaste, comb, etc.)
Book (optional)
Medicine/first-aid kit (optional)
Tip: To save space, pack toiletries in travel-size bottles or get them in solid form.
For your bike: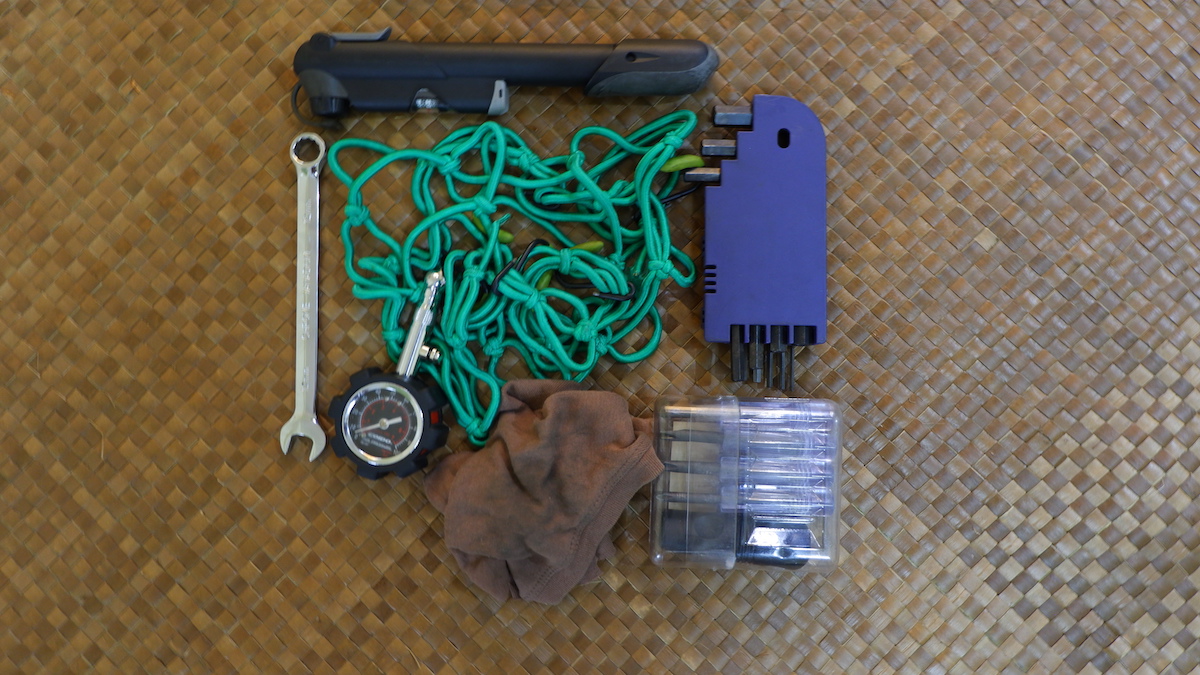 Bicycle pump with Schrader valve
Tire gauge
Cargo net
Rag/old shirt (for wiping or cleaning)
Extra inner tube or emergency plug (optional)
Tire levers and basic tool kit (optional)
Motorcycle cover (optional)
The good thing about lists is they point you to which bags to use. "Wet" plus "valuables" is a no-no for me, and you can never count rain out in the Philippines. Which means, I mostly reach for a waterproof backpack. What I personally use is a Tactics Water Gear bag, which has endured three years of hard use and wet weather. Now, the small front pouch only velcroes down halfway, and the elastic side pockets are stretched. But the main compartment is still as watertight as when I first got it. 
If your bike has a top box, take it as free space for tools and riding gear. Just be mindful about the carrying weight limit.
Got your own solo-trip tips and lists? Share them in the comments. If not, check back for more articles on different aspects of solo riding.