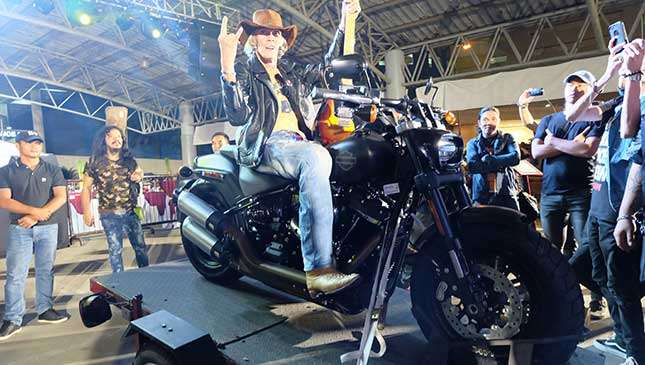 When the new Softail motorcycle lineup by Harley-Davidson of Cebu was unveiled over the weekend, Pinoy rock icon Joey "Pepe" Smith couldn't help disregard protocol when he rushed out of the VIP tent to personally witness the momentous event.
It was still half an hour before his much-awaited performance, and organizers feared his premature appearance might dampen the Cebuanos' excitement to watch him perform at SM City Cebu. Also, Pepe Smith had just survived another life-threatening stroke some two weeks ago. It was his third cardiac incident so far.
At the event venue, Smith leaned on the steel railing with his Epiphone Les Paul guitar while watching the sexy female Harley models reveal the seven brand-new Softail motorbikes. "Para akong nilabasan, pre!" said the 70-year-old Pinoy rock icon when he saw the awesome bikes. Since his childhood days, he had been dreaming and drooling over those American heritage bikes.
Continue reading below ↓
Recommended Videos
Like many rakistas, Pepe Smith is a believer of Harley-Davidson motorcycles. His invite to the launch came from Harley-Davidson of Cebu dealer principal Regan Rex King, and he just couldn't let the boss of HD Cebu down.
After rendering four of his classic songs, he surprised everyone when he approached the 2018 Fat Bob, threw his leg over its saddle, and kissed the fuel tank several times. But in reality, Pepe Smith is a person who'd rather not touch motorcycles with a 10-foot pole. Just like forbidden fruit, Joey wants one but doesn't want to own one.
"Muntik na kasi akong mamatay dahil sa motorsiklo," he narrated while changing his sweaty shirt to a dry one inside a van. Then he asked for a light for his cigarette before proceeding with his bike tale.
Sometime in 1968-69, he recalled figuring in a road accident while negotiating an uphill climb with a borrowed Honda 350cc naked bike along Leonard Wood Road approaching the Teacher's Camp in Baguio City. For unknown reasons, Smith's bike suddenly went low side causing it to plow the pavement for several meters. Pepe Smith thought that rock stars didn't need to wear helmets or any safety riding gear.
After flying off the bike—then owned by a grandson of the late President Manuel Quezon—and landing on the rough surface, the next thing Smith saw was the solid steel bumper of a Mercedes-Benz car from the opposite lane. Oh, he took the bike without the knowledge of its owner by the way.
Literally or figuratively, it was almost a kiss of death for Smith with the luxury car. Fortunately, the Benz driver was able to slam on the brakes before the German sedan hit him. He even showed us scars on his hands as souvenirs from that horrible bike crash.
Pepe Smith's story did not end there. In one of the reunions of the Juan de la Cruz Band more than a decade ago, the rock star was asked to ride with his friend on a cruiser bike to the center stage. But even before getting near the microphone, the two fell from the motorcycle. Smith and his friend were unscathed, although the incident caused them embarrassment before the crowd. Since then, the rock icon swore he'll never ride motorcycles again.
Actually, Smith said he's more scared of riding motorbikes than having strokes. With three strokes and two bike crashes, this means in cat terms he has four more lives to go.
However, these unfortunate incidents did not stop him from admiring motorcycles, especially cruisers like the Harley-Davidson. This is one of the reasons why in every concert, he always plays the song "Beep Beep" of his Juan de la Cruz Band.
While that song is about jeepney drivers, could it apply to habal-habal riders, too?