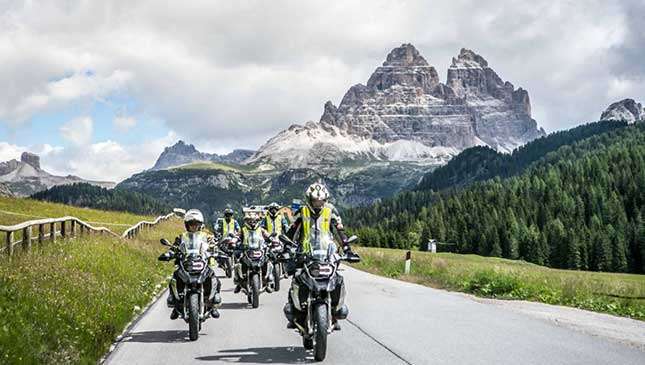 If you're a hardcore rider and you've seen most of the Philippines' 7,600+ breathtaking islands, where else would you go? This is the dilemma of some Pinoy riders who have all the luxury of time and money to travel on two wheels.
Whether in the US, Asia, Australia, South Africa, or Europe, riding to different destinations abroad offers memorable experiences that budget becomes a non-issue. Just ride!
Last July 1 to 10, 34 members of the BMW Owners Society of Safe Riders, Adventure Team Philippines, Thunderbugs of Bacolod, and Any Sunday Riders from Davao City availed of slots from the BMW Motorrad Days Tour organized by BMW Motorrad Philippines. The tour package includes the use of a BMW motorcycle of your choice. In our case, majority opted for the R1200 GS adventure bike while others settled for the R1200 R classic standard. I rode the latter.
Continue reading below ↓
Recommended Videos
And just like winning a lottery, I was fortunate to be invited to cover this dream ride. BMW Motorrad Philippines said this event paves the way for the staging of the European tour, to coincide with the annual BMW Motorrad Days in Garmisch-Partenkirchen, Germany. I thought I heard someone from the group say this trip easily cost them at least P300,000.
For five days Munich-based tour organizer TWTMoto brought us to the scenic Alps of Germany, Austria, Italy and Switzerland; settings I've only seen before in James Bond movies or postcards. In this part of the region, the riding season is only good for six months, then riders hibernate during winter.
Here's what I learned during this bucket-list-worthy ride:
1) The varying temperature. It's now summer in this part of Europe and everybody's supposed to be enjoying the sun. However, temperature varies depending on the altitude. In the higher parts of Italy, it was 3 degrees Celsius. But in Bolzano, a city in an Italian province of South Tyrol, it was time to remove extra layers of clothing because the temperature may soar to 30 degrees.
2) For big bikes only. Except in Italy, we seldom encountered underbones and scooters while riding to the Alps. It was big bikes galore in Europe! Once you entered a restaurant, either Swiss or Austrian, you will think that you're at the United Nations headquarters in New York when riders start to speak different languages. This is how moto tourism in Europe is fast becoming a hit.
3) Switchbacks here and there. The turns in the mountain slopes are very challenging, especially en route to the Dolomite mountains in Austria and Passo del Stelvio in northern Italy that sits 2,757m above sea level. Endless hairpin turns welcome the riders at the Dolomite ranges. On the other hand, there are 48 switchbacks in Passo del Stelvio that would test the rider's skills. If you're a novice, better think twice before choosing these routes.
4) Good European coffee. Either café latte, espresso or café deca (decaffeinated coffee), there are family-owned coffee shops in every tourist area that serve customers with so much enthusiasm. Courteous waitresses are usually dressed in their native Bavarian attire and are always game for a selfie. Make sure you practice your pronunciation of Italian or Spanish words.
5) Quaint roadside stores and services. It turns out takatak boys (ambulant cigarette vendors) are not endemic to the Philippines. The roads to the Alps have their own version of roadside photography services, bottled water for sale, and ambulant souvenir vendors. The difference is that these enterprising individuals don't loiter in the middle of the road and do bird sounds to catch the motorists' attention.
5) Endless tunnels. From one mountain to the next, these Europeans never get tired of carving out tunnels for motorists that stretch for several kilometers. Built nice and solid, these majestic structures like those leading to the picturesque Lago di Garda (Lake Garda) blend well with the surroundings as if nature was left untouched. Some riders found themselves enjoying riding through the long tunnels while others felt claustrophobic.
6) The grand European architecture. Instead of passing through autobahns (highways), our convoy combed the inside roads that led to small, well-preserved towns with century-old churches and buildings.
7) Road sharing for all. As you approach the mountain peak, you'll be surprised at how the roads become narrower and the turns become tighter. What's more amazing than this is how motorists uphold safety in traversing these critical passages by giving way to fellow motorists, particularly with oncoming traffic. Amid the flow of buses, cars and motorbikes, there are also cyclists and trekkers sharing the road.
8) Shopping! The most populated area we passed through is Glorenza, the smallest town in South Tyrol, Italy. Inside the tall, historic castle wall are countless gelato (ice cream) shops aside from colorful souvenir stores. Fortunately, our bikes were equipped with panniers to accommodate pasalubongs.
9) Manny Pacquiao is world-famous. During a dinner at the BMW Motorrad Days event at Garmisch-Partenkirchen, rider groups of different nationalities were recognized. And when it was time for the Philippine contingent to be recognized by the program host, the entire venue was rocked by chants of "Manny Pacquiao! Manny Pacquiao!" This was a week after the Pinoy world boxing champ lost to Australian fighter Jeffrey Horn.