More often than not, motoring journalists are always hesitant to start a conversation with Japanese motorcycle company executives during events. We believe the language barrier has got something to do with this, and it happens usually when they are just newly acquainted with us locals.
What many of our fellowmen do not know is that Japanese people are very warm and conversational once the ball starts rolling. But during the recognition day for the 2019 Suzuki Team riders, Suzuki Philippines president Akira Utsumi proved he was the exception. To my surprise, he fired the first shot.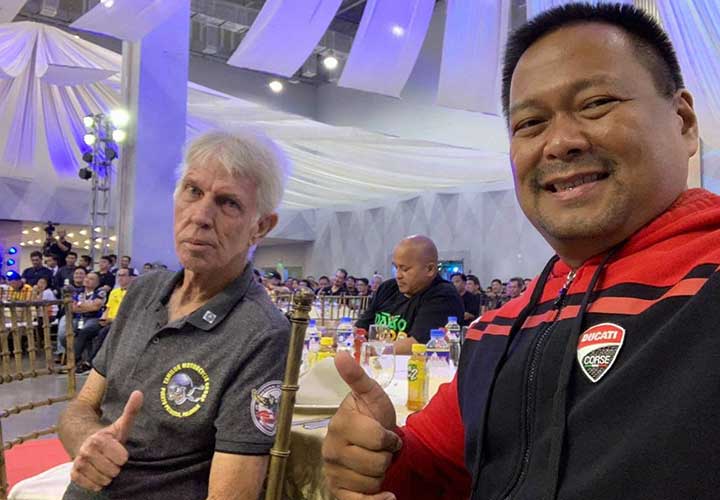 "Do you know Butch Chase?" he asked Moto Sapiens in a low, courteous tone. (Chase is the guy on the left in the photo above.) Honestly, I was initially thinking Utsumi-san's opening salvo would be about Suzuki Team's momentous accomplishments in 2019.
Continue reading below ↓
Recommended Videos
"Well, yes. Everyone in the motorcycle community—especially the old ones—know Butch Chase," I replied. Utsumi's face brightened up even more. "I heard he's a very nice guy!" I added.
It turned out that Utsumi and Chase met three decades ago, at the height of motocross racing in the Philippines. Back then, the yellow-colored Suzuki RM motocross machines were lording over the dirt tracks.
Filipinos loved motocross racing in the '80s so much that dirt tracks were seen in every corner of the country, including Metro Manila. It's the most attended motorsport, particularly during town fiestas and election periods.
It was in this period when the name 'Butch Chase' became legendary. The same goes for Suzuki motorbikes. During that glorious era, Utsumi was assigned as a representative for the Japanese motorcycle maker. It was then that he got the chance to meet with Chase.
Of course, I did not allow Utsumi to do all the talking. He was surprised to know that Butch Chase is a rock star to Pinoy riders. In fact, he was the same guy who whispered to President Duterte that the Republic Act 11235 (Motorcycle Crime Prevention Act) is discriminatory to the 18 million riders here. This prompted Duterte to suspend its implementation until amendments are done to this controversial law.
Being apolitical in nature, Utsumi would not touch the issue with a 10-foot pole.
Rather, he proceeded with his stories about Chase.  The former motocross champ even invited the Japanese exec to his popular bar in Puerto Princesa City named 'Kinabuchs', where the two exchanged notes.
Other than taking care of his bar, we know Chase is already in retired. Although we heard that he still does consultancy jobs for motocross events—designing motorcycle race tracks, usually. 
And here's where my nose for news smells something. Is Suzuki Philippines cooking up something big and off-road-related, where Butch Chase might play a significant role in the near future?
Well, your guess is as good as ours.