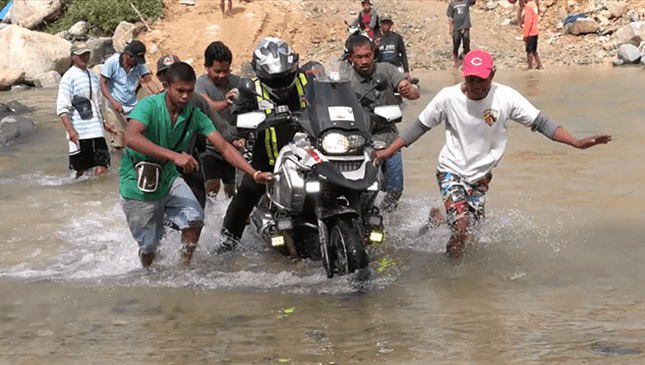 Will the number '13' be a lucky charm, or will it mean disaster for the 2018 BOSS Ironman Challenge? Now on its 13th year, the BOSS (BMW Owners Society of Saferiders) Ironman participants will put this superstition to the test when they attempt to complete the route within the 24-hour deadline set by the organizers and be declared as a finisher.
Close to 600 motorcycle riders and car drivers have prepped themselves and their vehicles to join this 1,200km endurance run, that will cover 10 historic and scenic provinces in Northern Luzon.
Flag-off for the participants is at 10pm Friday, January 12, 2018, at the Royce Hotel in Clark, Pampanga, while the cut-off time will be at 10pm the next day, January 13th.
So far we've mentioned two 13s in a row. Regardless if you believe in this myth or not, organizers of the endurance challenge are making sure that all participants will abide with the traffic rules, particularly on speed limits, to avoid road accidents during the event.
ADVERTISEMENT - CONTINUE READING BELOW ↓
For the first time since the event was conceived 13 years ago, the organizers set a 16-hour minimum time limit for participants. This is to dissuade riders and drivers from violating the speed limit on the North Luzon Expressway (NLEX), the Tarlac-Pangasinan-La Union Expressway (TPLEX), and other national highways covered by the designated route.
"If a participant arrives at the finish line (back in Royce Hotel) earlier than the 16-hour minimum time limit, he or she is disqualified," says Lito Flores, 2018 BOSS Ironman Challenge organizing committee chairman. "The main objective here is for them to enjoy the ride and drive along Northern Luzon's scenic places. Again, this is not a race."
Participants are also barred from releasing photos claiming they're the top finishers of the Ironman event to the media. Violators also face disqualification.
With road safety a primordial concern, the Department of Tourism and the Philippine National Police (PNP) have thrown their support behind the BOSS Ironman. BOSS president Tey Usis also said the event is backed up by local government officials of Pampanga, Bataan, Zambales, Pangasinan, La Union, Ilocos Sur, Ilocos Norte, Cagayan, Isabela and Nueva Ecija.
To add more excitement, the participants are encouraged to take part in fun activities like taking 'groufies' and selfies in scenic or historic spots, to be posted in social media in real time. Special prizes await the winners.
At the seven designated IMC checkpoints, the participants can enjoy freebies like hydration drinks, local delicacies, and body massage. And to top it all off, they will also enjoy cultural presentations prepared by local government units. It seems like organizers really want the entrants to take their time.
ADVERTISEMENT - CONTINUE READING BELOW ↓
Recommended Videos
Riders from Thailand, Taiwan and Indonesia will also join the event.
So, guys don't overspeed and be among those who'll attest that number 13 is not synonymous to misfortune after all.