Sixteen days of nonstop riding in extreme road and weather conditions has undoubtedly left an indelible mark on celebrity rider Ryan Agoncillo.
In June 2017, Agoncillo and six other members of the Himalayan Adventure Team Pilipinas conquered what was previously known as the 'World's Highest Motorable Road' in Khardung La, India. It was a historic first in the rich and colorful history of Philippine motorcycle culture.
On June 25, 2019, another group of Pinoy adventure riders led by Cheggy Medina survived the Himalayas, where they proudly waved the Philippine flag. Like Agoncillo's team, Medina and his group depended on the Royal Enfield Himalayan to successfully complete the journey.
Agoncillo and Medina, along with their respective team members, shared their exploits with this middle-size adventure stallion during the recent launch of the 2019 Royal Enfield Himalayan.
The new model now comes with dual-channel ABS and an 'automatic headlamp on' feature (AHO), as well as electronic fuel injection (EFI) for its Euro 4-compliant 410cc air-cooled, single-cylinder engine. Otherwise, everything else from the preceding model is retained on this practical yet very capable thumper.
Knowing the positive effects of the new features on safety and fuel economy, the adventure riders present during the event expressed their approval of the new Himalayan.
Some people raised this question: Do adventure bikes really need the ABS?
"Yes," Agoncillo said, "especially when you'll use the Himalayan as your daily ride."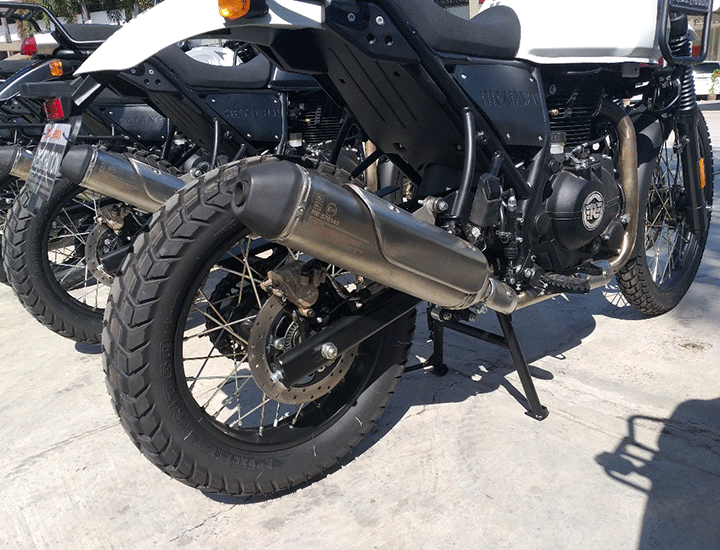 The ABS of the Himalayan cannot be switched off. Also, Medina's group rode to the Himalayas using Himalayan units equipped only with the EFI and not ABS. Hardcore adventure riders will attest that ABS does not matter much during extreme off-road riding. Manually modulating the brakes in reaction to the bike's slightest movements is the best way to stay in full control of the motorcycle, especially on very slippery and steep downhill sections.
But if you're talking about abrupt braking on the pavement, ABS becomes an essential electronic aid—it will keep you in control of the bike by preventing the wheels from locking. The point Agoncillo wanted to highlight is that almost all Himalayan owners also want to enjoy their bike every day in the city, where roads are mostly paved instead of being loose and slippery.
Probably the best sales pitch for the new Himalayan is its strategic pricing—P326,000 for the Touring version (with side panniers), and P299,000 for the Street variant. Hey, that's like having a brand-new adventure bike for the price of a secondhand unit from other brands.
Now, can you picture yourself carving up the mountain roads on weekends and riding to the office on weekdays with a Royal Enfield Himalayan?