About a year ago, word spread that Yamaha had decided to stop the production of its hot-selling Serow 250 (XT250). The rumor was triggered by the long absence of the model from the Philippine market.
Off-roading enthusiasts were taken aback by this, especially because the Serow was making waves—and not only in the Philippines, but also elsewhere in the world—as a stylish, easy-to-ride, and reliable dual-purpose machine. Yamaha rather hypes the Serow as a 'go-anywhere' dual sport bike.
Back then, Yamaha Motor Philippines was tight-lipped about whether or not the Serow has ceased production. But wait, if you think rumors are more exciting than the truth, read on. It turns out the persistent talk about the curtain call for the Serow was just...oops! It was all hearsay.
Moto Sapiens recently dropped by the Yamaha Y-Zone in Mandaluyong City and, lo and behold, a stunning 2019 Serow was right there sitting in the middle of the showroom. Although its 249cc four-stroke, air cooled single-cylinder engine remains unchanged, the new Serow sports blue and white graphics that complement some impressive upgrades on the taillight and tank design.
ADVERTISEMENT - CONTINUE READING BELOW ↓
"It was not discontinued, but more on catching up on the demands of time," explained Yamaha Motor Philippines senior marketing manager Jude Camus, adding that such a reliable product cannot be dropped from the lineup so easily. He further revealed that the Serow's brief yet much-talked-about absence was due to the upgrading of its engine to comply with Euro 4 emission standards, and this took some time to be completed.
There's no doubt Yamaha PH has played its cards well. This new model's compliance is a step higher than the Euro 3 emission standard set by the Philippine government for local motorcycle manufacturers and importers in September 2017.
Does absence really make the heart grow fonder? We took 10 photos of the 2019 Yamaha Serow 250, which now retails for P229,000, when we saw it in the metal at the Y-Zone showroom. Check them out below and let us know if you're still yearning to have a Serow 250.
ADVERTISEMENT - CONTINUE READING BELOW ↓
Recommended Videos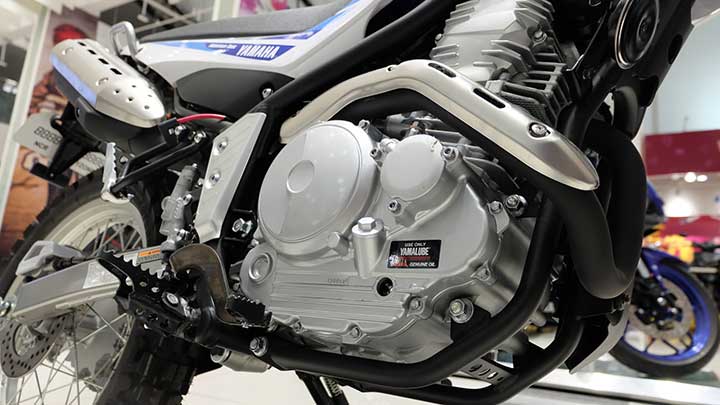 ADVERTISEMENT - CONTINUE READING BELOW ↓
ADVERTISEMENT - CONTINUE READING BELOW ↓
ADVERTISEMENT - CONTINUE READING BELOW ↓
ADVERTISEMENT - CONTINUE READING BELOW ↓