Suzuki kept their legendary sport bike heritage alive last September 28, 2019, at the Moto Heritage Weekend by resurrecting one of their most iconic bikes: the Katana.
This latest Suzuki Katana model first made waves during its unveiling at the 2018 International Motorcycle & Scooter Fair held in Cologne, Germany, almost a year ago.
Originally released in 1981 as the GSXS1100S Katana, the bike with a now-legendary name was possibly the most controversial bike of its time—with people either being totally in love with its forward-thinking design or weirded out by how different it was.
The new Katana keeps the trend going by also splitting opinions with its razor-sharp looks, carrying the same design ethos as the older model designed by German design firm Target Designs, which was put up by former BMW designers Hans Muth, Jan Fellstrom, and Hans-Georg Kasten. Now designed by Italian Rodolfo Frascoli, the new Katana is based on Suzuki's decidedly modern GSX-S1000 but comes clad in extra-retro bodywork that calls back to the first-gen Katana's '80s aesthetic.
Continue reading below ↓
Recommended Videos
The muscular body lines, front half that ends in a sword-like point, and beautiful clean tail section perfectly blend old aesthetics with new design techniques.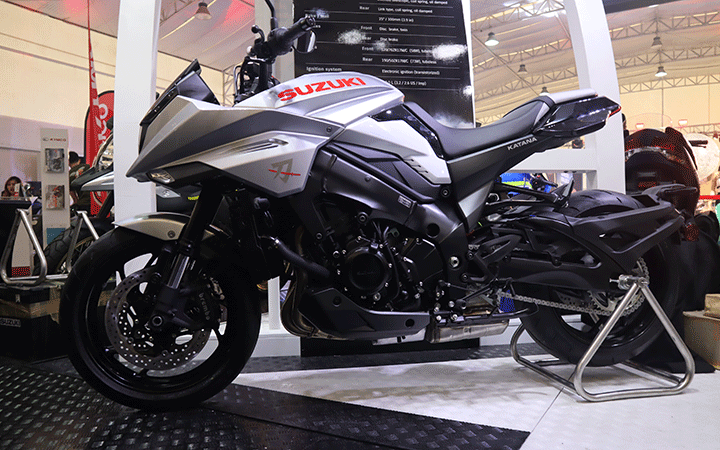 Powered by the same 999cc in-line-four engine as the GSX-S line of bikes, the new Katana is capable of 150hp and 108Nm of torque, qualifying this retro-bruiser as a legitimate muscle bike. Suzuki hasn't neglected to equip the Katana with enough tech features to compliment its performance, as the new Katana comes with a full LCD dash, inverted forks, standard ABS, three-level traction control, and many more.
Also included is a first from Suzuki: A Low RPM-Assist feature that electronically raises the revs a little bit in first gear to reduce the chances of stalling your shiny handsome bike as you attempt to perform a tight U-turn.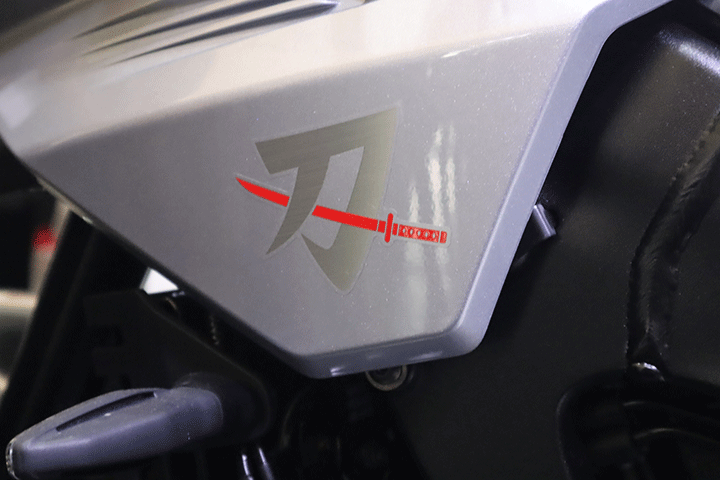 To further help differentiate it from the GSX-S1000, the Katana features a unique new subframe that allows for the bike's tighter, cleaner appearance, as well as Suzuki's first rear fender, turn signal indicator, and number plate assembly mounted on the swingarm.
To help highlight the bike's heritage, Suzuki displayed a 1992 model Katana owned by a rider who had already put down an order for the new Katana before it was even announced in the country. His unit was ceremonially turned over to him onstage, complete with a comically large key.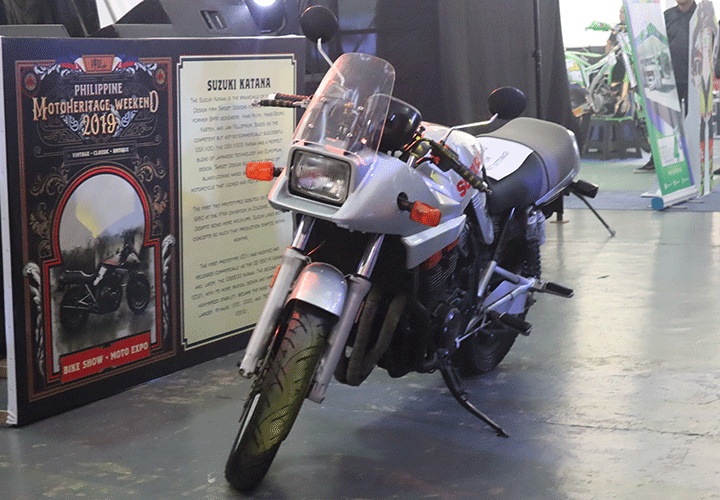 Suzuki's brawny new Katana is priced at P817,000, and is now ready for orders.
As a little treat, Suzuki offered a free Katana-themed helmet built by the coveted Japanese brand Arai if you ordered your new Katana at the Moto Heritage Weekend.