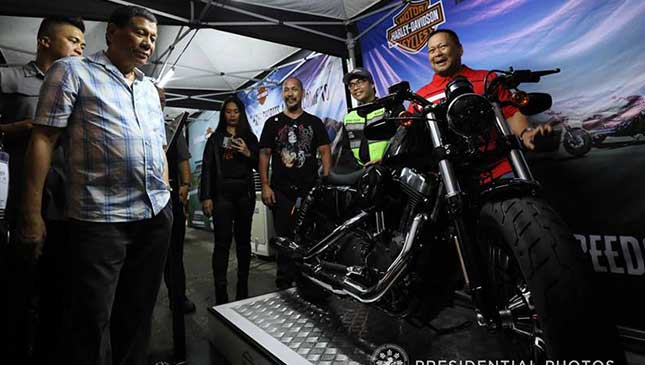 In his speech during the 24th National Federation of Motorcycle Clubs of the Philippines (NFMCP) convention held at Legazpi City over the weekend, President Rodrigo Duterte spoke like a father to Pinoy riders. Sharing the same passion for motorcycles, Duterte says the drastic increase in two-wheelers has resulted in anarchy on the streets.
ADVERTISEMENT - CONTINUE READING BELOW ↓
Speaking the same language as his fellow bikers, Duterte began with a striking phrase: "Magprangkahan na tayo."
"I tell you the roads are not really safe. Marami na motorsiklo na mura. Everybody can afford it," said Duterte before thousands of bikers who attended the annual event.
He alleged that some motorbikes can be bought without license plates. "Punta ka sa casa (dealership). Walang rehistro, wala lahat. Ibibigay sa iyo ang motorsiklo for as low as P2,000 a month," added the President.
Owning a motorcycle is not the only problem. Riders owning a motorcycle without proper safety riding training makes the situation worse.
In the course of his speed, Duterte's message shifted between serious and funny. One of his anecdotes was about his former rider buddy who used to showboat by doing long wheelies during group rides. Eventually, bad luck eventually caught up with Duterte's rider-friend as he ended up crashing his motorbike.
ADVERTISEMENT - CONTINUE READING BELOW ↓
Recommended Videos
The government cannot do it alone. He asked the big bike community to help in promoting riding safety and road discipline.
Since he is familiar with the biker culture, the Chief Executive reminded riders to stay away from liquor when on two wheels. He also warned them against illegal drug use, a thing he hated most.
"Do keep in mind that it is not just purely an adventure when you are on the road. I ask you to promote road safety and observing traffic rules, wearing proper protection, and being—ito talaga: alcohol- and drug-free," Duterte said.
"Tutal may mga security guards naman diyan sa building, iwan mo na lang 'yung motor mo (After all there are security guards in the buildings, just leave your motorbikes there). If you cannot take it, do not ride," he added.
The riders present during the affair probably took Duterte's message seriously. Only a few stayed behind to down cases of free beer as majority of the participants coming from Metro Manila and other regions were scheduled to leave early the next day. Among them were members of the On Any Sunday motorcycle club to which the President is a founding member. Event organizers refused to serve beer before Duterte's arrival at the Peñaranda Park around 9pm.
ADVERTISEMENT - CONTINUE READING BELOW ↓
Despite not being able to ride due to his tight work schedule and reportedly some minor health issues, Duterte still finds motorbikes irresistible.
After the photo opportunities with the different motorbike clubs on the makeshift stage, President Duterte walked to the other end of the event venue and viewed some of the exotic two-wheelers on static display. Like a little boy glancing at his favorite toys, he asked the dealers technical details and prices of some of the models (the motorcycles, not the girls).
Is the Chief Executive beginning to feel the 'rider's itch' again?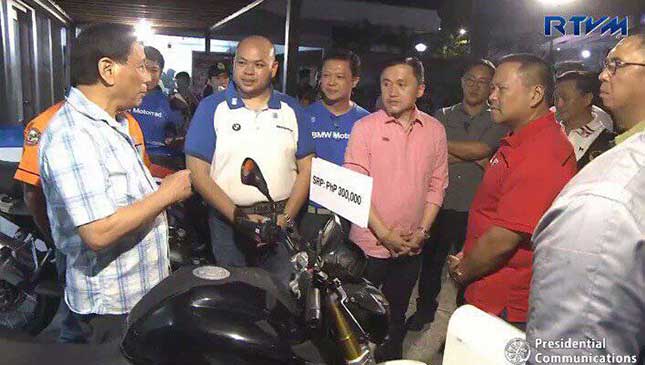 ADVERTISEMENT - CONTINUE READING BELOW ↓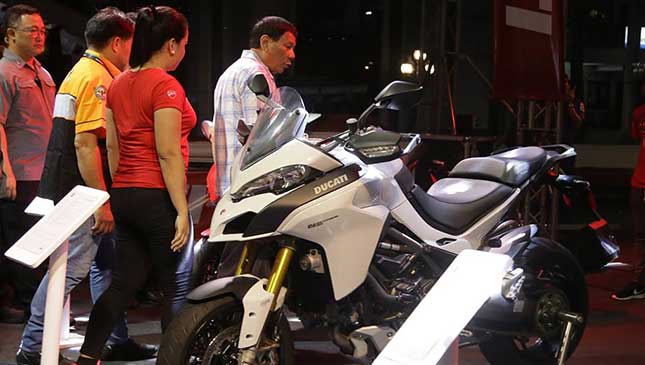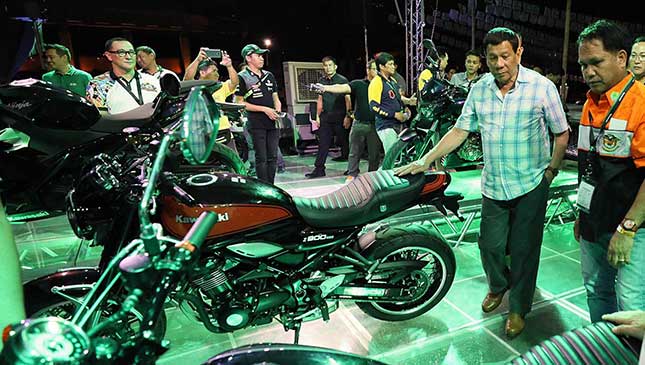 ADVERTISEMENT - CONTINUE READING BELOW ↓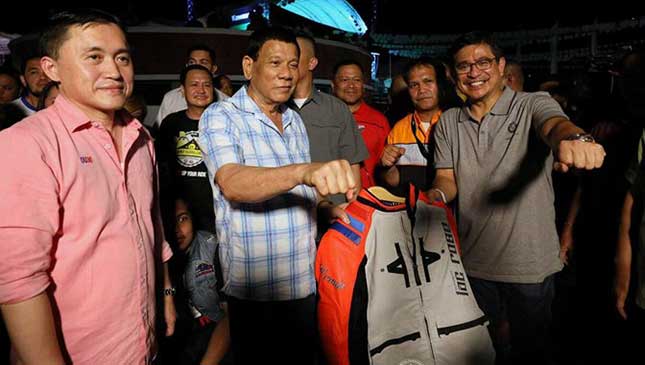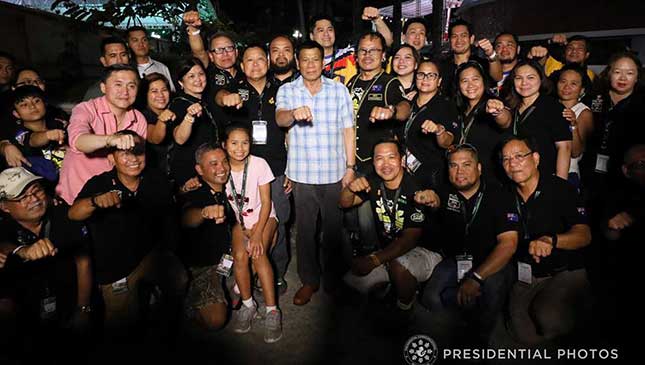 ADVERTISEMENT - CONTINUE READING BELOW ↓