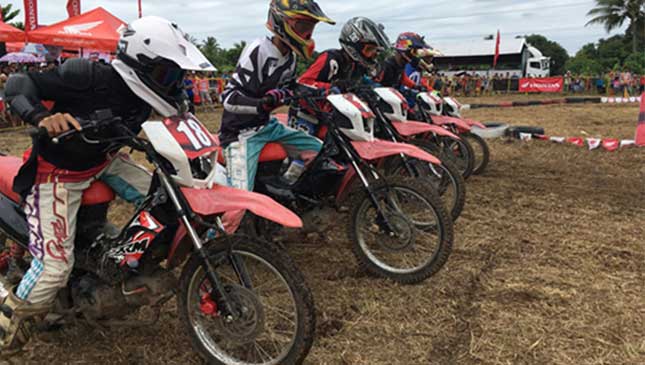 Do you remember Jovie Saulog, Glen Aguilar, Kenneth San Andres, and Jolet Jao?
These were the big names in the local motocross scene some years back. Nowadays, champions in this field of motorsports hardly land in the sports pages.
Lack of logistics and public support prompted many motocross racers to shift to road racing. This paved the way to the success of underbone racing events--often held in parking areas of shopping malls--to attract more spectators.
As the popularity of motocross declined, vast off-road tracks were left idle, with worn-out sponsor tarpaulins still hanging on the rusty perimeter fences. Old motocross fanatics believed that the motorcycle racing event they used to follow relentlessly had lost steam.
Continue reading below ↓
Recommended Videos
Motocross was once the 'in' thing for the rich and famous, but even showbiz personalities abandoned off-roading and opted to go tarmac racing instead.
Hey! Are these symptoms of a dying motorsports discipline?
Not exactly, says an official of the Honda Philippines, Inc.
"On the contrary, Filipinos love to off-road race," says Gilbert Theodore Sison, group head of Honda Philippines Motor Sports and Activations Brand Marketing Section. "They feel the excitement and fun watching it. I think the off-road race fans have increased," he shares.
"Globally, Honda has always been active in the sport both on-road and off-road," he adds.
But every racing enthusiast needs to slug it out first at the grassroots level before he can progress to higher categories in local events. The more championship titles, the more sponsors. This will eventually lead to the faster growth of off-road racing as a whole.
Honda Philippines believes in the principle, prompting the motorcycle giant to push the Ride Red racing series.
To prime up the grassroots level of motorcycle racing, the Japanese motorbike brand successfully staged its first leg of the Honda Ride Red racing event at Los Amigos in Davao City recently.
A throng of spectators watched local racers battle it out for titles on board the Honda XRM 125cc, an affordable underbone-style motorbike that can easily be transformed into an off-road machine by modifying the suspension and tires.
Honda PH opened three categories for the six-leg XRM race: the XRM 125 beginners and intermediate, and XRM 125 Ladies. There were nine lady riders who engaged in fierce wheel-to-wheel racing on jumps, mounds and berms of the makeshift track.
By showing the big crowd of spectators that Honda XRM bikes are easy and affordable to race, Sison is positive that more off-road wanna-be motocross racers will soon be joining the bandwagon.
HPI will hold six legs of Ride Red in the different parts of the country. The second leg will be held on July 29 in General Santos; September 23 in Bukidnon; December 9 in Dumaguete; January 27, 2019 in Tuguegarao; and finals on February 10, 2019 in Rizal.
While the others are busy watching the off-road event in Davao City, some spectators took the opportunity to test ride other dirt bikes of Honda that included XR150L, CRF150L, CRF250L and CRF250 Rally.
Sison reveales that Honda is looking for other racing venues that were previously used as off-road or flat track events. The closer it is to a shopping mall, the better, he says.
Well, we heard it straight from the horse's mouth that off-roading is still very much around.
If you're itching to attack the jumps and berms, then get your Honda dirt bike, riding helmet and jerseys, and motocross boots ready!