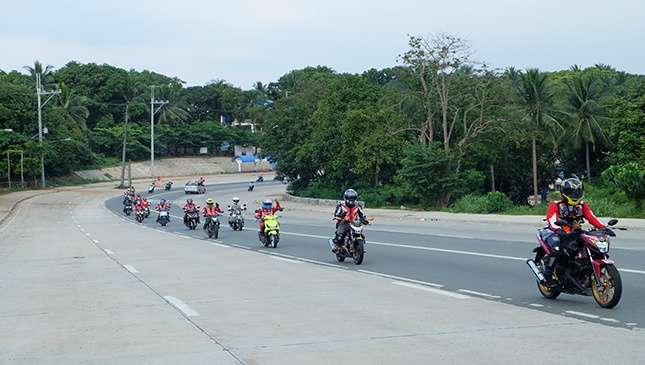 Ignorance, selfishness, indifference, and arrogance. When these attitudes prevail during group rides, disaster is likely to happen. While traveling on two wheels in big groups is fast becoming popular in almost all corners of the country, accidents are on an increasing trend, too. The supposed bonding and camaraderie among riders can turn into a nightmare.
This is the main reason why Honda Philippines, Inc. (HPI) drafted the so-called Motorcycle Group Riding Module which will soon be open to motorcycle clubs—no matter what brand their riders patronize. This is probably the first of its kind.
The proposed training venue is the Honda Safety Driving Center (HSDC) along East Service Road, Sucat, Paranaque, which has modern facilities for safety driving and riding lessons.
The Motorcycle Group Riding Module was revealed by Carol Andal, formerly with HSDC but is now connected with HPI. She has been riding for the past six years.
ADVERTISEMENT - CONTINUE READING BELOW ↓
Andal, however, emphasized that this module is just a preview as it still needs fine tuning before its public launch.
Here are the important points from Honda's group riding tips:
1) Pre-ride meetings. It is important that a group welcome its new members and guests properly. Aside from being fun and exciting, group rides become an instant source of brotherhood among motorcyclists.
During the pre-ride meeting, it is also vital that the group designate the spearhead (usually knows the destination), sweeper (positioned at the tail end), and marshalls (ensures everyone follows the rider formation and traffic rules). The group leaders must discuss to all members the route, itinerary, hand signals, stopovers, and distance to destination. He would also identify the location of gas stations along the route.
2) Social Media. This is probably the newest tool for safe group rides. By using the motorcycle club group page, members can easily access group ride updates and communicate with each member on the things to anticipate during their travel.
3) Pre-ride inspection. Before taking off, riders are advised to conduct a pre-ride check on their motorcycle for safety reasons. These include the tires, brakes, fuel and electrical systems. It is also important to double-check the needed documents like driver's license and motorcycle registration. Providing emergency contact numbers to all the riders would be a big help in case an emergency strikes. And don't forget to bring first-aid kits.
4) Attitude and mindset. This is where many motorcycle clubs fail. According to Andal, instilling road courtesy, patience and self-control to riders is the best antidote versus road accidents. By repeatedly reminding riders of these virtues, group rides will be more fun and memorable because everyone adheres to good deeds.
ADVERTISEMENT - CONTINUE READING BELOW ↓
Recommended Videos
5) Pre-ride exercises. Aside from the regular rituals like welcoming new members and guests and saying prayers for a safe travel, doing stretching exercises is key to safe riding. These involve arms stretching, head rotation, knee rotation, and bending exercises. This is a must for those who have not seen their motorcycles for a long time.
6) Riding gears. Have you heard about the slogan 'look good, feel good'? This applies to group rides as well. Not only do riding gears provide protection to riders, it also draws respect from other motorists, according to Andal. More than the protective jacket, gloves, boots and helmets, many motorcycle clubs now wear luminous, reflective vests for easier identification.
7) Riding formation. Riding formation is one of the keys to safe riding. During group rides, it is a must that every rider follow the alignment of motorcycles, either on clear stretches or in heavy congestion. The riders must stop on red traffic lights even if it means breaking up the convoy.
There are two common types of rider formations: Single file or double file. Honda referred to the double file as the 'staggered' formation. Normally, a one- to two-second interval of riders must be observed during the convoy to avoid collision among riders due to sudden braking. Riders are also advised to check their fellow riders at the rear through the side mirror.
8) Group size. Honda says the ideal group size for riders is six to seven individuals only. But this can be stretched to as much as 10. Each group will have its own spearhead, marshalls, and sweeper. A larger group size is more difficult to guide and manage, particularly in traffic.
ADVERTISEMENT - CONTINUE READING BELOW ↓
9) Overtaking. This is when the spearhead and marshalls play a vital role. Since the spearhead is positioned in front while marshalls are changing positions from the middle of the convoy, it helps a lot if they give the riders from behind a hand signal if the situation is clear for overtaking. If clear of oncoming vehicles, they will flash a thumbs up sign.
10) Possible dangers. Riders must always be aware of obstacles they might encounter. Among them are slippery surfaces, glare from oncoming headlights at night, stray animals, deep road ruts, construction debris, and poorly-lit vehicles among others. Again, hand signals are crucial in warning riders from behind.
Riders, with these safety tips in mind, are you ready for an exciting group ride?