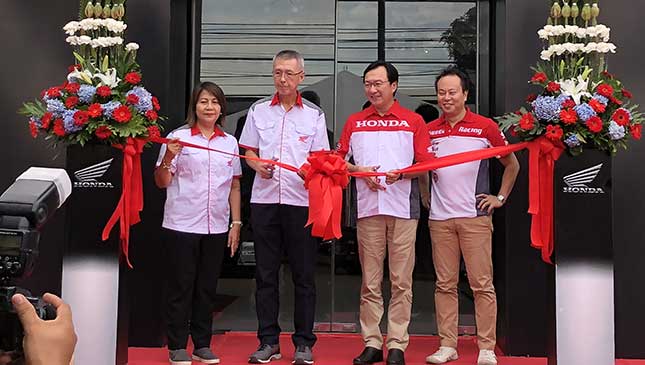 "Checkmate!" We're guessing this is what Honda Philippines, Inc. (HPI) president Daiki Mihara was thinking, as he led the formal opening of Honda's new Big Bike showroom in Buhangin, Davao City over the weekend.
The opening of the Honda's world-class Big Bike showroom in Davao City signaled the Japanese brand's full marketing offensive in the country's three major regions—Luzon, Visayas and, the latest, Mindanao.
ADVERTISEMENT - CONTINUE READING BELOW ↓
The move also ended the Mindanaoans' long wait for exciting Honda big bikes to be made available by an official dealership in the south.
"Last December 2017 and January 2018, we first launched our latest Big Bike collection in our Manila Flagship Shop and Cebu Flagship shop, respectively," said Mihara.
"However, since we consider Davao as one of the important markets, we also see the value of showcasing our latest Honda Big Bikes collection to the Dabawenyo public, here, in our flagship store," he added.
Honda's marketing offensive in the Visayas and Mindanao regions reflects the stronger purchasing power of motorcycle enthusiasts in the region. The increasing demand for motorcycles with large engine displacements is also a result of the aggressive moto tourism campaign being pushed by the Duterte administration. With the improved peace and order situation in the region, along with endless scenic spots and well-paved roads, Mindanao is now being considered as the new motorcycle haven in the country.
ADVERTISEMENT - CONTINUE READING BELOW ↓
Recommended Videos
The Davao City showroom occupies some 6,960sqm. The facility is equipped with a multi-rack display of Honda motorcycles, a comfy rider's lounge, and a test ride area for customers.
This modern-design showroom was built in partnership with Desmark Corporation, one of the leading motorcycle dealerships of Honda. Aside from motorcycles, the showroom also stocks innovative power products and genuine spare parts.
During the event, Honda PH also revealed its new Big Bike showroom logo with the slogan 'Excites the World.'
Aside from Mihara, among those who were present during the ribbon-cutting ceremony were Gilbert Du and his wife Soccorro Du, president and vice president for finance of Desmark Corporation, respectively, and Hiroaki Funami, managing director of Asian Honda Motors Company Ltd. - Motorcycle & Power Products.
For the initial salvo, Honda has made available eight of its exciting big bike models categorized into four types: Roadster (Rebel 500 and CB650F and CB110EX), Sports/Racer (CBR500R, CBR1000RR Fireblade SP and CB1100EX), Traveler (CB500X and CRF1000L Africa Twin), and New Adventure (X-ADV).
ADVERTISEMENT - CONTINUE READING BELOW ↓
The Honda Big Bike showroom is located at Km 5, Buhangin Road, Davao City, and is open from Monday to Saturday from 8:30am to 5:30pm.
Are you ready to tour Mindanao on a Honda big bike?