Iloilo governor Arthur Defensor Jr. obviously missed President Duterte's pronouncement last June 5, 2020, by a whisker.
Yesterday afternoon, or a day after Duterte upheld the ban on pillion riding, the local official revealed an underbone motorcycle specially equipped with a fabricated divider and separate handle grips both held by two long poles to allow a rider to take a passenger without fear of being contaminated by the coronavirus. Even before, Defensor has been pushing for the lifting of the ban on backriding but to no avail. And there's no sign he's giving up yet.
The President explained that the rider and passenger—even if they're a couple who live under one roof—expose not only themselves but also their family to virus infection when they ride a motorcycle during the quarantine period. He even gave a lecture as to where the passenger should hold on to the rider's body to make sure that he or she is secured at the rear of the motorbike. Health is an issue here, but safety is another.
According to Duterte, the passenger should not hold on to the rider's shoulder for this will restrict the movements of the former in maneuvering the bike. The passenger should wrap his or her hands around the rider's waist to keep the weight distribution at the bike's center for a stable ride. The President knows what he's talking about. A few years back, then-mayor Duterte made news when a photograph of him and then-President Gloria Macapagal Arroyo doing a short joyride around Davao City on his Harley-Davidson.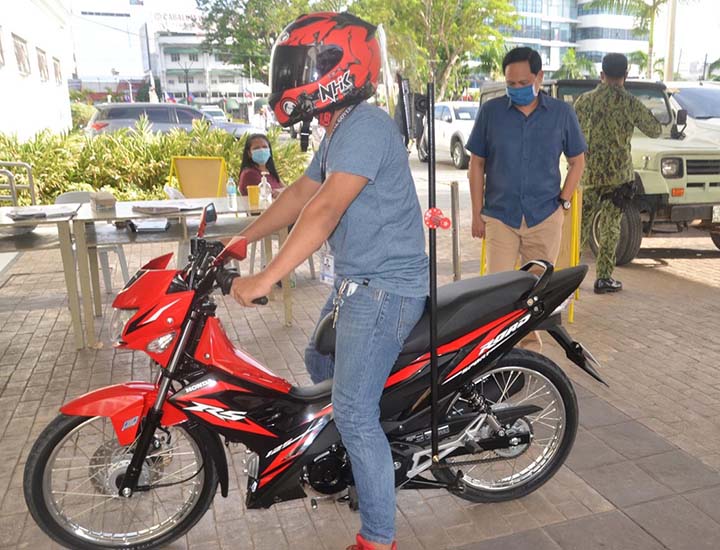 Last Friday, Defensor arranged a press conference to show his modified motorbike in an apparent bid to change the government's position on the issue. To prove it's safe, Defensor personally rode the Honda RS150R with the above-mentioned modifications but only for a brief ride around the block.
We have yet to see how the motorbike fares at a higher speed. There seem to be more questions than answers: Does it compromise rider-passenger comfort? Are these bolt-on parts stable when the bike hits rugged roads? Were the balance and aerodynamics of the bike affected?
Defensor submitted the motorcycle design which he claims to be compliant with physical distancing to the Land Transportation Office for approval.