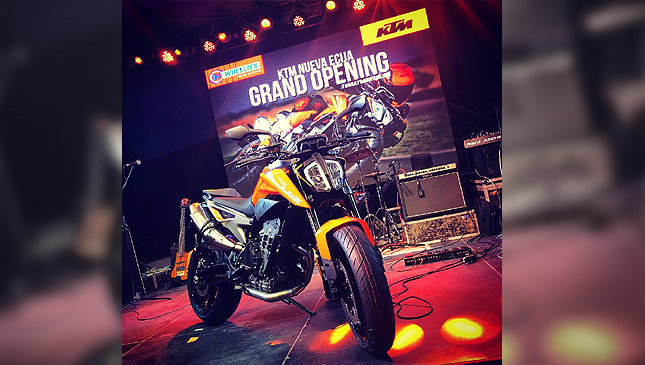 When describing motorcycles or other items of passion, it's inevitable for metaphors to seep into the conversation.
They can be as subtle or overt as one wants them to be, but when a brand starts calling its latest bike "The Scalpel", you know you're in for something special. That's exactly what KTM Philippines launched when it unveiled the all-new KTM 790 Duke at the inauguration of the KTM Cabanatuan showroom in Nueva Ecija.
The new dealership, run by industry mainstay Wheeltek Motor Sales Corp., opened its doors to the public last June 30. Wheeltek hopes that this would spearhead KTM's ongoing push for nationwide domination. Wheeltek's opening marked the 24th of a planned 36 KTM dealerships by year's end.
Continue reading below ↓
Recommended Videos
Together with the newly inaugurated facility, Cabanatueños were given a surprise treat as the event also featured the 790 Duke as being available to the public.
Priced at P790,000, or P1,000/cc of displacement, KTM's new "Scalpel" is set to further strengthen the brand that brought you the Duke 390, one of the best value motorcycles in the market today, and possibly the only expressway-legal bike at its price point with European roots.
Take one glance at this Austrian street destroyer and you can immediately tell by gut feel that this is an extraordinary motorbike. More than just a Duke with a bigger engine, the extremely sharp lines and aggressive stance give weight to the medical metaphor used to describe it. Basically, it looks like nothing else on the road.
Powered by a 799cc parallel twin putting out an amazing 105hp and 87Nm, the Duke takes on rivals a class above in displacement and surgically takes them out with an impressive weight of just 169kg. It's armed with all the best of KTM's current technology and rider aids, which puts it ahead of competitors similar in displacement.
We can't wait to have a go on the 790, if only to find out first-hand how such a revolutionary engine can possibly transform an already amazing two-wheeled platform.
We only have one question for the bigwigs at KTM Philippines: With the Duke 390 now being produced in their Laguna manufacturing facility, when can we expect the 790 Duke to be produced locally? Because the way we see it, The Scalpel with a 'Made in the Philippines' sticker would be an epic game changer.