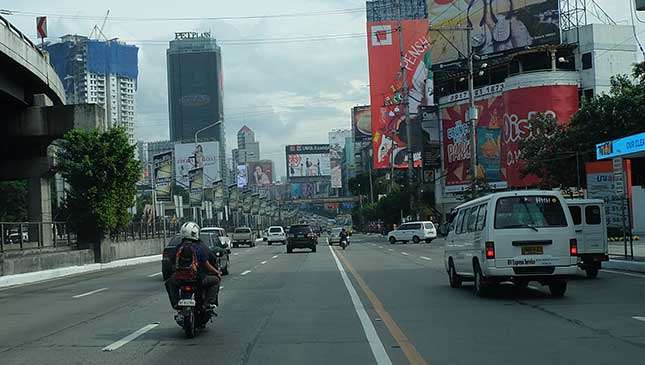 "And my world keeps getting smaller every day
I run but I can't run away,
You're with me everywhere I go.
And I find you're in my heart and in my mind,
There's no place left on earth to stay.
My world gets smaller every day."
If you're a motorcycle rider and you regularly traverse the 24km EDSA route, then you must be singing this classic Neil Sedaka piece by now (millennials, he was that day's Ed Sheeran—or something).
After the reimplementation of the motorcycle lane by the Metropolitan Manila Development Authority (MMDA), the Metro Manila Council (MMC) floated the idea of banning two wheelers on EDSA in its bid to decongest traffic in the area.
Continue reading below ↓
Recommended Videos
MMDA spokesperson Celine Pialago confirmed to Top Gear PH that some local government officials in Metro Manila are considering enforcing a ban against motorcycles on EDSA.
"Posible pong ipagbawal ang mga motorcycle sa EDSA. Ang MMC po ang bahala dun," she said in a text message. "Hindi pa po ii-implement 'yan."
Radio reports claimed that Quezon City mayor Herbert Bautista raised the idea not to allow motorcycles to pass through EDSA to ease traffic. An average of 68,000 motorcycles use EDSA daily, according to a MMDA report in 2016.
Based on studies, Bautista said that when a motorcycle figures in an accident on EDSA, it takes some 30 minutes to one hour to clear the area of damaged vehicles and debris which often cause heavy traffic. Also, the MMDA claims that an average of 50 motorcycle accidents happen along EDSA. Bautista asked the MMDA to study the matter for possible implementation.
"We will abide by the MMC's request for us to study the matter. But we (MMDA) are not inclined to support it," Pialago pointed out.
The MMDA recorded a total of 18,668 motorcycle-related accidents in the metropolis in 2015 with 238 fatalities.
Government authorities claimed that there are existing laws that disallow motorcycles to use major thoroughfares like EDSA. Instead, motorcycles are only allowed to traverse on so-called 'secondary roads.'
With the Quezon City mayor's new proposal, we're expecting motorcycle organizations to react against this new proposed scheme, even as the revitalized motorcycle lane campaign has yet to fully sink in.
In light of these developments, do we foresee more riders frequenting videoke bars singing the classic Sedaka song?