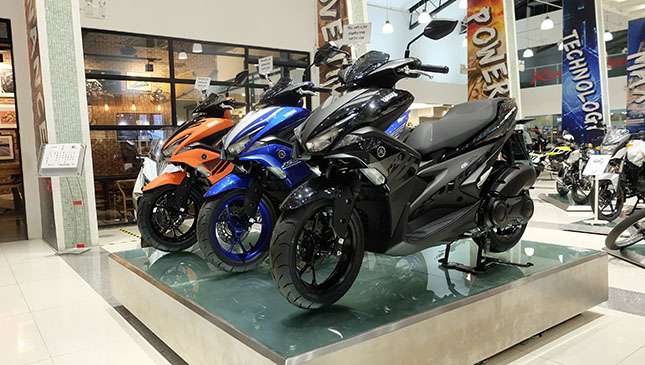 When it rains, it pours.
Officials of the Motorcycle Development Program Participants Association (MDPPA) reported a 13% increase in year-on-year sales growth in the first semester of 2017, reaching 613,896 units sold as compared to 544,788 motorbikes in 2016. Last year the group set its target sales growth for the first semester of 2017 at between 8% to 12%.
There's a catch to this rosy sales figure, however. The MDPPA admitted that almost 90% of the total units sold were through financing packages. MDPPA president Armando B. Reyes said that financing schemes for motorcycles are so attractive to so many buyers, with some of them requiring a down payment of only P1,500, with a corresponding monthly amortization of around P2,000.
The affordable financing package is among the factors highlighted by the MDPPA regarding the big jump of motorcycle sales in the country in recent years. In 2016, the MDPPA posted a phenomenal 1,140,338 units sold. The 2016 figures represents a 34% growth in total motorcycle sales compared to 2015.
ADVERTISEMENT - CONTINUE READING BELOW ↓
However, the group was mum in giving an estimate on how many of those bought under the financing scheme were repossessed by banks.
For the first six months of 2017, the number of scooters (AT) sold by the group reached 175,707 units (versus 125,552 units during the same period in 2016); business motorcycles sold accounted for 202,098 units (170,979 units in 2016); moped or utility motorcycles were 203, 741 units (205,773 units in 2016); street bikes were 31,270 units (41,659 units in 2016); and other motorcycles amounted to 1,080 units (865 units in 2016).
The sales performance of other motorcycles companies, including those that carry European and Chinese brands, are not included in the MDPPA report.
"Besides the good economy and more people having increased purchasing power, the strong market performance for the first six months of 2017 reflects the continued bullish demand for motorcycles. This is because motorcycles provide a practical and effective transportation alternative in the face of the worsening traffic conditions, particularly in Metro Manila," said Reyes.
Established in 1978, the MDPPA is composed of five of the country's biggest motorcycle manufacturers that include Honda Philippines, Kawasaki Motors Philippines, Yamaha Motor Philippines Inc., and Kymco Philippines Inc.
Compared with the other ASEAN markets, the Philippines posted the biggest sales volume growth at 13% for the first half of this year. Malaysia, Singapore and Thailand had a 7% increase during the same period.
Although Indonesia still recorded the highest motorcycle sales volume at 2,321,079 for the first half of 2017, the figure translates to a 10% drop from 2,565,452 units sold during the same period last year.
Meanwhile, the MDPPA says it is expecting a bigger growth in motorcycle sales in the next six months of 2017.
Are you still wondering why two-wheelers on the road continue to multiply?