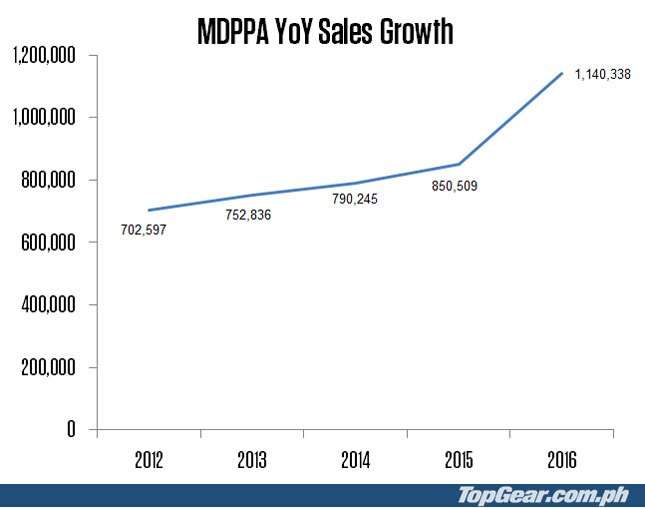 Officials of the Motorcycle Development Program Participants Association (MDPPA) have more reasons to smile nowadays. The group just released the sales performance of its members for 2016, and it reached 1,140,338 units, or an astounding 34% growth compared to 2015.
Armand Reyes, the new MDPPA president, attributed the historical jump in the 2016 year-on-year sales figures to the big demand for motorcycles for private or business use, the introduction of new, exciting models, favorable foreign exchange rates, and strong remittances particularly from OFWs.
"We had an impressive GDP growth of 6.8% in 2016. It strengthened the purchasing power of more households," Reyes explained. The worsening traffic not only in Metro Manila but also in other urban areas in the country was also a big factor in the robust sale of motorized two-wheelers.
Continue reading below ↓
Recommended Videos
Founded in 1973 under its previous name, Philippine Motorcycle Program Association, the MDPPA is now composed of five major motorcycle brands—Honda, Kawasaki, Suzuki, Yamaha and Kymco. MDPPA is still processing the application of KTM Philippines which recently established its manufacturing plant in Laguna.
Cornering the lion's share are the mopeds, commonly known as 'underbones,' with 418,043 units sold, or equivalent to 37% compared to the 2015 figures. The second best-selling category is the business motorcycle, which accounted for 32% of the total sales with 368,270 units sold. However, the segment that has the highest growth rate is the scooter with automatic transmission which posted a 51% increase with 274,104 units.
The MDPPA emphasized that their sales figures do not include motorcycles with big engine displacements, particularly from 250cc up.
"Hindi kasama ang big bikes," Reyes pointed out. "But it is a growing market. We see a lot of new players coming in." Motorcycles with 250cc up to 400cc engine are now selling like hotcakes, he said.
While the small motorbikes sold some 95,000 units a month, the big bikes only averaged 150 units.
The MDPPA report also did not reflect the sales of other European, Indian and Chinese motorcycles brands which could reach around half a million units.
The MDPPA's sales projection for 2017 is pegged at between 12% to 15%. Presently, there are about six million registered motorcycles in the country.