British Rider Lewis Cornish has learned his lesson from the first race of the 2018 FIM Asia Supermoto series held in Bangkok last August.
Being too pushy on the corners caused him costly mistakes that allowed Danish rider Simon Vilhelmsen to take the checkered flag during the first leg staged at the Nakhonchaisri Circuit in Thailand. The 25-year-old Cornish, who bagged the championship title last year, is again dead serious about regaining the throne. He calls his new strategy 'controlled aggression.'
Cornish joins 12 other ace riders from around the world in battling it out for supremacy at the FIM Asia Supermoto-Manila leg that starts today. Riding a 63hp Husqvarna FC 450 motorbike, Lewis considers the makeshift track at the Quirino Grandstand as 'technical' which requires more precision maneuvers than just mere aggressive attacks.
"The track is very unique in the straights. It's not the very typical race track," says Lewis, who now enjoys the support of WD-40. "It's technical. You really have to think about the lines. You have to be smart, not too aggressive," he added.
ADVERTISEMENT - CONTINUE READING BELOW ↓
During yesterday's practice session, Lewis was spotted charging on straights on the tarmac but holding back with the throttle on the grassy portion of the historic landmark.
ADVERTISEMENT - CONTINUE READING BELOW ↓
Recommended Videos
Intermittent rains had produced muddy portions on the dirt track, prompting the riders to slow down in search of a good line. As of yesterday, there were two easy jumps connecting the pavement section and dirt area.
However, a new track means new adjustments to the motorbike. To make the Husqvarna's handling more agile in tight turns without compromising speed, Lewis's team shortened its wheelbase. The Brit spent time testing Map 1 and Map 2 engine racing modes to determine which is best suited for this kind of track.
Cornish is also expecting a fierce battle with Pinoy riders Kenneth San Andres and Mark Reggie Flores, who he says are 'very talented riders.'
Like most of the competitors, Cornish is praying for a dry race. "If the rain comes down, it will be a completely different scene," he says. Cornish lauded the WD-40 crew, an all-Filipino team, for keeping his bike in tip-top shape using the brand's lubricants and oil penetrating products. "They're so friendly," he says.
ADVERTISEMENT - CONTINUE READING BELOW ↓
It's his first time to set foot in Manila. Well, good luck to you Lewis and the rest of the Supermoto riders!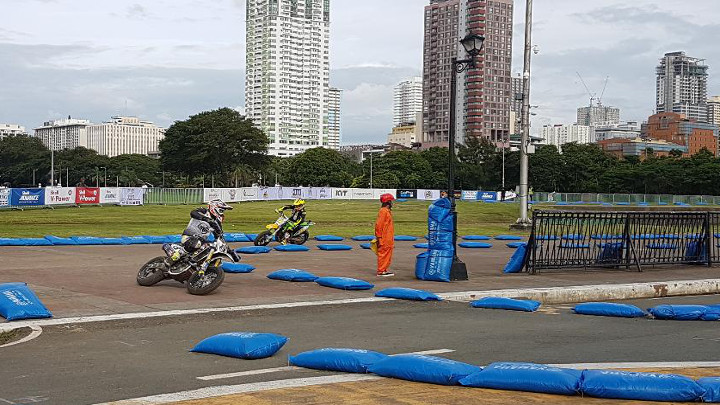 ADVERTISEMENT - CONTINUE READING BELOW ↓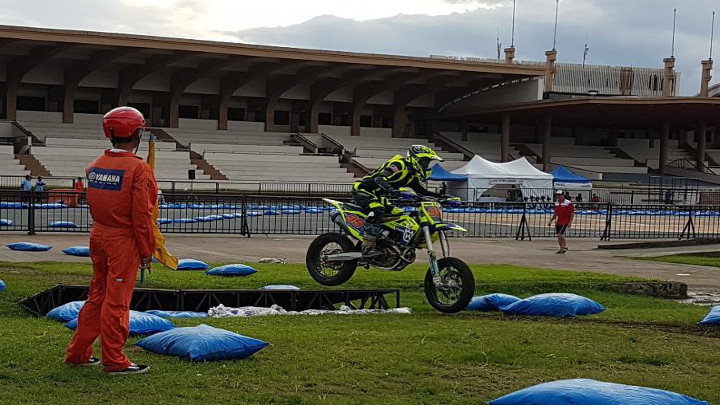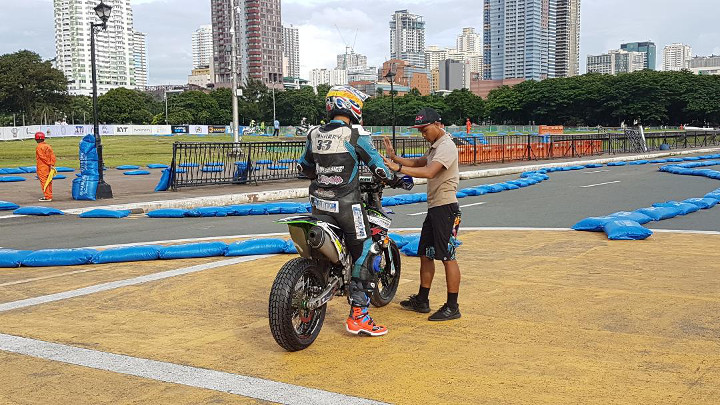 ADVERTISEMENT - CONTINUE READING BELOW ↓