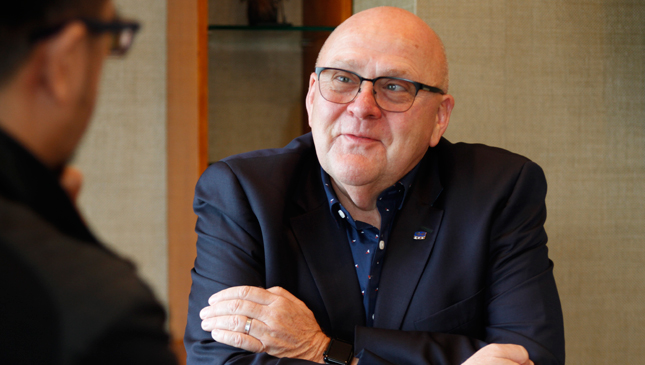 There are a handful of top-secret concoctions that are locked away in vaults, like the composition of Coca-Cola, and the list of the 11 secret herbs and spices that Colonel Sanders used to create KFC fried chicken. The WD-40 formula is just as iconic as those things. Nope, it isn't edible, but that blue and yellow can with the tiny red cap is an indispensable tool in every handyman's garage.
WD-40 is a heritage brand with a very deep and rich history that goes all the way back to 1953. The original secret formula was proven effective by NASA during the space race, and it is still in use today. We were fortunate enough to sit down with Garry Ridge, president and CEO of WD-40, to ask him a few questions about this iconic brand which is such a huge hit among car guys.
Continue reading below ↓
Recommended Videos

Q: How competitive is the lubricants industry?
A: If we were only in the lubricants industry then it would be very competitive. But we are in the memories business. Owning a car is something that is special to a lot of people. There's memories created them. We say that we create positive lasting memories by solving problems in factories, homes, and car workshops around the world.
Q: Are there any WD-40 products that people may not be familiar with?
A: The blue and yellow can with the little red top is our core product, but we also have WD-40 Specialist line. When car enthusiasts need a specialized product, we have those. And when they leave their car at home they ride their bikes. We also have a line dedicated to bikes.
Q: Do you know the secret formula?
A: If I did, somebody might kidnap me! I don't. The formula is locked away in a vault in San Diego. We brought it out a couple of times but it's still there. It is kind of like Coca-Cola.
Q: What other applications would you want to see WD-40 used for?
A: We are always looking for ways to solve problems. We'd watch mechanics try to solve problems. That's where we begin our product development. We always ask: How do we create new memories by making it an easier job for auto enthusiasts to maintain their cars?
Q: Automobile manufacturers discourage DIY maintenance with how modern cars are built. How does that affect the WD-40 brand?
A: If we were a product only used under the hood, then I guess we would be concerned. But that's not all WD-40 is used for. We can remove tar from paint. Doors still squeak. There will always be rust. We are used all over the car.
Q: There are over 2,000 uses for WD-40. What is your favorite one? What is the most interesting and unique use for you?
A: There are a lot of cool uses and unique applications that we learned about over time. But there is one interesting instance that happened in Hong Kong. A python got caught in the exhaust system of city bus. They used WD-40 to free the snake, and it survived. But there are just so many practical uses, like removing crayons and gum from walls, and dead bugs from car grilles.
Q: How long have you been with the company?
A: I've been with the brand for 35 years. I started in Australia working with a distributor, and then I opened the WD-40 subsidiary in 1987. In 1994 I moved to the US to head the global expansion, and then in 1997 I became the CEO. My dad was an engineer and he worked with the same company for 50 years and he gave me some good advice 35 years ago: "WD-40? You can't go wrong with that stuff, son."