As a sharp little brother to Yamaha's racing steeds, the Sniper 150 is one of the most popular and coveted underbones in the country. Its popularity owes much to Yamaha's reputation for quality, the underbone racers that ride the bike to victory, and its practicality outside of the race track.
While it's known in the Philippines and in Singapore as the Sniper 150, Yamaha introduced this epic underbone in Indonesia as the 'Jupiter MX King,' 'Exciter 150' in Thailand, and 'Y15ZR' in Malaysia.  It first landed here with an auto-clutch (semi-automatic) in 2007, but two years later it was reverted to a hand-clutch function (manual transmission) to give the riders more freedom in operating it.
OTHER STORIES YOU MIGHT HAVE MISSED:
Vintage Vehicle Regulation Act IRR to take effect on April 17
Meanwhile in Malaysia, the Toyota Supra gets a manual

An underbone with racing in its styling and engineering, the Sniper 150 is seen as a high-performing machine that trumps many obstacles thrown at it, nimbly satisfying its sporty nature with a throttle twist.
Does the Sniper 150 continue to deliver?
Styling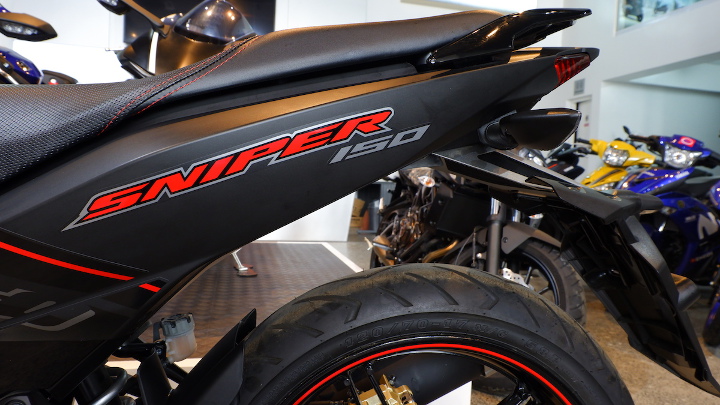 The 2019 version of the Yamaha Sniper 150 comes in four color options: Black Raven, Yellow Hornet, Matte Green, and Race Blu. I test-rode a Black Raven unit for Yamaha's riding clinic in Calamba, Laguna, and have only good marks for its styling. Sporty from the get-go, the bike's lines are sleek and angular so much so that it looks fast even at a standstill.
Red accent strips trace the body and the wheels, popping out from the matte black body. The effect is striking, but not in-your-face about it. You won't notice it from a hundred meters away, but you'll do an approving double take at a stoplight. The images of the Yamaha Sniper here were taken at the Wheeltek dealership in Quezon City courtesy of its branch manager Joel Ellao.

The saddle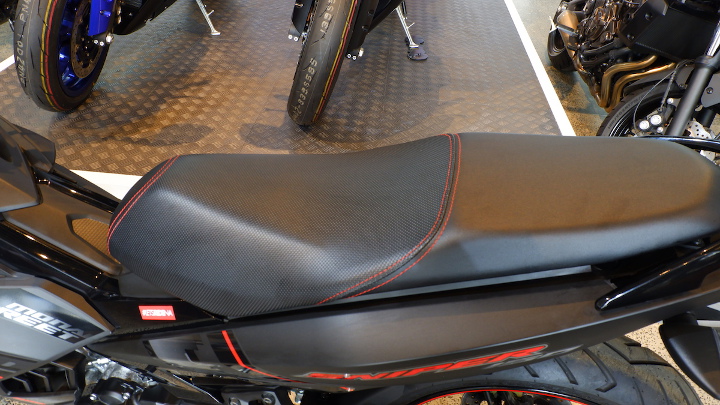 'Sporty' plus 'bike' often means sacrificing comfort at the altar of performance. Thankfully, Yamaha didn't go to those extremes in designing the Sniper 150's seat. Instead, it settled for the middle—not too cushy, not too hard. It won't please riders who want a pampered rear nor those who insist on rock-hard seats, but it's good enough for the rest of us. The thickness of the padding makes the bike comfortable for short to medium-length trips. That shouldn't stop you from taking on hundreds of kilometers on this bike. Give your butt a break every 50 kilometers or so and you'll be good to go.
Engine performance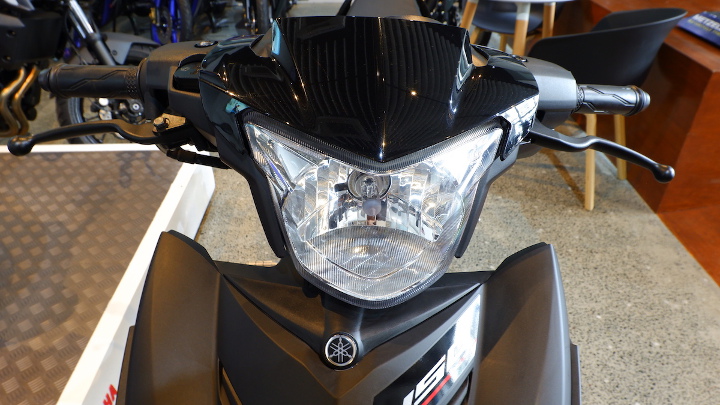 The Sniper 150 is powered by a punchy four-valve, single cylinder, 149.7cc engine. With the help of a precision fuel injection system, the engine maxes out at 15.4hp and 13.8Nm of torque. Technical jargon translated:The engine's characteristics equals smooth shifting, plenty of power for the Sniper's size, and sensitive throttle response best appreciated with micro-wrist adjustments.
Even though I only got to take this underbone for a spin around a parking lot, I can imagine the fun to be had if given the space to flick through the gears of this responsive 5-speed machine.
Ride and handling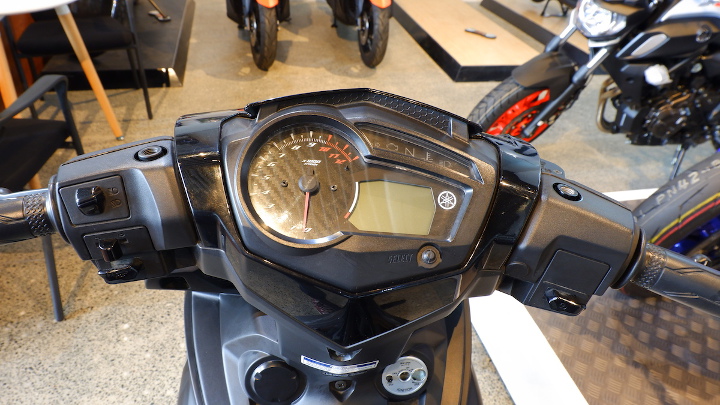 As someone used to riding a naked bike, it took me a few minutes to get over the missing gas tank and be accustomed to gripping the bike with the sides of my calves and feet. After this minor hiccup, I navigated through a tight slalom course set up by Yamaha's riding clinic instructors to get a feel for the bike's handling. Because of its short wheelbase and light weight, the Sniper had no problems with the seriously tight corners of the slalom.
Weaving through city traffic jams is a cakewalk for this bike; everything else is left to your abilty. Another thing to really like is that front and rear disc brakes come standard with the Sniper. It not only gives you a higher chance of stopping the bike when (and where) you need it to, but also gives you less maintenance headaches.
Extra features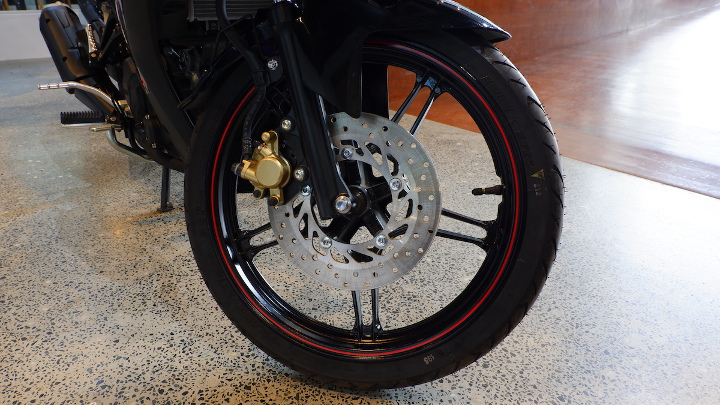 Adjustable gear shifters and rear brake pedals come standard in sport bikes, and I like that the Sniper 150 also allows for this same customized fit. The foot controls feel close to the foot pegs, too, which is great for people with smaller feet (women included).
Right on trend compared to other new bikes, the Sniper 150 boasts a digital LCD display that is clearly readable even under bright sunlight. The RPM gauge is still analog, but it's a non-issue. A tiny but nifty feature appearing on the digital display is a gear indicator—very useful for beginners and a nice reminder for more experienced riders.
The verdict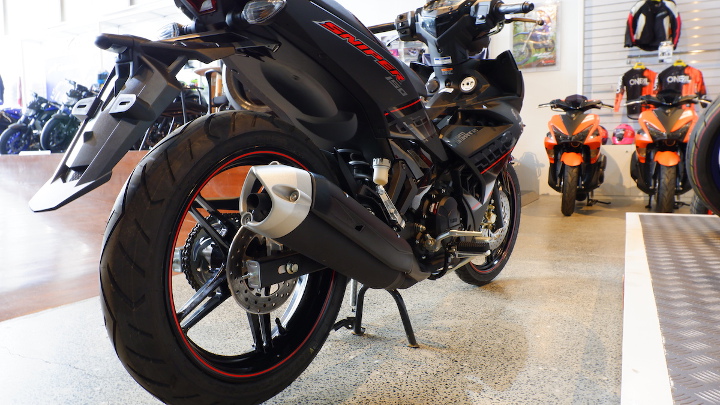 The Yamaha Sniper 150 is a powerful bike in a tiny package. It successfully continues the racing heritage of bigger Yamaha sports bikes but keeps itself accessible by staying rooted in the utilitarian nature of underbones.
There's hardly anything that puts this bike in a bad light. If I had to nitpick, one feature I've found lacking in the Sniper (and in many other motorcycles as well) is the lack of adjustable clutch and brake levers. It would be a thoughtful addition in newer versions of this bike, making it more attractive for people with smaller hands and those who prefer a shorter reach.
SPECS: Yamaha Sniper 150 2019
Engine: 149.7cc SOHC four-valve single-cylinder
Power: 15.4hp @ 8,500rpm
Torque: 13.8Nm @ 7,000rpm
Seat height: 780 mm (30.7 inches)
Transmission: 5-speed constant mesh
Price: P99,800
Score: 16/20