Last December, TVS reintroduced two of its budget models to the Philippines: the TVS Dazz Prime and the TVS XL100 Premium. The latter in particular caters to the the small business and budget segments, where affordability and durability are highly prized.
To help form our impressions, TVS distributor Wheeltek loaned us a test unit. We logged about 100kms on the XL100 Premium to find out how much of an improvement it is from the basic XL100.
Read about our take below.
Styling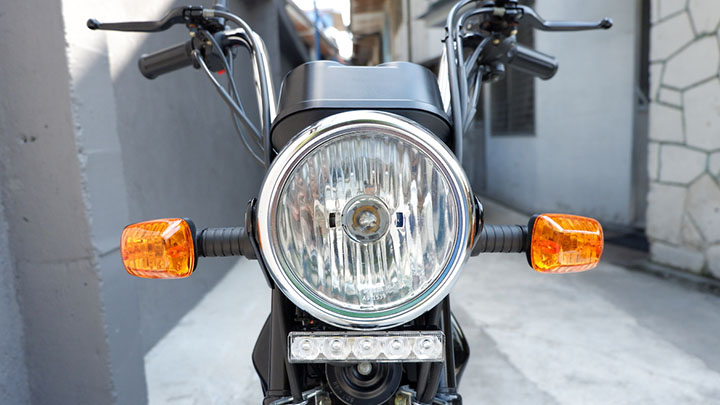 The XL100 Premium is both bombproof and classic. Bombproof because it retains the basic model's rugged practicality—it still sports an all-steel body and frame, elevated step board, full fenders, simple instrument panel, and buckhorn handlebars. Even the control housings are painted steel instead of the usual plastic.
Continue reading below ↓
Recommended Videos
Its premium side comes from its dressy skin. Our test unit came in gloss black with decals and gold accents in just the right places. Overall, the balance between the simple design and the classic body shape gives the machine a dignified look. This bike may be affordable, but it doesn't suffer from poor build quality. We feel it'll still look good after several years of consistent use.
The saddle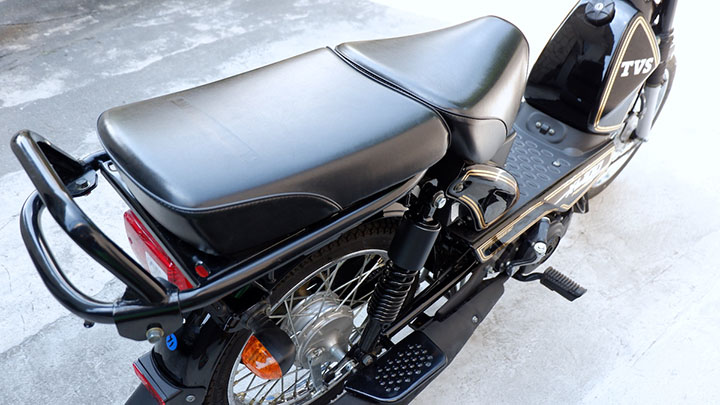 ]There's nothing extraordinary about the XL100 Premium's seat. It's a split seat with function and upright riding in mind. The seat cushions are thick, wide, and firm, ready to deliver comfort on rougher roads. And the 30.7-inch seat height is manageable for shorter Filipinos of either gender. It's a solid saddle that'll last a while before it needs reupholstering.\
A nifty feature that points to the XL100's utilitarian roots is the detachable passenger seat. It can be popped off with a turn of the seat lock, revealing a flat, sturdy steel platform ready for a bolt-on carrier system—a thoughtful feature for its target business segment.
Engine performance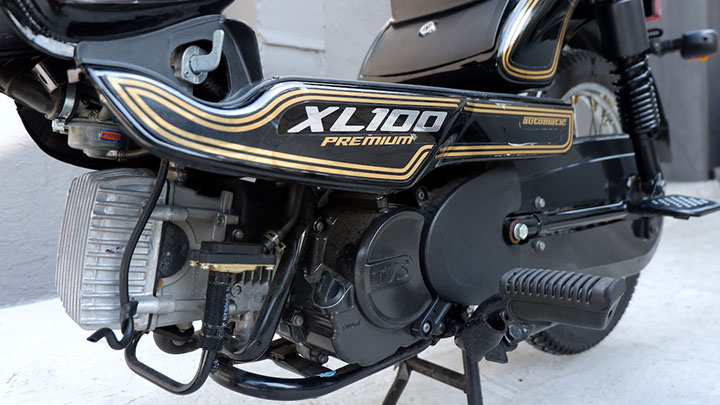 Disclaimer: TVS markets several versions of this bike in India under the moped category, and Wheeltek, the brand's distributor here in the Philippines, says its target market here are beginner riders and businesses with a 'multi-utility' model.
Those are big clues to its performance, because the XL100 Premium is powered by a Euro 3-compliant 99.7cc four-stroke, single-cylinder engine. Its numbers are typical of an engine this small: 4.3hp at 6,000rpm, and 6.5Nm of torque at 3,500rpm. In short, expect to be the tortoise, rather than the hare. You'll get to where you're going in time.
Still, the engine churns out smooth power around 30-40kph. At full throttle, it peaks at 60kph, which you won't want to keep for too long. At that speed, the engine vibrations from our test unit were so intense that they transferred to the footpegs and grips, eventually leading to our hands and feet tingling.
This engine has some obvious performance limits, but the upside is better fuel economy, which TVS claims to be at around 67km/L. 
Ride and handling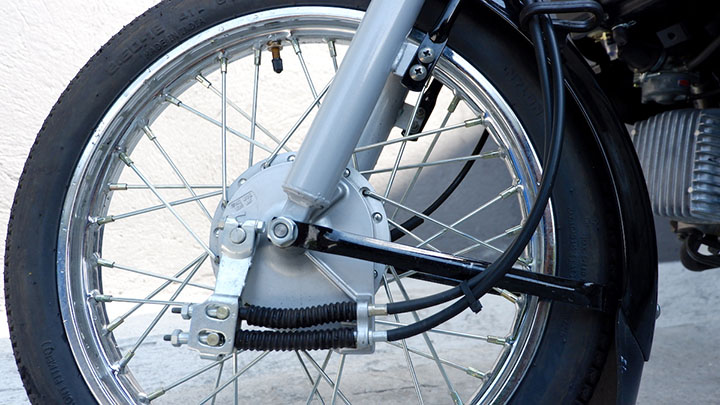 Despite its engine's shortcomings, the XL100 Premium offers a decent ride. The all-terrain, 16-inch tires grip firmly, even on rough and poorly maintained surfaces. The pair of old-school, 110mm drum brakes still gives the bike adequate stopping power. These two are hooked up to a sync brake system (SBS), which engages both brakes even when you're only pulling on the rear brake lever.
It's a chain-driven automatic, so no clutch or shifting to worry about. The generous throttle play allows newbies to feel in control without losing it. The bike weighs a sprightly and unintimidating 86kg.
Extra features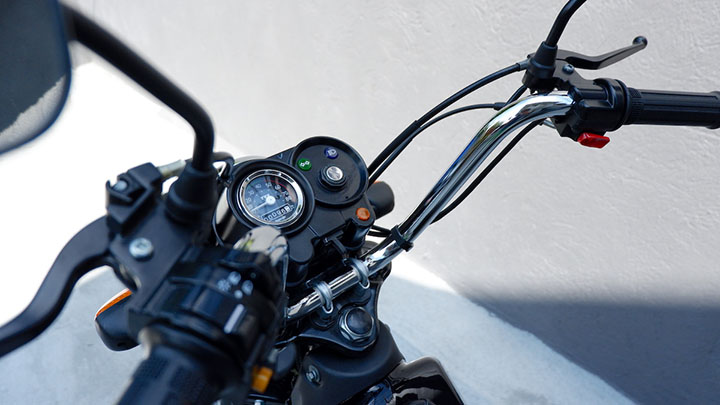 The TVS XL100 Premium's extras are improvements on the basic model. The most convenient upgrade is the addition of an electric start and a battery—two things the basic model lacks.
To make the premium a bit more modern, it's equipped with LED daytime running lights and a USB port. One last deviation from the basic's features is the SBS. Overall, these extra features add enough value to justify a P5,000 price hike over the basic XL100.
Verdict
The TVS XL100 Premium appeals to a very specific crowd. Its most logical customers are multi-utility businesses that need long-lasting, easily serviceable, and customizable vehicles for their fleets.
Next up are newbie riders looking for a cheap learner bike. The bike's bare-bones quality strips away distractions, building rider confidence through simplicity rather than tech. Plus, if you drop it, chances are you won't even break anything.
For more experienced riders, this moped's main selling points are its price and looks. If you can get over the underpowered engine, it could be a long-haul buddy that forces you to slow things down once in a while.
SPECS: TVS XL100 Premium
Price: P36,990
Engine: 99.7cc single-cylinder
Power: 4.3hp @ 6,000rpm
Torque: 6.5Nm @ 3,500rpm
Transmission: Automatic
Seat height: 30.7 inches
Score: 14/20